to:u 4m:me
November 30, 2009
Dear U,

Since the 1st time I saw you, I was head over heels 4 u. ur deep set eyes captivated my heart and soul.

2 b ur friend was all I ever wanted; 2 b ur luvr was I ever dreamed.

True love doesn't come by finding the perfect person but by learning 2 c an imperfect person perfectly.

I was once told a boy was a magical creature. U can lock him outta ur workshop, but u cant lock him outta ur heart. U can get him outta ur study, but u cant get him outta ur mind.

I realized all of this after we were apart.

Would u just listen & plz don't say a word just yet. I'd like u 2 think back 2 the 1st time we met it was a beautiful day. How u felt around me. The memories we shared. & remember that once upon a time u really cared.

Now think about how we parted and how much I cried. U just watched 4m a distance. But plz don't speak remember that I never ever lied I told u the honest truth y we were 2 split. But I'd like u 2 no my heart broke bit by bit.

The pain was deep, unbearable and painful, 4 so many yrs. I'll never 4get all the uncontrollable tears. Slowly I am rebuilding my life; I am content with what I got. & although it's hard I am beginning 2 4get what I have not got.
U was a special part of my life that I will never 4get. A part of my life that broke my heart, but that I don't regret. U gave me sum happy memories that I'll
Keep in my heart. Although sum times I wish u I didn't have 2 part.
U was my 1st luv & my tru luv that will always b so. After all the heartache, sadness & never ending pain, I no, u & I had sum thing special & that will never change. Bcuz I luv u & luving sum 1 else will always seem strange.

Would u just listen & not say a word, not ever. I'd like u 2 remember that once upon a time we said 4 ever that I had hopes & dreams that I was the 1 who threw them away. & this is sum thing I will regret till my dying day.
Did u get what u wanted, isn't she every thing u said I wasn't. It was painful 2 split and everything was going so well & all of a sudden it was gone in blink of an eye. I thought we danced 2 the same song I guess I was wrong.
Keep this 2 remember what we had, keep it under urn pillow that way u dream of me & u 2gether 4ever.


Luvs always
Me


That's precisely what was on the note Chloe wrote to Jake her boy toy that's exactly what he was to her.
"Mom, I don't want to go back to Tennessee," Chloe whined.
"You're going to see your aunt & uncle whether you like it or not" her mother firmly stated.
"Fine, I guess," for some reason she knew she would not win this battle.
Days later she was that the airport looking for either her aunt Nita or Uncle Dave but she couldn't spot either of them.
"Excuse me but are you Chloe Jens?" a deep mans voice said it kind of sounded familiar.
Chloe spun around and saw her old friend Seth. She never realized how much she missed him until this moment in time. His deep eyes really captivated her heart and soul.
"OH MY GOD, its you, it's been so long," her eyes filled with tears. Seth wrapped her in a big loving hug and for once in a long time she felt loved and special.

They headed to the ranch truck and talked about all the things that have happened in the last two years
The friends have been apart. So many things such, Miss Alta Abell accusing Jenny Field of ruining her amaryllis.

"It's probably true, Jenny is one stupid, spoiled-brat girl who everyone avoids," Seth said. "No joke," he added when he saw Chloe's look.

When they got to the ranch there was a big dinner with Chloe's favorite it dish, blackened sea bass, in honor of Chloe's first day back. Nita and Dave invited Jenny, since they invited pretty much the rest of Chattanooga.
Maddox asked Chloe if she would like to go riding with him the next day. She politely said yes since she loved riding, but truthfully that guy crept her out. He was really, really, tall and freakishly buff.

Riding with Maddio is thee scariest thing in this whole dark pit of hell that we call earth. He makes his horse go ballistic, and he asked Chloe out. She promptly said NO!!! She didn't even really know him plus she was dating Seth. Chloe told Maddio this.


Maddio didn't like this and Jenny didn't like that Maddio liked Chloe. So she paid John a hundred bucks to tell Seth that Chloe was cheating on him with Maddio.

Naturally Seth didn't believe this since Maddio was probably hella up on her and following her like a lost puppy. Like he always does with a hot, smart, athletic girl around. 'He's so pathetic', Seth thought.
After staying a month she decided to stay in Chattanooga. Six months later Seth found the courage to propose to Chloe. And of course she said yes. After the wedding they bought the ranch from Dave and Nita.

Maddio decided to ask Jenny out and he soon realized that, that had been the biggest mistake all she did was talk about her problems and her life but once she brought up the idea of marriage. Maddio nearly went insane. And didn't help that he was probably was dating the ugliest girl in the universe no joke.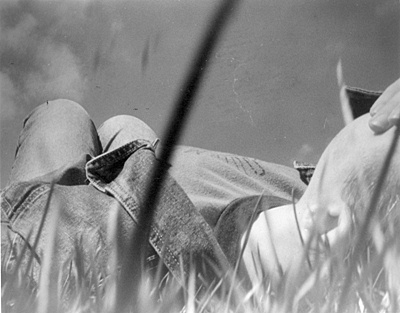 © Tabitha H., Dekalb, IL