Your message has not been sent. Discard?
December 16, 2009
I feel empty. Today, the feeling that I used to get from reading your messages to me is gone. Instead of reliving the sensation I got when first reading those few lines from you to me, I just feel longing. Longing for a new message. One that will never come. Even looking at the picture of us doesn't make me smile as much. Now, I am sad because I wonder if we will ever happen. We as in the couple-y use of the word.
Why don't you write me anymore? Are you busy? Is there someone else?
I just feel helpless. Knowing how much I want you, yet how little I can do about it. I dream about you, you know. All the time. Nothing weird, just us. Together, usually laughing.
You're probably going out all the time, though. Probably flying off to interviews in all sorts of places. Places I've only dreamt of visiting.
I cry. When I watch achingly romantic movies, I cry. When a friend tells me of a new relationship, I fight the urge to cry right then and there. When I see you on TV, I cry.
You're allegedly dating Yanina Screpante. Apparently she's a model. The only pictures of her online are of her in lingerie. Is that the kind of girl you like?
I cheered for you, you know. I cursed and yelled through the entire match, four hours straight until the end. When you won, I cried. Not the sad crying though, happy crying. Except when I saw empty seats in your cheering section. Then, I wished I could be there. For you.
You're in Costa Rica, on vacation. You look happy, with all your friends. Finally, a break from an amazing season. You've risen so high since the day I met you.
I'm not happy, though. I want us to happen. I want you to message me saying, "I remember you. I loved you at first sight." But you won't.
You're a famous tennis player. I'm an average college freshman. You've forgotten all about me. There, I said it.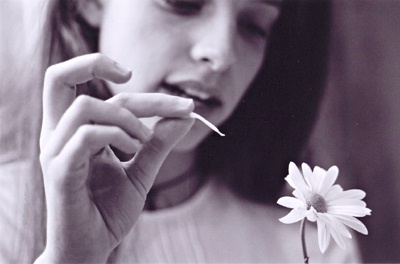 © Emily B., Houston, TX