Break Up Tears&Make Up Smears
December 13, 2009
I watched her walk away with a tear streaming down her cheek when she tried as hard as she could to keep it in. She went to the corner where nobody could see her and let it all out the tears fell into her hands and on to her jeans, as I watched. Hours passed and she was still there, it might have been four hours 'til I saw she wasn't there anymore .

Everyone knew what was wrong, but no one there to comfort her. The boy left hours ago, showing no guilt at all. But inside everyone knew it all. He had guilt, he still loved her, he just didn't have time . Days passed by, at school she walked alone. Everyone too scared to talk to her, even her used-to-be closest friends. He was the main thing that kept her going. Without him, she was like a baseball with no bat. As hard as it was for her, she believing that it would happen between them again.



Everyone told her she was wasting her time, but she kept on waiting. As the months went on nothing changed. She was still in love with him, but clearly he'd moved on. He was with someone else by then, her feelings for him were still the same. One day she thought about giving up. She thought about forgetting about him, but just the thought of it made her cry.



They always hug, but its never sentimental. She misses him greatly, it is so obvious. All the girls make fun of her because she thinks she is still in love, when it's quite clear to everyone else he has found a new love. Her brain understands it, but her heart doesn't. She wishes he cared how she felt, but clearly he doesn't.



All her friends have found their love, yet her all alone still waiting for him. I want to talk to her, but I don't know what she'll say. I don't know if she'll get mad at me or say to go away. I haven't talked to her yet I know all of this. I've seen it all, and I can tell it all. The way she feels is so easy to tell. She doesn't know if he will ever be back again. She doesn't wanna move forward just in case there might still be something left between them.



The more she hides, the more the rumors speak. It makes her life harder by the minute. When she decides to come out with her feelings the rumors will disappear, her life might go back to normal and he might re-appear.



I hide behind the bushes when I watch her talk on the phone. She is fighting with him, but the call is postponed. He ended the call when she tried to keep talking. I felt so bad because she didn't get to say her true feelings, that's all she wanted him to know. If after he knew how she felt, and he said he still didn't feel the same, she agreed to give up and stop this whole "love" thing.



She can't find the guts to tell him how she feels or ask him if he feels the same. But she can't go so long hiding so much pain. I know how she feels so, I decide to help her. Although I'm afraid I'm going mess up things. But it's worth a shot. Here I go.
"Hey, Jake can I talk to you for a minute ?" I said nervously.
"Uhm… yeah sure, Whats up Victoria?" he replied sort of nervous.
"Do you still have any feelings at all for Angelina?" I questioned him not looking at his face.
"In fact, the truth is… I do." He said softly.
"It's obvious she still has feelings for you, why don't you tell her?" I asked trying to make him do it.
"Well, I don't know I mean, like you know I have a girlfriend, it just wouldn't be right"
"It wouldn't be right if you didn't tell her!" I said impatiently.
"Fine, I'll talk to her later." He said sorta mad.
"Okay, you better!" I yelled as I was walking away.


I sat at a bench nearby. He couldn't see me, but I could see him. He pulled out his phone and started typing, then closed the phone. I glanced over to her, and saw her pulling out her phone. It made me happy. She smiled when she opened the text, so I assumed he told her. She started replying. It took her quite a while to send it so I figured it must have been long. He opened his phone and started walking toward her, she did the same. They met in between and hugged. But it wasn't just any hug, it was the longest hug I probably had ever seen. I was hoping they'd kiss, but they didn't. He walked away quickly and said to Angelina,
"Hold on just second, I'll be back."
He walked a couple feet away and pulled out his phone, he dialed a number and put it to his ear. I was curious. He says,
"Hey Jamie, we need to talk"
His phone wasn't loud enough for me to hear what she'd been saying, but it sounds like she was pretty loud, I could almost hear it. She was either crying or yelling, we know what both those mean. He hung up the phone and walked back to Angelina, looked at her and said
"Angelina, will you forgive me and take me back?"
She smiled and replied,
"Yes, I will."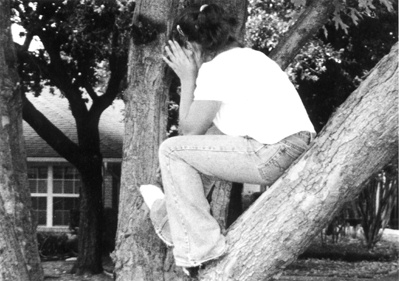 © Allyson S., Highland Village, TX