Take my hand
December 10, 2009
I grab the strap to my sling-on backpack and hike it higher up my shoulder. There seems to be a hurricane inside of me, twisting and burning in a destructive path that no would could comprehend. My heart is numb, numb from any feeling, a tactic to scare off the pain which sent me to tears. No one knew the reason why I cried, no one needed to know.
I held on tight to myself, for the reason of holding myself together.
I was bent over my old wooden desk in the back of my English classroom, merely observing the petty drama all the other teenagers seemed to drone on and on forever for. A pencil was clutched lightly in my right hand, writing random ideas and messages across a blank piece of paper.
That was when he entered the room.
He was definitely new; I would have noticed someone of this caliber of difference. He had glossy black hair, long and smooth, and….beautiful. His lips were the dullest shade of pink possible, almost white, and the smile was wide as he stretched his pearly lips out into a kind smile. Maybe for once in a long time my heart gave an uneven thud.
"Good morning class," my English teacher said with maybe a tiny bit of enthusiasm. "This is the new foreign exchange student Lucas, please make him feel welcomed."
There was little interest I had in the teacher's speech, it was one of the familiar lines scripted in movies and well admired as the introducing of a hero. The word hero made my head sink into my hands. What was I doing?
I could hear the mutterings of the students in front of me, now fully lifted from their obnoxious gossip zones temporarily. "You can have a seat next to Channel there in the back," the teacher said swiftly, brushing him away so that she could then begin her intolerable lectures.
I tried to not look up when he took his seat next to me. It was hard; I could feel the blood rushing to my cheeks. The patterns on my hands weren't distracting enough when it came to people like him. I gave in to my temptation and looked up. He was staring at me, so openly and freely that I about almost sprung from my seat and ran away.
His eyes were curious, and I felt the pain wrack around in my head, reminding me there was no way I was going to be off of it for long. I managed to keep my face from forming a grimace.
"You're name is Channel, right?" he asked, speaking with a very heavy accent. Sounded French or something related to that. "That sounds French?"
I saw what he was doing, looking for comfort maybe in finding someone like him. I hated to burst his bubble. "Maybe, my Mom did live there a long time ago though, but I doubt my name has really anything to do with French."
His bright blue eyes didn't extinguish in its interest. I really felt like looking away now, but he reached with the tips of his fingers and brushed them along my cheek. I closed my eyes to hide the weakness, one lone tear slipped out from underneath my closed eyelid. It rolled slowly and dramatically down my cheek.
The next thing I could feel was the feeling of his soft lips touching the tear in the midst of its track, and kissed my cheek softly. There was a loud protest in my mind. There was a protest in my heart. There wasn't time to think of anything smart to yell out before his lips brushed across my other cheek.
I snapped my eyes open, and there he was, smiling as wide as before with his crescent moon smile. "This is a custom in France. You kiss someone on either cheek. You have heard of this, mais no?"
There was immediately color to my cheeks again. This time it was raging fire, blood pulsing violently through my veins.
I raised my hand with great haste and interrupted my teacher's speech on good essay structure, receiving one huge glare from her. "May I go to the bathroom, please?"
Once I had received an okay, I nearly sprinted from my seat, tucking my few school materials under the crock of my arm, already aware that this class was now over for me.
In the silent confines of the girl's bathroom I let myself wale, blubber, and mumble nonsense words for what felt like forever. It felt like once again like I was being drowned in an ocean of tears. A place which was familiar, and hopeless. The only way I could keep on living was to feel like this, right? It was only right to let myself continue to drown, so that others weren't pulled in as well.
So after that I started avoiding Lucas whenever I could. I would always get to English early so as to pick a seat as far away from the one he always took, and sometimes I just skipped the class all together. He was quite popular; everyone's dream guy was one who could always whisper sweet unheard of things in their ears. I doubt he even noticed my distance.
I was wrong, again.
It was a brisk fall day and I had token the chance to spend lunch alone in the quad, where the grass was still a bright green, and the leaves fell dramatically to lie among their relatives. It was one of the few times I ever felt so free. This was the only time I was sure I could feel my Dad's presence, in the depths of the beauty of nature. I could almost feel his smiling face, and his long, slender fingers reaching out to me in the skinny mass of the tree branches.
There was suddenly a hand on my shoulder. Then there was the sound of someone dropping their brown bag lunch beside me. I could hear whoever it was sat down without breaking their hold on my shoulder. "Have I done anything to offend you?"
That deeply distinguished French accent I would know anywhere. I looked up into his deep blue eyes and suddenly felt the sensation of drowning in them. "Yeah," I said, my voice a little horse from tears and nonuse. "You bring back the pain."
"I've heard about your father passing away in an accident a few months ago. You must love him deeply, still right now. I don't see how I could make you upset though."
The tears spilled over my eyelids and I tried to hide my face under my dark layers of brown hair, but Lucas's hand touched my forehead. Then he gently traced his fingers around my eyes until he had wiped most of the tears away. "It's okay to be happy still. He would want you to be happy."
I sniffed.
"I think you're father wouldn't begrudge you a friend, a friend who understood you, because in the end he still loves you from where he is. I don't think he would begrudge me."
I nodded, gradually grasping his concept. I had denied happiness in his absence, but was that really something Dad would want?
"Take my hand," Lucas whispered, now in a crouching position. He held out his pale hand. "There is more to your life then sadness."
And I took his hand, feeling for the first time in these past few months hope. Hope in the distance as bright as the stars in the sky.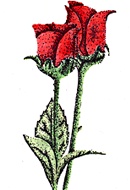 © Sarah M., Phoenix, AZ