Sea Shell Hearts
December 7, 2009
The steady rumble of the engine came to a halt. So did the subtle vibrating beneath my cheek. The car was finally stopped.

This was quickly followed by a dramatic gasp from my mother in the passenger seat. She quickly opened the door and ran up the gravel walkway.

We were here. At the beach house.

The one with the best view, and was the shortest walking distance from the shore. You almost didn't have to ever set up your towel or an umbrella on the sand, bringing a wagonful of stuff with you like your lunches. Just walk across the sandy dirt road, over a boardwalk through a few dunes and you're there.

I detached my cheek from the window, and turned off my ipod, putting it down on the seat. I followed my father's lead and got out of the car. He was humming the last tune he heard on the radio, as he began taking all of our stuff out of the trunk.

I looked up at the house. It was beautiful. Better than any beach house I had ever seen. It was painted a pale yellow, two stories high, a large window in every room. The floors creaked, and the shutters were crooked and filled with sand in their grooves, but I still loved it. If it could talk it would have a story to tell you from every summer. Mostly stories about us I guess. We used to come here every single year when I was younger, before my brother passed away. He really made memories in this house.

I shoved those memories out of my mind as I walked up the front steps onto the porch. The screen door had been left open by my mom, who was already busy airing out the house, placing all her things in their usual spots. My eyes adjusted to the dim light as I walked in. The old wood frames, the tall staircase, the paper covered walls that had a story of their own, each one could tell. It made me want to cry as my heart ached for the days when Jacob was with me, guiding me, protecting me.

I went upstairs then towards my room at the end of the hall, the one with the view of the beach. It was nearly bare, besides the old wood furniture that looked pale under the warm sunlight. As I walked in, something caught my eye. A thin black string sticking out from under the bed frame. I stooped down to pick it up. A silent gasp escaped my lips as I stroked the two white shells that made the pendant. They were glued together in the shape of a heart. As I ran my finger over the tiny grooves and felt the back of the heart my mind was flooded with that summer. I turned it over to read the inscription in the back.

It was him. That boy. He changed my summer, my life forever. Does he remember me? Is he still out there? He gave me that necklace that summer, years ago. Jacob's last summer and my first real adventure. Was it love? I couldn't tell. I never was able to. Jacob fell ill that summer, so we had to leave for home early. How could I have told him goodbye?

I walked over to the window and scanned the beach full of people across the way. Searching for that head of brown hair that nearly shadowed those beautiful green eyes. Those Caribbean green eyes. How did I forget you? My fingers traced it again.

Eli.

~~~~~~~~~~~~~~~~~~~~~~~~~~~~~~~~~~~~~~~~~~~~~~~~~~~~~~~~~~~~~~~~~~~~~~~~~~~
There was a soft hand held by my own. There was sand on her skin and the sun on her hair. That golden sunkissed hair. I was falling into her eyes. Those deep hazel eyes. Like black holes, sucking me in… slowly. She was wearing that pendant I had just made her.

"ELI!!!! Heloooo???"


No! Don't leave me! Her image was fading away again. Leaving me to stand by the beach house, alone.

"Youuuhooo"

I snapped out of it. That wasn't her voice I knew for a fact. Nearly falling out of my chair I looked down at who was calling my name.

"Quit dosing off on the job! How are you supposed to guard people's lives if you don't find your own? Huh?"?
"Ya, whatever." I mumbled, plastering on a smile for Laura. Why are some people so obsessed with their jobs? Sure, being a lifeguard was one of the most well paid jobs in Hope Shore but common. Besides, she interrupted me from my lovely daydream.

I had to find her. Would she be back this summer? Why had she left so soon? That was so long ago. Would she even remember me? How could I forget her, even if I tried. Was it something I said?

Everyone had been telling me, there was nothing I could do so just forget about it. Trust me , I tried. But no matter what she kept creeping back into my mind every time I walked the beach, back on duty.

I scanned the area. No one was drowning. Check. No one causing havoc. Check. No blonde haired, brown eyed girl who knew my name. Once again, check.

I looked at the timer on my chair. Yes! My shift was just finishing so I hoped off the chair and landed on the warm sand, and started walking towards the bench. The one with the founder of Hope Shore's name on it, halfway from the boardwalk to the water, where all the couples sat later to watch the sunset. Where we had once sat. Her and I.

Esther.

~~~~~~~~~~~~~~~~~~~~~~~~~~~~~~~~~~~~~~~~~~~~~~~~~~~~~~~~~~~~~~~~~~~~~~~~~~~~~
I wished I had told him. But no one was supposed to know about Jacob's cancer until we sorted things out. I was afraid for him, so were my parents. They didn't know about Eli though.

How we and shared almost every waking moment of that summer learning about each other. Finding out what it felt like to have those kind of feelings for someone. But we were young. Who knows? What if I wouldn't be his type anymore? What if another Esther had come to this beach house and stolen him away…

Ok, I thought, calm down before things get too carried away.

"Liam! Put it down slowly…. SLOWLY!" My mother was back to her own self. Perfecting her little beach house that she missed so much. We promised to not let Jacob's absence change our future summers. We still had to make memories here. He would have wanted us to.

I looked out the window again and scanned the heads all lying on the sand. Then I saw one. Was it him? Was I seeing things? There was a tanned back, belonging to a young man who was sitting on the edge of the boardwalk. He had brown hair.

My heart did a summersault. Could that be him? What should I do? What if he doesn't want to know me anymore? It has been a long time… Then there she was. Flowing blonde waves cascading down her back, over her black bikini straps. Who was that?

Oh who was I kidding? For all I know there could be a hundred young shirtless guys with brown hair on the whole beach. Who was to say that was Eli?

I walked back downstairs, past my parents who were discussing the worn out cupboards of the kitchen in depth. So I went out to the porch. Leaning on the rails, I was hit by the warm ocean breeze, surrounding my body, pulling me into a hug. I breathed in a deep breath of humid air, listening to the bustle of the kids and parents laying out their towels, claiming their spot for the afternoon where they would laze in the sun and the tide could wash their worries away.

The guy with the brown hair was still sitting there. But now he was talking to the blonde girl, and it looked like they were holding hands.

I sighed. Maybe I should look for him. Finding out that he was with someone wouldn't be as upsetting as not knowing whether or not he was here after all.

So I stepped down, off the porch and crossed the sandy road. I stepped up on the boardwalk, between the dunes and looked down to where the couple was. The blonde girl was giggling about something. And as I looked over the guy turned his head so I could have a better view. He had dark eyes, and his face was unfamiliar. It wasn't Eli.

~~~~~~~~~~~~~~~~~~~~~~~~~~~~~~~~~~~~~~~~~~~~~~~~~~~~~~~~~~~~~~~~~~~~~~~~~~~~
Sitting on the bench, I lifted my arm up onto the back rest and turned my head to look at the yellow beach house.

My breath nearly caught in my throat. There was an old station wagon in the driveway. Could it really be them? I must have been seeing things. But there were only three lawn chairs set out on the porch.

(See that was the Hope Shore tradition. When you arrive you set up your chairs on the porch, ready to get the best view of the summers first sunset)

Esther's family was four.

I sighed, cursing myself for being such an idiot. What are the chances? I probably look different anyway. She probably looks different.

I looked up at the sun that was starting to bore into my skin. I got up, intending to get to the lifeguard shack to hand in my vest and grab some lotion.

"Eli?"

I barely heard it, but it was a voice. A girls. I suddenly felt like I was dreaming again. Was the heat starting to get to me?

I turned to see who it was but the sun was in the corner of my eye and made her kind of hard to make out. All I could tell was her hair was blonde and golden in the sun and as she stepped forward her eyes were brown… My chest felt like it would burst, I was so excited. The corners of my mouth were turning upward and I realized I was grinning ear to ear all of a sudden. A neon sign lit up in my mind, the flashing lights screaming her name.

"I must be sleeping again. Someone tell me I'm awake."

I heard a nervous laugh. "…you're awake?"

I was falling into her eyes. Those deep hazel eyes. Like black holes, sucking me in…slowly. She was wearing that pendant I had once made her.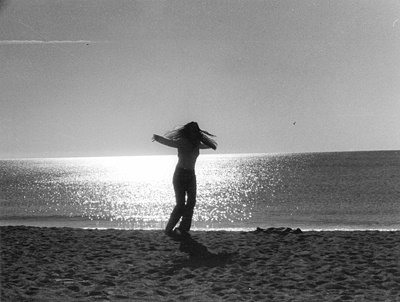 © Denise A., Marblehead, MA