First kiss.
November 21, 2009
I remember the day my world changed very clearly. We owned a lot of land. It was once all owned by my grandfather but he
died years before i was born. I decided to cross the river that i hadn't in long time. It wasn't hard to get acrossed it. then i went through
some trees and stubbled apon a field of pink flowers, I picked some then saw the most beautiful old tree i have yet to see. I went
and sat under the tree pressing flower's and doddling picture's. Then i heard someone sinze, i jumped at the sound of it. I looked up into
the tree and was suprized to see a boy. Stocked, i stood up quickly.

"Hey," he said while swinging onto a branch to the ground and he stuck his hand out toward me. He was very nice; it was
strange. I hadn't met a boy like him before, He was about 17. A year older than me, me being 16. I shook his hand began to pick up my stuff,
he helped.

"Where are you going?" he asked.

"Um. Home. I'm on your land aren't i?-I'm sorry. I just wanted to see what was on the other side of the river. It's pretty over here."

"Actually this is your land, I am sorry. I always come over here. It's like a diffrent world, you know? away from everything. So
diffrent looking too. Everything's so peaceful. I wont come anymore if you don't want me to though."

"No it's fine, trust me."

"Well wont you stay with me for awhile?" He said with a smile.

"Okay," I smile back,"that would be great." He's sitting against the tree so i sit against it beside him. We talk for hours and we watch
the sunset. Then i had to go home. He walked me to the river and kissed my hand. I kissed his too, perfection. Perfection is all i can say.
That night when i got home i couldn't stop thinking about him and i think i fell for him, hard. The next day i woke up early and went back
out there after eating breakfast. I brought enough food for the both of us to say out there all day and my doddle pad incase he didn't come
again. I didn't even know if he was planning to. But i went out there just in case. When i got out there i didn't even have to wait for him. He
was standing on the other side of the river waiting for me with flowers from the flield in hand. This happened everyday for about two
weeks. I'm so glad it's summer; we can just waste are day's together. But today is diffrent in a good way. He brought a pocket knife and
carved his name into the tree. Then a + sign. Then he stoped. Looked at me and kissed me. It was like a kiss from the movie's and it was
perfect. I kissed back and that just made his kiss stronger. I liked it and made mine stronger too. It was pure love in that one kiss. I am in
love. That's something i never thought i would say, could say.

"Will you be my girlfriend, Emma?" he asked kind of shy now. But his shyness is cute.

"Of course i will." We kissed again. This time it was longer and just as perfect as our first kiss.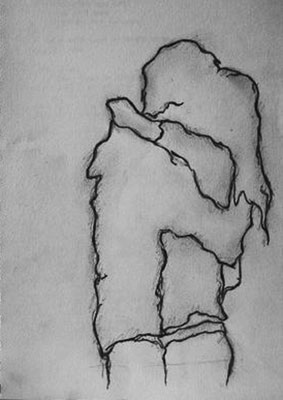 © Nicole B., Newcastle, WA