The Man Downstairs
November 18, 2009
The Man Downstairs

Joy, happy, ecstatic, excitement, giddiness. Strength, encouragement, determination, smiles, butterflies. This man upstairs has given her a man who can and has given her so much and she knows it, she feels it. She has her man downstairs, she feels He approves. She feels the way he feels for her.

When he touches her, whether a hug, brush of the arm, or pulling her down to cuddle or tickle her, her heart feels so wamr and continues to beat rapidly. He smiles at her, she just melts inside. He speaks, she is patient and listens even if she doesn't want to or isn't interested at the time.

Walking hand in hand, lying side by side, she is so happy, joyous, feel his love and dedication to her. When their lips meet, butterflies erupt inside. Even if they aren't together, she still feels that little flutter inside as she thinks of him, as she thinks of how the man upstairs has blessed her.

Yet, this couple isn't perfect, never have been and never will be. Anger, frustration, sadness, confusion have been felt. Hearts have been attacked and cause tears and hurt. He has hurt her, she has hurt him. Both have gone and suffered through so much. She doesn't understand why, why both of them have to get hurt and suffer the consequences. Only the man upstairs does.

Only the man upstairs knows that the tears, hurt, scars, and emotions caused will be dealt with, and how they will occur. He also knows how it will strengthen, bring determination, have each of them focus, and realize their true emotions for one another. He knows how they will work it all out and continue to stay together, to love each other. So do they.

Every time she sees him, butterflies erupt, the smile on her face makes her seem happy. Because she is. When he sees her, he smiles and can't wait to have her in his arms. When they are, they wonder, "Why did that happen, the pain, everything?". Yet, being together in each other's arm and company, they know it will be okay, thanks to the man upstairs.

As he speaks, his eyes show the happiness, compassion, and love he has for her and wants to give her. He will succeed in doing so. Whether he says one word, randomly looks at her for no reason, pulls her in for a hug, tickles, cuddles, or even kisses her gently. Maybe he just thinks of her and isn't even with her, or maybe they are praying or doing a devotion, he doesn't need to worry. What he does or says all the time isn't perfect or always right, but that doesn't matter. He shows and gives her the love, strength, compassion, determination, encouragement, and happiness she needs.

She know he will do anything for her, care for her, comfort her, just take away her pain, and bring her feelings to make her feel all that love, strength, compassion, determination, encouragement, and happiness she needs. She has found him, thanks to the man upstairs.

She has found her perfect guy, the man in which God can do his work through to her. The man who accepts her for her and no one else. She has found her man downstairs. Sure, the man upstairs has given her many of these things but can't do that all the time. He needs help and someone else to take care of her as well, the man downstairs. She is grateful for all He's given her, all the emotions of greatness she receives from him. She is especially grateful for…her man downstairs.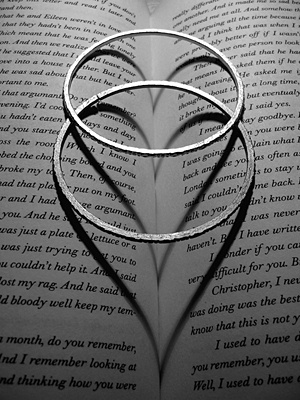 © Julia K., Old Tappan, NJ