I'm Not Sure
October 23, 2009
Did you ever wonder what it'd be like if you could remember every detail? The first time she smiled in your direction, or said hello, or touched you....You would remember every feeling of affection, and every feeling of flying. You could compile every happy moment you spent with her and breathe them in, becoming exuberant. You'd know every time she expressed any care, any desire, any feeling at all in your direction...But you'd also remember every time she doubted you, every time she dissed you. You would remember every time she made you cry instead of fly. You'd recall every moment of jealousy, and every time she messed with your mind. You'd remember every good and bad thing. And the good things would make you happy, and the bad things would drag you down. If could choose to recall every past scent, taste, picture, and feeling concerning her...would you?

Could you stand seeing her cry again if you could feel her caresses? Could you stand watching her walk away once more if you could feel her desire? Could you take hearing her scream again, if you could touch her lips?

"What do you want?" I spoke to her coldly. Her eyes were huge, brown, and sad, and it hurt me to know that I was hurting her...but there was no other way.
"I want you."
"Yeah, well...People don't always get what they want. That's an expression often used, and more often true."
"Babe..."
"I don't want to talk to you." I started to walk away, but she grabbed my wrist to turn me around. I didn't let her. I just stopped and listened, my heart racing all the while with her touch.
"Please don't do this to me. Just let me have you. Just for a little bit. So I can know. I don't want to hurt him. I don't want to hurt you. But I'm not sure how I feel."
I took her words in for a moment, and as nice as it sounded to be with her, I was not going to put my dignity on the line. And certainly not my heart.
"No. This is base. This is wrong. If you want to be with him, be with him. I'm no one's second choice. Isn't that one of the reasons you like me so much?" I abruptly took back my tingling wrist. I bent to roll my baggy jeans a little, so that they wouldn't make the annoying swooshing sound when I walked away. I stood and continued on with my life.

I see her with him sometimes. I feel this pang in my heart, where she used to be. Sometimes I'm not sure whether I made the right choice. We don't talk anymore; we're not best friends like we used to be, and somehow everything about life feels darker. Her black eyes, black hair, black nail polish— all of that, made my life worth living. This kind of black though, I didn't like. It was the black that filled the cracks in my heart and clouded my mind. If I would have let her keep me though, I might've been more hurt. She would've butchered me. She would have kissed him and then kissed me. She would have loved him and loved me. She would have destroyed him and then destroyed me.....Sometimes I'm not sure though. I see her and I'm not sure that I made the right choice.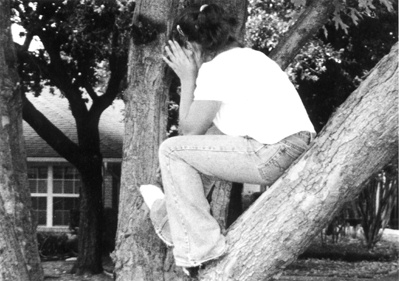 © Allyson S., Highland Village, TX