Mandy
November 15, 2009
Standing on the ledge of the cliff I realized how much Joey meant to me, but they were coming for me now and there was no way out but to jump. The freezing, powerful wind made my hair dance around my head and sent shivers down my already cold body. I looked down into the water yet again. It was such a long jump. I didn't want to do this. I was going to die. I wish I could just get shot in the head now.
The faint sound of screams made my heart freeze and I felt tears crawl into my eyes. My small, short figure shook as I cried. I put my hands up to cover my face. This was all my fault. People were dying because of stupid things I had done. I wanted to die. I wanted Joey. I wanted to crawl into a hole and shrivel up and die. I hated myself. The screams were louder now and ringing in my head. I took a deep breath. I had to jump off. I was going to die anyway.


I took a step closer to the edge. The waves crashing underneath the cliff smashed again the dirt hangover that I was standing on. Water sprayed into my face. I sputtered, coughing up salt water. Again tears washed down my face. I'm so stupid, I thought. Why couldn't I have listened to Demitria and stayed away from Joey? But I didn't. I fell head over heels for the guy who messed with a group of "bad boys" who threatened to kill his girlfriend. And now look where I am. Standing on top of a cliff, the only way down being jump off, which would mean at least a 200 feet drop.


The screams still echoed in my ear, but now louder. I shoved my face in my sweater, trying to ignore the horrified yells. My body shook again, and I was so angry at myself. I let out a silent scream inside my head. I really hated myself. Suddenly, a yell told me, "Hey! There she is!" I couldn't believe it. I turned around and there they were. Everything was pointed at me. I froze. Their piercing stares terrified me. Then I heard it. His voice. Joey's. "Mandy!" He called. My eyes shot over to where the sound came from. It was him. He was running towards me. In a spilt second his hand grabbed my hand.

"One...two...THREE!"

And we jumped.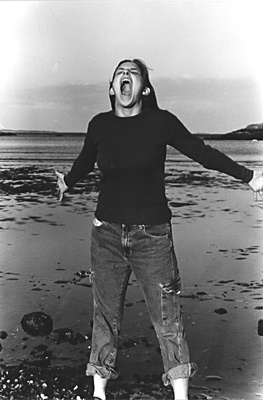 © Jessica M., Marblehead, MA