The last goodbye
November 10, 2009
The notebook kept in front of me was still empty.

"I've lost it." I slowly whispered to myself.

It was the first day of my tenth grade and it was gloomy from the beginning.

Children all around me were playing, chatting, dancing, laughing, gossiping and doing all sorts of things, but none noticed me.

From several months I had been feeling sad, low and miserable for some mysterious reason.

Ihad tried to read, I had tried to write, but alas nothing interested me. The T.V., the computer, all had failed to entertain me.

My mind had stopped thinking thoughts and feeling emotions.

Life had become aimless.



Sitting on my bench and frustrated from my situation I started to cry.

Just when I thought no one noticed, I felt a hand on my shoulder.

"Is something wrong?"

It was a girl unknown to me. She had straight, long black hair, a delicate,small nose and had a strange twinkle in her eyes.

Finding solace in her warmth and desperate for a shoulder to cry upon, I told her everything about my situation.

She listened like an experienced listener; and by the time I had finished my heart was much lighter and I was feeling much better.

"It's just a phase." she reassured me. "Everything's gonna be alright."



After that day she became the best friend I would ever have. In a short period of time she had become good friends with my friends too. But our friendship was the strongest.

We often liked to hang out with each other.

Well, to tell the truth we were mostly with each other only. We used to study with each other, hang out after school and chat for hours on the phone.

She often visited my home, though I never visited her's. My mother, father, sister and brother knew her well and she soon became a family friend.

We talked a lot and knew each and every thing about each other. We talked about each other, we talked about every thought that crossed our mind that day, we talked about different situations and what we would do in them. We talked just about anything two people can have a conversation about.

Her name was Fragrance by the way (almost forgot!).

And as far as I had been able to know her, she was the happiest person on this planet. She was always filled with energy and enthusiasm and surely she never got bored or neither did she ever allow anyone around her to get bored. She was a little bit crazy too.

Sometimes she laughed a very funny laugh for no apparent reason which made everyone else laugh too. And sometimes she also danced insane dances.

She was a girl who wasn't afraid of the world at all and didn't care about what anyone thought of her.

She used to get emotionally attached to people very quickly. And was the best friend and the worst enemy one could have.

She loved medieval architecture and so did I. Therefore our favorite meeting place was a very old church, though none of us was a Christian.

That church had a very large graveyard with marble angles and stone crosses.

The church had huge glass panes with pictures from the bible painted on them.

There were many gargoyles perched on it's roof.

And yes, it had lots and lots and lots of trees.

It's truly a surprise that this gorgeous place was most of the time empty.

This church was truly an inspiring place and we often had conversations about the paranormal and the unexplained.

Once in such a conversation she had asked me-

"Do you believe in ghosts?"

And I laughingly said "Of course not, that's absurd."

We mostly hanged out in the graveyard as it was the most beautiful place in the church. The more I spent time with her, the more I got influenced by her. Thanks to her my serious nature had changed and she taught me to find joy in the smallest of the things.

As days went by and our friendship grew stronger, I kept getting more fond of her.

And finally one day I realized that I was hopelessly in love with her.

That whole day I kept thinking about her (called her 27 times) and that night, after so many days I wrote a poem-



I love you,

More than the Sun

Loves The moon.



I love you,

More than a song

Love it's tune.



I love you,

More than the night

Loves the dark.



I love you

More than a match

Loves the spark.



I love you

More than the sky

Loves the sea.



I love you,

Even more than me.



Ah! It was a perfect poem at last. Simple and to the point. Just the way I liked it.

I named it 'I Love You' (not very innovative, I know)

That night I slept with a smile on my face.

The next day was a Saturday. I called her to the church early in the morning.

The church was quite a distance from our houses. Thus we usually traveled by our bicycles.

I reached there early and rehearsed several times.

But when she came I forgot everything I had rehearsed.

She seemed Extraordinarily beautiful that day, as if she specially got ready for me.



"I want to give you something." I murmured, quickly handing over my poem to her. As soon as she finished reading it, her face lit with a smile.



"For me?" she asked.

"Uh..yah." I said nervously, my fingers crossed.

"I love you too." She said hugging me.



And for the first time we talked about things we never talked before; our cheeks red with shyness.

But at last (alas!) dusk arrived and it was time we had to say our goodbyes.



"Here take this." She said taking of her favorite silver ring her grandmother gave her.

"Thanks" I said.

Then she kissed me and left.

When I reached home I was shocked to see all of my family members sitting in the living room with very grave faces.

As soon as my mother saw me enter she ran to me and hugged me tight.



"Where were you?" She asked worriedly.



"I was at the church, why?"



She didn't answer just stared into my eyes and I saw a tear drop fall from her eye.



"What happened?" I asked gravely worried by now.

"Come with me." My father said to me.

I quietly followed him to the car and he started the car.

He took me to the hospital; now I was sure that something bad has happened.

As I entered the hospital a nauseating smell filled my nostrils which made me feel like vomiting. There were sick people all around me.

Some other people were crying over the death of their relative. My father took me to a room where two people were crying and someone was lying on a bed, with the face covered by a white sheet.

Among the 2 people one was a man and other was a woman.

When they saw me enter they both wiped away their tears and the woman came and hugged me.

"In this whole world she loved you the most."

Her words greatly confused and horribly disturbed me.

By now my heart was beating so fast that one could hear it without putting their ear on my chest and my hands were trembling violently.

"I don't know if I should show you this. But you have to see this."

And after saying so the man removed the sheet from her body.



My heart almost stopped from seeing what I saw. The person lying on the bed was none other than fragrance.

Her body was cold and lifeless and their was a wound on her head.

"She was going somewhere in a hurry. But then she slipped from the stairs and died this morning."

The struck me like thunder.

'But it cant be, just met her!" I gasped to myself.

'Was it a dream then? It's not possible what was it?' I thought, greatly disturbed and confused.

Just then he saw the silver ring, smiling brightly to me and everything became clear.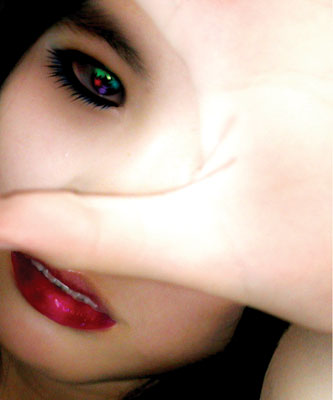 © Victoria W., Arcadia, CA