True Love in the Heart of a Teenage Girl
October 21, 2009
It all started after my 9th grade year during the first week of summer band camp. With the sun burning so hot down on us, I felt like I could melt.
Then I saw him, standing there so perfect. His eyes were like the moon, bright and full of love, gentleness and kindness. When he smiled, it made my heart smile, too.
I could only watch him from afar because I would tremble and my heart would beat so fast I thought it could win a marathon. When he approached, I would go breathless, unable to speak to him, not even to say hello. I was so scared that I would push him away. That fear soon came to an end. When I would lie on his chest I heard his heart beat just as fast as mine. I cherished those moments when our hearts were beating as one. It was at that moment I knew we were in love.
When we were at lunch one day, a group of friends were sitting together laughing, joking, and doing what teenagers do. When I saw him standing there, I forced myself to speak. From then on, I couldn't wait to get to school and see him.
Every time I woke up, I thought to myself, "You better get up. You're going to see the man you long for." In about two weeks, he became my best friend. I constantly wished for more because we gave each other signs that we liked each by nudging each other in the arm or poking each other in the side. He would always blow on my ear or rub my neck so tenderly. Those are the things that mattered to me most of all.
One hot day right before band practice, he finally got up the courage to ask me out. I was like a bird soaring through the sky when I heard him say, "Will you go out with me?" I couldn't believe he wanted to date me. It was as if I was in a dream. I was scared to wake up because my happiness would end. After I pinched myself to be sure that I wasn't dreaming, I couldn't believe what was happening.
Band practice was the last thing on my mind. I couldn't help but think about him with his luscious face and bright smile. Every moment together, I hoped it would last for a lifetime. When I was apart from him, all I did was crave his presence. When he held me, I felt like my world was alright and nothing could ever hurt me again. Sometimes when I would look into his eyes, I could see the compassion and love. I knew that the feeling I had was real and nobody could take that away from me. He took the broken pieces of my life and pieced it back together with his love.
Every minute after school, I counted down the minutes until it was the next day. He was my stallion, so strong and mighty. If I would have been with him every second of the day, I would move mountains to make that happen. I loved him with everything that I keeps me together.
When he would gently lay his lips against mine, I drifted into a coma, oblivious to the world around me. I could feel my legs go weak as I bulked into his arms. That first kiss meant everything in the world to me because I knew I wanted him by my side.
He was more than just a person to me. He became my heart. If it came down to it, I would jump in front of a bullet for him because I love him so much. I never knew so much love existed.
The happiest moments came from band with him. At my first competition, I was shaking badly and everybody tried to calm me down, but he was the only one able to comfort me. When he said, "Baby, calm down, it's going to be okay. You can do this." His words are what stuck the longest.
By the end of marching season, everybody grew sad because our happiest times were over. I was especially upset because my time with him would be dramatically decreased. I was terrified of what could happen between us. Then, I was an ounce of light in the situation because when second semester started I had concert band and he was in there. My world was perfect from then on. I gave him my heart and now it's his forever.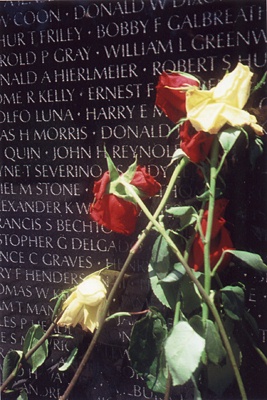 © Justin R., Angola, IN