Friends Forever part 3
October 21, 2009
It had been one crazy week. I was so worn out. I had been completely ignored by Bryson and completely adored by Andrew. I had really begun to like Andrew. A lot. And Bryson slowly drifted further and further away from my mind.

It was prom night and my parents were still out of town. It was weird getting ready for prom all by myself and once again I had gotten ready early and I was sitting on our dark brown couch waiting on Andrew to come pick me up. My short, brown, bob was fixed in a poof and my makeup was done to perfection. When I heard a knock at the door I was fingering the material of my long white dress. I stood up and lifted my skirt as I walked to answer the door. I opened the door and gasped. Bryson was standing on my front porch in a white tuxedo with a single red rose in his hands. This image once would have fulfilled my wildest dreams. Right then, I didn't know how I felt about it.

"Bryson, what in the world-"

"Don't talk, just listen. Mo, I haven't been trying to be rude, I just can't stand to see you with another guy. I just….I don't know. There is just this feeling I have had about you since Andrew started coming around, and Mo, I just…" he ran out of words to say. He wrapped one hand around my waist and placed the other one on the back of my head and kissed me. A long, strong kiss. I knew it was wrong, I had a boyfriend, and I tried to push him away but he pulled me closer. We were still standing in the doorway and when I opened my eyes, Andrew was standing at the foot of the steps. Tuxedo, corsage box, and sad, hurt eyes. He threw the corsage up on to the porch and turned to walk back to his truck. I tried to stop him. I kicked off my high heels and chased him down the steps. I tried to grab his hand but he pulled away.

"Andrew, please just listen," I was crying. He didn't stop. He just slammed his truck door and drove away.

I ran back up the steps. "Thanks a lot Bryson. Why now? Why when I finally got my emotions right did you have to come in and mess with my head?" I had tears full of mascara streaming down my face. I slammed the door in Bryson's face but that didn't slow him down. He flung the door open and grabbed my arm as I headed to my bedroom. I tried to yank away, but he held on.

"Let go!" I screamed.

"Look at me," he said firmly. I turned around and face him. "Mo, I love you and I care about you, but I waited too long. If you want Andrew, then let's go find him."

"Bryson, you don't have to-" he put his fingers to my lips.

"But I want to. I want you happy."

"Bryson, thank you," but I wasn't really sure if I meant it. I didn't know what I wanted. But we raced out to his old Camaro and Bryson headed the way that we had seen Andrew leave. His truck came in to view. Bryson sped up and flashed his lights until Andrew pulled over.
I looked at Bryson sitting in the seat next to me. I felt horrible leaving him there. He grabbed my hand, squeezed it tight, and kissed it, "Go for it, Mo."
I walked to Andrew's truck and threw open the door.
"What are you doing here?" Those were so not the words that I was expecting.
"Excuse me?"

He stepped out of the truck, "Why are you here chasing me when we both know that I'm not what you really want?"

"What are you saying, Andrew?"

"Morgan, I'm too little too late. You love Bryson. You may care about me, but you will never love me like you love him. And honestly Morgan, I care about you a lot too, but I have seen the way he looks at you. He adores you Morgan, and I don't know that I could ever compare to him in that way."

"Andrew….." I didn't know how to react. Every word of what he said was true.

"Morgan, you don't have to explain anything. I understand. I found you too late. Someone else already has your heart. And he is one lucky guy." He hugged me and kissed me on the cheek. "Now go. Do what you know you need to do," he whispered.
We both looked back at Bryson who was still sitting in the car incase I needed him. "Thank you, Andrew," I whispered. He stepped back up into his truck and drove away.
I headed back to the Camaro. Bryson jumped out of the car to meet me.
"Where did he go, Mo? What happened?" He brushed the tears off of my face and carefully began to wipe around my eyes where my eyeliner and mascara had smeared.
"He helped me realize something very important. I love you Bryson Jackson. More than you could ever know. I always have and no matter how hard I try, I can never love anyone else like I love you." I was shaking. I feared rejection. I feared that maybe I had shared too much of my heart. But the relief I felt was amazing.
He looked at me, "I just have one question about all of this?"

"What?" I asked quickly. Surely after everything I had gone through, I was hoping he was not going to shoot me down.
He grabbed my hand and broke out into a smile, "Well, Mo, would you like to be my girlfriend?"

"Bryson, I would love to be your girlfriend."

He kissed me and squeezed me tight and for the first time in my life my hands did what they were always supposed to do and I ran my fingers through Bryson Jackson's hair.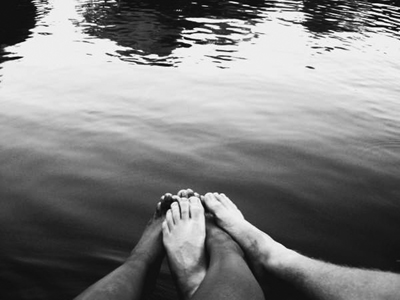 © Michelle W., Ada, MI