Forever or Never p.1
October 17, 2009
My hands pressed against the opaque glass door and I let out a scream that no one heard. I fell to my knees and pleaded. My mouth formed the words "take me" but no sound came out. There were two shadows moving on the other side of the glass, one being much bigger than the other. It was whipping, tearing at the smaller figure. I shrieked in horror and tasted the salt from my own tears that poured down my face porcelin face.
Screams other than mine echoed off of the long tunnel I was standing in. I recognized the voice; the more I screamed his name the louder his shouts became. I ran clumsily at the glass door and fell back, hitting my head on the concrete floor. Pain surged through my head. It started as a dull humming, then it came as a loud roar, ripping my insides. My vision flickered as I tried to fight it off. Then, everything went black.
"Diana?" a voice rang in my ears. I opened my eyes and saw my mom standing over my bed. "Diana, you were screaming in your sleep again." She had a worried look pasted on her pale face. Her blonde hair was suffering a severe case of bedhead.
"Mum, I'm fine," my words sounded slurred and sleepy. I sat up and rubbed my head. "It's only a dream," I told her, but mostly just to assure myself.
"Okay," she sat up."It's time for school now anyway." She still looked uncertain, but I got up and stretched, ready to start my miserable day.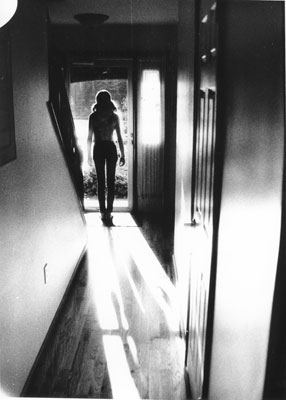 © Mike V., Morgantown, PA