His clumsy Ballerina <3 Chapter 1. Part 2.
October 16, 2009
The "You are now leaving Whangerai" sign got me thinking more about everything again. Thinking maybe it would be a good thing, just thinking...And not long later i had drifted asleep when i felt deyontee put my head against his shoulder so i wouldn't whack my head against the side of our big blue station wagon we called Willie. I wrapped my arm between his and held his hand as i felt one, just one tear escape from my eye and land against the bare skin of his arm. I was scared, freaked out. Not knowing what to expect from things scared me and deyontee knew that so he didn't let go of my hand because he thought it was weird he squeeze it gently and kissed the top of my head "everything will be fine, I promise Indie." I smiled feeling that little bit more comforted i drifted back to sleep.
In what felt like forever deyontee untangled his arm free of mine and i heard him yell "Whoa mum! This is so awesome!" I lifted open one heavy eyelid to see we were in Auckland right outside our soon to be home. Granddad had also brought us (along with the gallery) and brought us new stuff iswell. We only brought our clothes and toothbrushes and stuff like that.
"Oi get out here and check out this place its like awesome indie?" Deyontee had stuck his head back inside the car so he was looking right into my eyes "C'mon sleepy head." He grabbed my hand and basically snatched me out of the car "Look at it." he pointed as I rubbed my eyes with my free hand and leaned my head back against his arm seeing as my neck was still asleep i managed to tilt my head up to see a two story high old fashioned house that had been redone it was beautiful. With a porch and a swing on it. The house stood there glistening white with the sun bouncing off the painted wood into our faces. The front door was massive. wood with glass in the middle, it had a picture in it made up of coloured glass of what looked like the Virgin Mary reaching her hand out towards us. I was lost for words.
Deyontee looked down at me "way better than our house back there" He gestured back toward where we had come from with his chin quickly looking back at me "aye?"
"Whoa. Yip it is." I strode up the steps to the front door and ran my fingers over the lady's face in the glass. "Mind. Blowing" I whispered to myself, mum was standing right next to me in a flash.
"Come baby let's have a look inside. Granddad really outdone himself didn't he?" She put the key in the door then breathed out a really heavy sigh and pushed the door open with one little push.
It opened into a big open plan lounge with a modern kitchen to the left with a breakfast bar. In the lounge there was a 50'inch flat screen T.V. with a Nintendo Wii underneath it along with Sky. The Gigantic white leather couches with matching recliners in front of it looked very welcoming to my very sleepy self. My eyes widened at the room off to the right I could only see a little bit through the half open oak door but i saw the wall length mirrors with one beam going right across the middle. I felt my feet lifting me slowly over towards the room. Mum at my heels hands up to her mouth that was pulled up at the sides. I pushed the door open enough for me to walk onto the wooden planks underneath my feet to see a medium sized room, the walls all mirrored and written in lipstick on the one mirror in the middle:
happy birthday munch kin
Love grandmamma and Granddad.Xx
"Mum did you know about this?" I asked my eyes wide with shock. I turned my head slowly to see mum nodding and then she screamed a little and gave me big bear hug and i couldn't breathe. I had no idea whether it was from mum's big hug or just from pure happiness. Frank was the one who suggested to mum that i could become a little ballet dancer after i sat down and watched dirty dancing on T.V. when i was 5years old. I fell in love with every type of dancing but i loved ballet the most and had done it since then. I never thought i would really have a ballet studio of my own and now i did.
"it was mine and franks idea and I. well. I had to tell grandmamma about it and she thought it was a great idea" Mum was babbling on as i stroked the beam across the mirrors. On the end of the beam there was a pair of ballet shoes hanging, light baby pink ones with the beautiful ribbon gracefully hanging down the sides. I always had been stuck with the budget ones off trade me. I picked them up they felt silky and smelt brand new with the tags still on them. My exact size. I wrapped them back around the beam After a while mum had gotten frank and Deyontee into the room. Deyontee put his arms around my shoulders saying how cool the T.V. was and so on. After we saw the big bathroom downstairs we went to see mum and franks on suite. It was to beautiful for words. The colour scheme was mostly neutral colours and soft creams. There big bed had about a gazillion pillows and there bathroom had a big spa bath. His and her sinks but no shower. After we had finished going through the downstairs we went up to the second floor when I finish going up the polished steps they opened up to a welcoming little area that overlooked downstairs, It also had a Big t.v. with beanbags in front of it. There was a computer desk in the corner and an apple computer rested on top of it there was also another note from granddad and grandmamma.
Our beautiful grandchildren.
We wanted to make sure you guys had
your own space where you could "hang out" without
the parents around just as we had given them there
on suite for their own space we wanted to do the same for our very
special grandchildren.
with love...
xx."whoa grandmamma obviously wrote it aye Indie?" Deyontee asked disgusted that grandmamma had said "we" when we knew that it would have been her. Her that thought about us, Grandad was just her ATM. Though she loved him he was one of the most cold hearted people i knew and i have no idea how someone like my grandmamma ended up with someone like him...
"yip true that...check out the T.V. its bigger that downstairs!" I wasn't the least bit interested in the T.V. but i knew it would get deyontee's mind off the whole note issue.
"Yeaaaah." He dragged the word along nodding in agreement" let's go check out rooms." He said pointing at the only two doors left. I ducked under his arm that he still had placed on my shoulder and saw that on one door it had my name in what looked like lilac, wooden building blocks placed on it. I smiled a half smile at deyontee "you can go check out your room if you want?" I said giving him my "sympathy" look.
"c'mon you deserve these nice things because you've been through so much these past couple' a years sis now get your butt in there so we can have a look." I kissed him on the cheek, gave him a thanks smile and pulled down on the door knob I opened it slowly with my brother eagerly trying to see through the crack in the door growing bigger and bigger with each gentle push i gave it. I had my eyes shut scared to see what it looked like. I heard deyontee gasp "India. Check. This. Out" I opened one eye lid to see a big room with white walls it had spontaneous fluro pink splashes of paint all over it even on the ceiling. In the middle of the room there was a queen sized bed with bed posts at each corner, in the middle of the bed there was mosquito netting hanging from the ceiling over and wrapped around the bed posts held there with one plain pink ribbon on each post. There were wardrobe doors on the wall across from the bed walking slowly over to the doors and I pulled them open. It was a little walk in wardrobe the room was painted all fluro pink with the back wall completely covered in mirror. And on the ceiling there were butterfly lights all different colours covering it. Deyontee was still standing in the doorway itching to get to his room. I waved him off and he lipped thank you to me then jogged off to his room. I looked around the room again. It had one gigantic window with a window seat, surrounding it there was a book case implanted in the wall completely filled with books. The window seat was filled with lots of squishy pillows as i plonked myself down on it and looked at the rest of the room just noticing the big stereo system by the door.
Next to my bed there was a bed side table with a blue lamp on it along with a brand new digital alarm clock. "yus" I heard myself whisper then scanned the rest of the room filled with a desk on the other side of my bed and a vanity table with all kinds of jewelry and perfume and make up. All of a sudden i found that my eyelids were very heavy and couldn't keep them open any longer...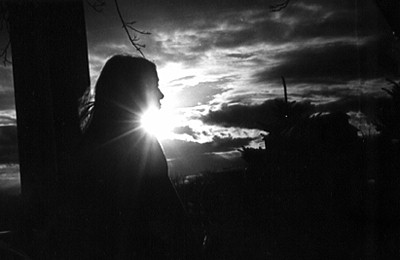 © Elizabeth G., Marblehead, MA