He Changed Everything
October 5, 2009
Just when I thought my life was going to end, he showed up…

Let's rewind, go back to the beginning. It starts the summer before my sophomore year. Everything was awesome. My boyfriend was super hot. He was tall, he had long hair, an amazing body, and the awesome personality that matched. On top of that he was a motocross racer. HOT! Tyler was his name. We had what I thought was the perfect relationship, he was sweet, funny, cute, and he liked me for me. Tyler was never pushy, he never said one thing to me about having sex, which I loved because I'm planning to be a virgin until marriage. That was at least, he acted like that for the first month we were together.

After that month things started to spiral out of control. I saw his angry side. We fought. A lot. It was every little thing that happened. He was gone a lot because of motocross. There were always girls around him, and I got extremely jealous. He always reassured me he would never cheat, and boy was I dumb enough to believe that shit.

" Baby, no it isn't what you think it is. She kissed me. I told her that I have a girlfriend and, that I would never cheat on her." Tyler pleads, in an attempt to save his ass.

" No Tyler, I don't care if she kissed you. You kissed back. It takes two to tango. I saw you with my own eyes, you were for sure 'tango-ing' " I yelled back.

" Cass, just give me a chance to prove to you that I want to be with you and no one else. I love you…"

" No I'm done. I can't put myself through this anymore."

That's the day I ended my relationship with Tyler. For a while I was a hot mess. My friends told me I didn't need him and that I could do so much better. That might have been true but I didn't care. I was so close to texting him and telling him that I wanted him back. Then I saw him at the mall, with that slut he cheated on me with. That was the closure I needed. From that moment on I told myself I wouldn't date anyone like him again.

My neighbor Daryl and I had always been friends. After Tyler and me broke up we became even closer, he was always hanging out around my house. I could be my complete self around him. He was like my older brother.

" Cass, I swear you and Daryl are going to get married. You just watch." My mom always said.

" Ewww! No way momma. He's like my brother, I don't even see him like that." I said back in my defense.

That was the truth too. I didn't see him more than a best friend. We acted like brother and sister too, fighting all the time (just playing around), beating each other up, that sort of thing. So when I started talking to this eighteen-year-old named Anthony, he kicked into big brother over protective mode.


" It isn't a good idea to date this kid Cass. He's eighteen, you aren't even sixteen yet! He just wants to get with you. When he gets what he wants he'll leave you." Daryl objected.

" Oh my God Daryl! You don't even know Anthony. He isn't like that all! I know you just want to protect me but for real, I have it under control. If I need you I'll come to you…I promise." I explained.

" Okay Cass, whatever." Daryl had disbelief in his voice.

" Chill out, school starts in like a week. I'm sure we'll stop talking." I argued.

August 24th. First day of school. I woke up on that Monday morning to the vibrating of my cell phone. I glanced that the clock, 6 A.M. I got out of bed stretched and yawned like my cat when he wakes up from a nap and stumbled to the bathroom. I got all ready, and double checked myself out in the mirror before I left. I walked outside to wait for my bus to take me to a day of hell. The sky was hazy, there was so much fog outside you could barely see down the street. The moon was still out too, it looked like one of my fingernails. It was chilly out, and it smelled like fall.

When I got to school I saw Anthony, standing on the front steps. I really didn't think that I'd see him much because he was a senior and I was a sophomore so we wouldn't have classes together. But when he saw me his face lit up like a little kid at Christmas. He ran over to me and gave me a giant hug, nearly knocking me into the person behind me. This boy, he was so much different than Tyler. Anthony was almost 6' tall and really skinny. He wore girl pants and cute v-neck shirts. His hair was almost to his shoulders and curly. He played the bass guitar for his band and rocked at it. There was something about him though, I loved his smile, his personality, and he could make me laugh until tears were streaming down my face. I was happy when I was with him, I didn't care if my friends thought that he was too old or he wasn't cute enough. I liked him and he liked me and that's all that mattered.

My first months of school were actually going pretty well. I liked all my classes and my birthday was coming up in December. Everything with Anthony was awesome too. We decided not to date until after I turn 16 so I was especially excited for my birthday. So Daryl is backing off a little bit too. I think he saw how happy I was and accepted the fact that even though Anthony's18, he was a good guy. Daryl even has a new girlfriend. I was so happy for him!

I woke up on the morning of December 12th, expecting to feel older or something because now I'm 16! I love going to school when it's my birthday, because every time I walk in the hall I hear

" HAPPY BRITHDAY CASS!!!"

So anyway, I woke up and walked outside to get on the stupid bus. But when I walked out the door there was a car in my driveway that I've never seen before. Then someone opened the door and stepped out of it. I got a little creeped out because I had no idea whom it could be, then I saw his face. It was Anthony! He had a single rose in his hand, and a little black box. This was all too much, I was so overwhelmed I couldn't even get my feet to walk across the porch and down the steps. He walked closer and closer, with a smile on his face. I knew I was blushing, my face was so hot I could feel it. He got to my porch and was walking up the steps and I was so nervous I thought my legs were going to give out. I opened my mouth to attempt at saying something but before I could he told me not to say anything.

"Happy birthday Cass. I have something for you." Anthony said smoothly, like he was rehearsing what to say for days.
He handed me the rose and then slowly opened up that little black box. I thought I was going to pee my pants. Inside the box was a silver locket in the shape of a heart with diamonds around the edges. I looked at it and started to tear up, no one has ever gotten me anything like that before. This is when my life did a complete 180. I was happy again.

"Anthony it's--"

"Wait, before you say anything else, look at the back." He said.
I flipped the locket over and engraved in it, it read…
"Be my girlfriend, forever and always – Anthony."

"Beautiful."

"Just like you, Cass. Just like you." He spoke, looking directly in my eyes, like we were the only two on the planet.

Before I could tell him yes, he kissed me. Like he knew that I was going to say yes. There we were, kissing at seven in the morning, on my sweet sixteen. His lips were soft, he was gentle, his hands on my face and in my hair. My arms around his neck still clutching the rose and locket. I never wanted this moment to end. It was perfect. As we were kissing, it started to snow. It never snows on my birthday. This day couldn't be more perfect.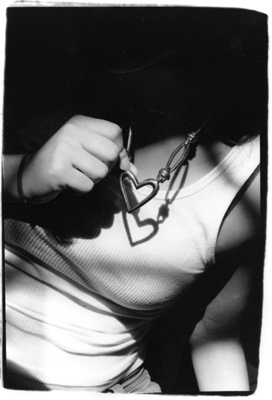 © Julia R., Bethesda, MD