He Doesn't Even Notice Me, or Does He?
September 26, 2009
He doesn't even notice me. I mean, he does, but it's just a glance while he's scanning the surrounding area for a friend he's been talking to. A girl friend, possibly soon to become his girlfriend.
On the first day of school I walked into my third class, wishing for the day to be over. The stress was too much, although it wasn't as bad as I thought it would be.
I was one of the first in the room, so I took a seat at the far end of the room. Once the room was full, I realized I was surrounded by strangers. Lower classmen I didn't even know. My second day in that class I took a seat on the other side of the room with students my age.
That's when I noticed him. He was so cute and when he smiled, my heart skipped a beat. Butterflies flapped their wings, trying to escape my stomach. I wanted to talk to him, but didn't know how. So instead of making conversation I asked for help.
"Um...Do you know how to do this? I'm so confused," I started off, with a little laugh. I hoped he couldn't hear the nervousness.
"Yeah," he said and went on to explain what we had to do.
"Thanks," I said quietly.
Everyday was the same. Almost. He sometimes asked me for help. I loved when he did that because I loved to hear his voice. I pretended not to like him too much. And I didn't want to show him how desperate I was to have a friend in that class.
One day, a few weeks into class, he moved seats. He moved one seat over so there was one between us. I could have sat next to him, but I chose to sit in my normal seat. Is that what he wanted? To no longer have to talk to me? I wasn't the prettiest girl, but he could have just stopped talking to me. It wasn't like I had talked to him everyday and flirted. I had barely talked to him at all!
It went on like that for a few more classes, until one day he moved back. He talked to me first this time.
"Hey. Can you help me with this?"
I was angry with him so I just said, "Sorry. I don't know how to do it. Ask the teacher." I leaned on my arm, facing away from him. Yes, it was childish, and yes, it made my heart ache to do it. But somewhere inside of me, I felt it was the right thing to do.
Those gut instincts proved right, when the next class he sat next to me with a bright, lovely smile. "Hey. What's up?"
"Nothing," I said. "What's up with you?"
We went on like that, making small talk. Finally, what I had been hoping and wishing for came true. At the end of class, he stopped me by grabbing my arm and letting everybody else out.
"I have a question." He seemed a bit nervous. It made me nervous also.
"Yeah?"
"Um..." he cleared his throat. "I like you and I want to get to know you better. Will you go out with me this Friday?"
I couldn't even speak. But the look on his face showed me that he was more nervous than I. "Sure."
His smile lit up his face. I gave him my number, thinking, Maybe he did notice me after all, and walked out of the room composed, while inside I was jumping for joy.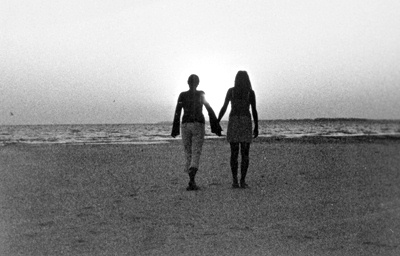 © Kim B., Marblehead, MA