Happily Ever After? chapter 2
September 26, 2009
"Hey Cassie are we going to get tickets to Winter Dance now? The stand has been open now for at least 20 minutes and I want to get there before the lunch crowd does." Sam said as she was rifling through her locker.

"Sam could you just hold on a second, I need to get my Chemistry stuff before class so in case the line is too long I won't have to run back to my locker to get my books and then I might actually get to class on time!" I said still trying to wrestle my beast of a book out of my own locker.

"Well if you would stop fighting with that thing and hurry up to the ticket stand there might not be a line, then you wouldn't have to worry about being late to Chemistry." Sam retorted.

"Seriously Sam I've almost got it! Whaa!!" I screamed falling backwards onto the floor with my Chemistry book in tow. Sam started laughing uncontrollably, I shot her a look and she was instantly silent other than the smirk in her eyes which I had gotten used to as the permanent look on her face. She quickly grabbed my arm and helped me up and then proceeded to drag me along to the ticket booth. I quickly shut my locker and then we were off. We ran as fast as we could, well as fast as one can run with a billion pound book in their arms. Thankfully we saw that there was only one person in the line when we arrived at the table. As soon as the person in front of us left we felt the chill of the evil one herself. Heather and her cohorts we sitting side by side with their smug smiles plastered onto their faces. When Heather saw us I was almost positive that a freakish gleam shinned on her face for a split second. I knew that whatever was about to come out of her mouth was not going to be at all good.

"Hey girls would you like to buy your tickets now?" She asked, not exactly what I thought was going to come out of her mouth. So now I was hoping that our little encounter would be a peaceful one.

"Hi Heather, yes we would love two tickets please." I said.

"Oh, only two okay so I guess you didn't get Chase to ask you. What you couldn't offer him a big enough bribe?" Heather asked with a look of accomplishment on her face. And there it was, the comment I had been waiting for. Let the war begin.

"Wow Heather I have to say I'm very proud of you, that must have taken you weeks to come up with, but you know I have to ask did Chase ask you to go cause I must say if he did you aren't spreading it around school fast enough because I haven't heard anything yet." I shot back at her with an equally happy look on my face because I knew that she wouldn't have anything to say to that. And by the look on her face I was right.

"Ten dollars ppplease." She said nearly choking on the last word probably due to the fact that she didn't use it very often. I knew that I had won this war and because I was so excited about it I didn't realize that there was someone behind me. I turned around quickly and smacked right into something. Where in the heck did that wall come from? I asked myself as I fell to the floor.

"Ouch." Is what I said verbally as I rubbed my head, already feeling the headache starting to form.

"Oh my bad, are you okay?" I heard a warm, velvety voice say from where the "wall" stood. At that point I knew what I had run into and I wished it were indeed a wall, instead of it being in fact Chase.

"Umm ya I'll be fine." I said as I tried to stand up, of course failing at that I started falling over instead.

"Here let me help you to the nurse." Chase said.

"Uhh okay." I answered knowing that my face was probably a lovely shade of red at this point. We started our walk to the nurse with Sam slowly walking behind us.

"Your name is Cassie right?" Chase asked. I was so thrilled he knew who I was.

"Mhm." I answered.

"So Cassie who is taking you to the dance?" he asked. I wasn't really sure why he even cared.

"Well no one to be entirely honest." I answered still not really sure where he was going with this.

"Oh, okay." Chase said looking a bit confused.

"Well how about you," I asked, " which one of the millions of girls that are in love with you are you taking?"

"I wouldn't say quite a million but none." He answered to my surprise.

"Uhh, okay not what I was expecting." I said admitting my shock.

"Well maybe you could save me a dance?" Chase said quickly glancing behind him at the table where the evil one sat.

"Sure." I said smiling to myself. At that point we had arrived at the nurses' and I was grateful, knowing that I wasn't going to be able to say anything else without my face giving away what my insides were feeling.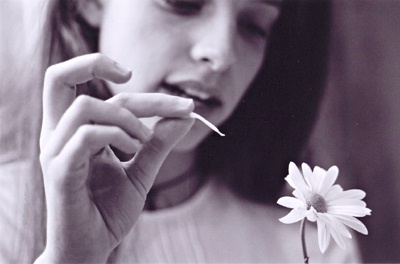 © Emily B., Houston, TX