She's A Lady part two
September 7, 2009
It was during fourth period, that I knew I wasn't crazy because, the door too the classroom opened and the boy from before stepped in, his grey-green eyes scanning the room, until he saw me, his eyes narrowed and he frowned.

"May I help you?" The teacher asked, he looked over at her and smiled, obviously making her swoon.

"I'm in this class." he declared, the teacher looked at her board.

"You must be, Dyven Pagan." he nodded shortly, the teacher smiled.

"Please take a seat were you like." I watched wirily as his eyes scanned around the room and he picked the desk in front of me.

Why did I feel so uneasy around this guy, he just made me want too curl up in a ball and cry.

I looked down and doodled on my paper lightly, until I heard the teacher start our lesson and I looked up too find, him staring at me, I felt held in place.

"I'm Dyven, nice too meet you." he murmured holdin out his hand I didn't take it, his eyes watched me.

"KaDee Creighton." I muttered stiffly, he grinned and then turned around agian.

For the rest of the class I didn't look or talk to him, I was afaid it was a dream and it would disapear.

When the bell rang, I grabbed my jacket and bag about too go when a note hit my desk and I saw Dyven walk out of the classroom everyone staring in awe.

My breath faltered slightly when I took the note, and shoved I into my back pocket.

"KaDee, there you are." I heard Vyctorea say boredly, I smiled at her, I loved having fifth period Art with Vyc.

"Hey." I mummbled softly.

"Have you seen him?" A girl asked me out of the blue.

"who?" I asked.

"The Pagan kid." I gave her a horrible look, then said.

"I have him fourth." I said boredly.

"Lucky!" the girl squealed, I frowned.

"Whatever..." I hissed then listened the teacher go on and on about realistic paintings.

As the bell rang I feared Lunch for odd reasons, sighing I took out the not from my back pocket and skimmed it, my eyes widening as I let out a gasp.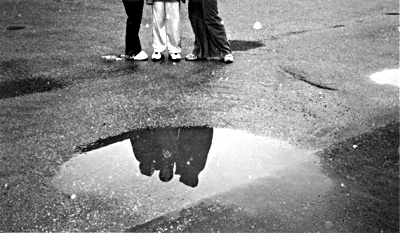 © Gary C., Pequannock, NJ