Another State of Mind
July 24, 2009
When he wakes up each morning he wipes his eyes groggily. Today he feels as though he could float right out of bed and up into space, but instead he stumbles up and out of his room and towards the bathroom. As the minutes pass in front of the mirror and the cool refreshing drops of water slip of his skin you can see his grey eyes gain a shimmer, then a twinkle, then a full on sparkle. Even though he was 17 years old, he'd told me this was the morning he began to live. But of course that's just a state of mind.
Her pillow caved in as she lay upon her bed staring at the ceiling. She was starry eyed and still smiling at events that had taken place that afternoon. Her eyes gleamed the same gleam she had caught off four children playing with a Frisbee six hours earlier. Her lips stretched across her face in a bright smile she had stolen from a boy whose handsome sparkling grey eyes caught hers. As she drifted in and out of sleep that night, she believed that it was that day she started to appreciate the simple things. But that's just a state of mind.

They lived a happy life, grew old and wise together. His eyes were still that shimmering grey, her smile was still that bright. Even on their death bed they both believed that together they could live forever. He stared at the glowing smile he'd come to love. She stared into his twinkling eyes, the ones she needed more than air. Together they died. But that's just another state of mind.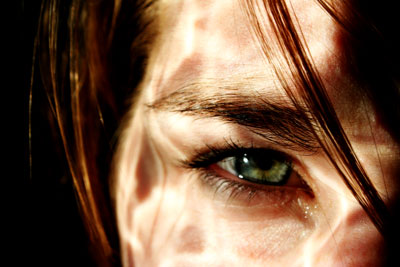 © Monica L., St. George, UT