Once In His Life
June 14, 2009
"Well, Cyrus, it's over. The war, the death, the misery, the pointless anticipation." Deryk whispered, tucking her under his arm. "No more, ever again."

Cyrus's eyes sparkled with tears as she snuggled closer to him. "You were so close to being one of those lost… I don't think I could've lived without you. I know that sounds awfully corny, but it's true!"

Deryk, holding back a few tears himself, smiled painfully. "Yes, I know. The only bad part is that I will always have something to remember it by." His breathing spiked as he trailed his fingers down the long scar that had raked its bloody path down his face, starting at his forehead, down his eye, and finally ending at the hollow of his throat.

Suddenly his own, rough hand was replaced a softer one, a gentler one. Cyrus brushed her hand up the scar and caressed his cheek, before resting it down on his jaw.

Deryk rested his face into her smooth palm, savoring the moment.

"Deryk," Cyrus murmured right before he nodded off to sleep, "there's been something I've wanted to do from the moment I met you."

Protesting was not an option. Cyrus's lips were pressed hard against his. Deryk pulled her tight against him; what else to do? It was sweeter than any honey, richer than any chocolate, their kiss.

They broke apart reluctantly. Deryk broke into a grin he knew looked silly, but he couldn't bring himself to care.

Cyrus smiled vaguely and cuddled closer. She sighed happily, and for once in his life, Deryk shared her joy.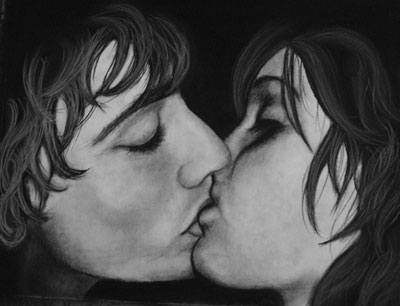 © Anna Y., St. Robert, MO