That Summer Night
May 30, 2009
The cool night breeze brushes my cheek, and leads a chill down my spine. Lifting my head up, I gaze up at the dark night. Gazing at the little diamonds in the clear sky, I wonder. I wonder how this beauty was created. Taking a deep breath, I soak my lungs with the smell of the summer air. I take in this sweet starry summer night.


We lay there under the soft velvet patch of grass. Side by side we lie there beneath the stars in a field behind my yard. You and I are painting pictures in the sky silently. The summer night nature sings us a soft lullaby in the background. We lie there on the smooth blanket of Earth. Neither one us says a word. I want to know what you are thinking, feeling, and wanting in this moment. Peering out from the corner of my eyes, I see your eyes gazing up in the sky lost in thought. I don't ask you though, not wanting to ruin the silence between us. Instead, we enjoy the beautiful night.

I close my eyelids shut to listen and feel this nighttime. I want you to know what I'm thinking. To know I don't want to let this moment go. For you to know that after our years of friendship, I have finally faced my denial. Of course though, it wouldn't matter to you.

A warm hand brushes my arm suddenly interrupting my thoughts. I turn my face to you, and see you looking at me intently. I look into the deep ocean of your brown eyes, but cannot find an answer. Why were you so quiet tonight? Is something wrong? I want to ask, but I couldn't. I should have asked because after all you were my best friend.

"Everly," you finally say my name in a hush whisper breaking the deafening silence between us. You stop though. I want to grab you and ask what is wrong, but I don't. Instead I keep my silence in awe waiting for what you want to say. I try to figure it out, but all I see is a mixed expression on your face. "Everly," you whisper my name again in a husky voice. I look at you, minutes pass by. The moon is higher in the dark sky, shining white on your dark brown hair. Then you do something you never did before, you lift my hand and hold it. Your warm palm curving over mine runs electricity through my back. You look deeply into my eyes. "I've fallen," you say to me.

"Fallen?" I ask confused. "What do you mean?" You sigh deeply, and hold my hand tighter.

"I have fallen for you," you whisper softly in my ear as you brush my hair in the moonlight. Thump. Thump. My heart skips a beat. I don't know what to say. I am speechless. I only knew that I was waiting for you to say this for a long time. It did matter that you care I realize.
Facing my denial after all these years of our young friendship, I knew it was now time to admit it. I stare into Evan's eyes and take a deep breath. "I have fallen too." I whisper so softly that not even the moon would realize what I have just said.

Both letting our souls out, we smile at each other knowing that this time has finally come, and we were together. We lie under the radiant black sky that hovered above us. Enclosing us. Making there is no distance between our souls. We lay there together tonight your hand finally in mine.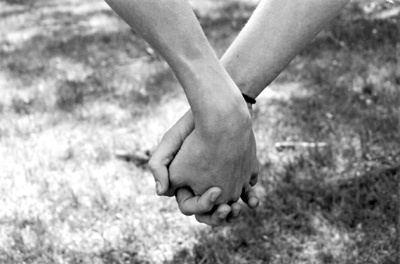 © Alexa T., Pompton Plains, NJ