Hot Flash
May 26, 2009
She was torn. Torn between the life She most desperately dreamt of living and the life She could barely out run, with its nonsensical expectations fueling its every movement. She was a simple girl. She was an out right complicated girl. She was dark. She was happy. She loved to watch the heat lightening roll in on hot summer nights from the slimy bank of the river that ran along the opposite side of town. She was a well known, well liked outsider. She saw the world as a scary place; through eyes of an elderly woman. An elderly woman that had seen the quiet injustices this world can bring to those whom are unaware of the ugly shadow that casts itself on the world. She was overly kind. She knew in her heart, if push were to ever come to shove, She'd do anything for someone She cared deeply about. She was underappreciated. And of course, there was a boy. She loved this boy. As rumor had it, he loved She too. The love they shared was secret. Not even they knew of the boiling passion that ran through their veins.
On this particular night, She was seated on the river's bank. She sat, waiting, hoping, praying for heat lightening. If her prayers were answered and she could catch a glimpse of her beloved lightening, She vowed that her father's revolver would be left behind. She continued to sit at the river, and as expected this chilly summer night, the lightening never came. She was not going to give up yet. She let her mind get lost in different worlds of fantasy.
Quickly, She thought of him. She longed to feel the tips of his fingers against her cheeks. She longed to know why he had gone away. Why he had given her such joy, provided her with such support, and could have left her the way in which he did. She wanted to wrap herself around him. She gave up on wanting and needing him at that very moment. Until that moment, he alone would be what it took to get She to come back. Along with wanting and needing him, She let go of the feeling that she deserved him, that she was allowed to be happy with him. To look at him and feel nothing put overwhelming happiness. She had loved him more than words could begin to say; he was She's best friend.
She felt immense worthlessness travel from her heart to her thumb. It was painful. To painful for She to bare. She took one last look into the sky. The sky was still. She rose to her feet and scooped up her father's revolver. She walked the three miles through the woods towards her house where they would meet from time to time. No sign. No sign of him, or the heat lightening. She carried on. She soon came to a clearing in the woods. This clearing was the site of many of her life's most important moment. She recalled the memories of them and of She and her best girl friends in the clearing.
All at once the worthlessness in her thumb was too much for She to hold back. She glanced up at the sky one last time. She snatched the revolver from the ground and the worthless thumb found its way to the revolver's hammer. She whispered to the air, "it was you".
The air became damp and the sky lit up as he made his way to the river bank. In front of him, he could see the clearing. He was immediately overcome with joy at the sight of the clearing. He loved the memories they had made in the clearing. As he continued to walk through the clearing, he noticed the red hoodie She loved to wear, laying amongst the weeds. Tears flowed like rivers when he glanced at the ground. He collapsed and wrapped himself around She. He knew he could lie there forever.
He quickly scooped She up and carried She to the river bank. He tilted She's head towards the sky. Heat lightening cracked. Once the sky was dark, he laid She on the river bank. Then whispered to the summer night's air as his last goodbye, "it was you".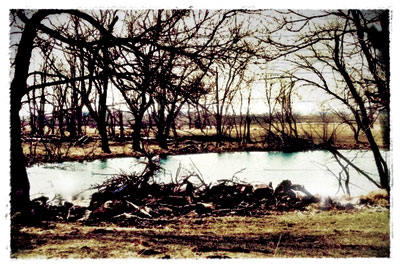 © Chelsea G., Farmington, MN