Story about a Girl and a Boy
May 5, 2009
The interesting thing about stories in my particular opinion is that I always wish to start them with the reader knowing excactly what I am talking about. Its almost like I desire the reader to enter the back door in my brain look around for a bit and then go "Ah, that's what she's talking about." There would be no need for the nonsense at the beginning of the book when I list the main characters and the various attributes that make them important to the story. I could simply begin with a climax or a romantic interlude and the reader would already know how each character arrived at the certain location adn why they deicided to act upon their various desires. However; there is no back door to my brain, so my story must begin with a fairly complex analysis of my main character: Helen Peterson.

Helen Peterson was a 16 year old girl living in California. She was fairly ordinary, "quite boring" she believed, but her parents loved her and they often bragged about the various awards and scholarly achievements Helen had gained. At Helen's school she was one of the smartest, but in her eyes, she could never quite live up to her expectations of herself that she had. An A- was never quite good enough and quite truly anything less than an A was dreadful, a disatrous attempt at sucess. Helen had few friends at her school and was convinced that half the time she simply wasn't there. Everyone else seemed quite accepting of their current predicament, but Helen truly felt that her life hadn't truly began yet. She was waiting, waiting for what, she wasn't quite sure, but she knew deep down in the bottom of her heart that she was waiting for something.

Helen was sitting in Math one dreary morning, trying to keep her head propped up on her desk while she thought about the moments that she was waiting for. There were many really- fantasies that she had envisioned while she had tried unsucessfully to remain chipper among her beautiful friends: like the one where she would wake up one morning, walk over to her mirror and realize that miraculously during the night she had been transformed into a raven-haired beauty and had slimmed down into a size two. She envisioned herself driving to school in a new red BMW convertible with the top down and the wind blowing in her hair. All the girls would jealously gloat and the boys would stare. Her life would be perfect.

It wasn't that Helen did not beleive her life to be enjoyable. She was in no way depressed. She simply lived in a world of fantasy, inspired by the romantic novels she devoured and the love movies she watched with glistening eyes. Where was her Prince Charming to save her from the boredom of her life? Where was her fairy godmother that would make her look stunning with a simple wave of her wand? Perhaps, this was why Helen always beleived she was waiting for something, because the things that she desired would never come true.

Helen had driven home from school and gone to her friends Devin's. Devin was an intelligent girl also considered ordinary by the jocks at school who were more interested in the blonde beauties with the low IQ's. She was sitting on Devin's bed while Devin looked under her bed for her yearbook.

"You know," Devin said, her voice slightly muffled as she looked under the bed. "This year is the year for boyfriends."

"I've told you, Dev," Helen sighed twisting her brown hair round her finger. "The boys at our school, are, no offense, not looking for girls like us. Their sort of girls are lower down on the IQ range and have bubbly personalities: like Barbie."

"Guys are looking for self-confident girls and they'll never look at you if you don't believe in yourself more."

"Look, I tried getting a boyfriend, remember? It didn't work out very well."

"It was really brave of you to tell Chris you liked him, I've told you before. He just wasn't ready for a girlfriend. He did tell Kristy that."

"He's too busy playing WOW to even bother trying to get a girlfriend."

Helen tried to act as if she didn't care, but she really did. Three weeks ago before the school had ended for Christmas break, she had told the guy she liked that she liked him. His name was Chris Perry and he was no Prince Charming. He was a honest-to-goodness nerd, smart like Helen and Devin, but with less social skills and even less fashion sense. Helen didn't know how it had happened but she had started to like him. He had been on her mind all the time. One night, when Helen was having a party with some of her friends, she had told one of her friends to tell Kristy that she liked Chris. Kristy was the girlfriend of Chris' best friend. The party had been on a Friday and Helen had waited the whole weekend to see what had happened. On Monday Kristy had told Helen that Chris didn't want a girlfriend and said that he had said "It's not you, but me." Helen had felt like her head was stuffed between two mattresses, muffled as if the whole world had gone quiet. She had felt like such an idiot and hadn't been able to look at Chris since.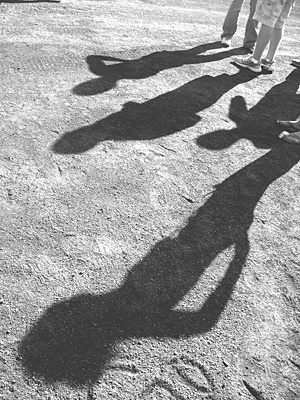 © Trella R., Mountain Lakes, NJ