Anything For Love
May 15, 2009
Have you ever that song with the lyrics "I would do anything for love". Everybody scoffs at that saying, never knowing how it is humanly possible to give yourself entirely to one person. Your heart, your mind, your soul is one hundred percent theirs for the taking. I know exactly how it is.
I'm in love with my best friend. He's drop dead gorgeous, incredibly intelligent, sweet as candy, considerate, kind, respectful, and all around an amazing guy. He once told me that he never calls a girl hot, it's demeaning, a girl in his eyes is only beautiful. How i long to have him think I'm beautiful.

However, he likes someone else. My best friend to be exact. And to put the icing on top of the cake, they met at my sixteenth birthday party. Some great freaking present right?

Well she doesn't like him in that way and he's crushed and looking to whom else but me for advice on how to win her over. I was texting him one day recently when my good friend asked me an eye opening question. One i had been thinking about myself.

"How can you do it? How can you give the guy you love the very advice that will get him together with another girl? I don't think I could ever do that."

She waited as I put together my answer.

"It's not something you think about. I love him and that's why I do it. I want so very much for him to be happy, to have everything he ever dreams of, to experience all the adventure the world offers, to feel the butterflies of a new love; I want him to have it all. And because of that I silently sit with tears brimming my eyes as I tell him the very secrets that will get him another girl. Because I love....."

Again my friend waits as I pause to wipe the tear rolling down my cheek and continue.

"Because I love him, I choose to suffer. It hurts me more to see him miserable and unhappy then to bite my lip and help him love another girl. I'll smile when he comes home from his date and I'm the first person he texts to all the details. I'll laugh at the funny stories he tells me of their wild adventures together. I'll be his punching bag, his rag doll when they get into their very first fight, and all the fights they have after that. I'll be the shoulder he cries on if they start to drift apart. And i'll bite my tongue and hold an 'I told you so' if they break up. All because I love him. I'll carry all his pain on top of my very own, so he can be happy. I'll suffer in silence and misery with a smile plastered on my face so he can love another. All because I love him. And that's what you do for the ones you truly love."

I finish my little speech and take a look at my friend's face. Her eyes are pouring out tears that match my very own. We sob for awhile and then she offers me a much needed hug.

"You;re right. You are the strongest person I know."

I smile a tiny bit and the silenceis destroyed by the ringing of my cell phone. I sniffle a little and then answer my love's call.

"I'm going to do it. I'm going to call her. Ask her out. What do you think, is that a good idea?" he asks me nervously, his voice tinged with a slightly frantic pace. Before I answer I sniffle once again.

"Are you crying?" he asks.

"It's no big deal, don't worry about me. I'm just doing the right thing."

I hear him sigh on the other end and then answer me.

"Okay then. Promise me your okay."

"Yeah I'm fine. And you ahould definately call her."

My voice and heart are heavy when we hang up. I wipe away my tears and gather my things. Heart broken, I walk away, alone and carrying the burden of two souls.

Because I would do anything for love.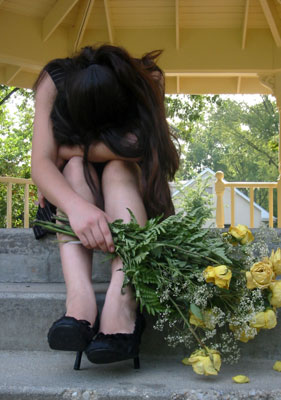 © Martha V., Morton Grove, IL