Pure Poetry in Love
May 7, 2009
Once there was a lovely girl named Leah. She fell in love with a handsome and kind young man named Ryan, and coulndn't stop thinking about him.
One day while she was walking home, she was stopped by him.
"May I ask, how was your day fair lady?" he said in a soft, velvet voice.
"It was very interesting actually, but why are you talking to me?" she said.
"I just thought about you for a while and wanted to say hello," he had the most charming voice.
"I wanted to do this too," he pressed his soft, warm lips to her cheek. She felt like her heart was about to blow up.
This was an amazing day for Leah. She got what she wanted, and she won the guy of her dreams.
She quickly woke up, and noticed she was in her purple and black striped pajamas.
"Oh, god!" Whyyyyyyy?" she yelled.
The next day, she went to her locker.
And noticed that she was being watched by Ryan.
"Hello, my love," he said in a beautiful, low voice.
"Love? Did you just call me love?"
"Why, yes, yes I did." he said.
She looked, scrutinizingly, and closely in his eyes.
They twinkled like stars on a starry night sky.
The way the bed of stars spread out across the sky.
But this was different. There was something shielding her from hatred. He quickly kissed her cheek and then her lips.
It was like heaven, in her mind.
She giggled and he burst out laughing.
They have always looked back and watches the laughs they make, and the hugs they steal.
They will never forget that day, the day of pure poetry in love.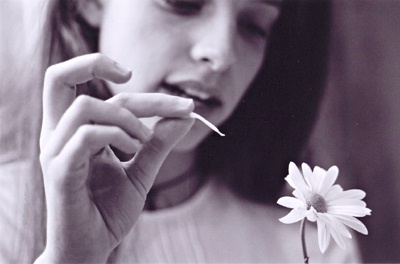 © Emily B., Houston, TX