The Wedding
April 27, 2009
Ch.1
" No Way! That's so awesome. I'd love to be your maid of honor," I said. I started jumping up and down with bucket loads of excitement.
" Good, glad to hear you are so excited. You're my little sister, so how could I not pick you to be my maid of honor?" asked my sister Lauren. She was getting married to her fiancé Matt. They have been together since 10th grade.

" So of course there is a theme," said Lauren.

" Cool, what is it?" I asked. Knowing Lauren I had know idea what to expect.

" Just simple, you know? Kind of clean-cut," said Lauren. She was smiling, and I knew she felt like the luckiest girl in the world.

" So, I already have a vision of what everyone will look like and wear. Boys in a soft, baby pink polo and white tuxedos. Girls will wear simple white cloth dresses. Not silk or satin, just simple and clean cut. I know you, and if I didn't tell you nothing wild and crazy then you would end up wearing your purple Dior dress," said Lauren. I knew that was true and I probably would wear that dress.

" Want to come shopping with me?" asked Lauren.

" Yeah, sure," I said. I was happy to be going with my sister cause I knew how much this meant to her. We grabbed our purses and ran out the door.

When we got to the bridal shop I stepped outside of the car and saw a sign that said, Whitney's Bridal Boutique. Lauren immediately ran out to the building and swung open the doors just missing my face. I looked in through a window and saw my sister smiling and looking around at all the beautiful dresses. I knew how much she loved Matt. How she always described his brown eyes as perfect sparkling chocolate Hershey kisses. His brown hair as a shaggy and silky head of gorgeous hair. I knew that her favorite part about Matt was his spunky personality. He always made people laugh and have a good, energetic, happy vibe. I walked inside the building, and my jaw dropped in awe. Everything was stunning, from the sparkly, diamond chandelier to the white chiffon dresses on display.

" Wow. Lauren, everything here is absolutely gorgeous," I said.

" I know I feel like I am in a fantasy land," said Lauren.

" Oh, you girls like it?" asked a voice. I turned around to see a lady in a white pencil skirt, and peachy colored blouse.

" Of course, it is exquisite," I said.

" Hi, I'm Whitney O' Madden," she said. Her caramel hair was pulled into a neat and tidy bun.

" Hi, I'm Lauren and this is my younger sister Bridget," said Lauren. I smiled and waved.

" Wait, don't our parents know you?" I asked.

" Hmm, what are their names?" asked Whitney.

" Hank and Monique," said Lauren.

" Yeah, they do sound familiar," said Whitney.

" So what are you ladies looking for?" asked Whitney.

" Dresses and tuxedos," said Lauren.

" Okay follow me," said Whitney. Her sparkly white stilettos were clacking on the white marble floor. She led us to big, white doors. There was a sign that said Private and Elegant.

" What's in there?" I asked.

" You'll see in just one second," said Whitney. She pulled out a key from her pocket and un-locked the doors. I looked inside, and I saw racks filled with elegant gowns.

" These are our deluxe gowns, they are more expensive and better than the others. Only certain customers get to see these," said Whitney. Lauren and I stepped inside and were just amazed by the beauty.

" Grab whichever ones you think are cute and suitable to the description I told you about earlier," said Lauren. I nodded and headed to a rack with all white dresses. I pulled out a strapless one with beautiful crystal embellishments. Then I found a halter-strap dress that was just below the knees and had a beautiful satin bow. I took the two the dressing room and handed them to Lauren. She tried on the strapless one and nearly fainted.

" This might be the one," said Lauren she spun in circles and smiled. A couple hours past by and we walked out of the building with four big bags of dresses and tuxedos.
One Week Later

After Matt and Lauren kissed to signify their marriage everyone walked over the tables to have cake. Lauren cut first piece and shared it with Matt. After everyone was done eating some people left and some stayed to chat. Lauren pulled me aside.
" So, there is something important I need to tell you. Matt and I are moving. Just like 10 blocks away," said Lauren.
" Oh, okay," I said. I thought that they were going to buy the property one block away or the one right next to our house.
" Don't be too sad about it," said Lauren.
15 minutes later.
Lauren and Matt drove away in their Mercedes Benz Limo. It was beautifully decorated in white and pink roses. The limo had writing on it with white paint. It said: Just married a one of a kind couple. Lauren's arm stretched out of the limo and she threw her white bouquet of flowers. They soared in the air and landed in my arms. I looked at the beautiful arrangement of the flowers, how they complimented each other perfectly. All of the sudden my cell phone started buzzing.
" Hello," I said.
" Hey, it's me," said Lauren.
" Hey, what's up?" I asked.
" Nothing much. Bridget, I am so happy you helped me. The wedding was the best day of my life! It was just wonderful and magical. Matt says thank you too, and he loves everything," said Lauren. I could tell she was really happy and thankful. I completely regretted all the mean things I'd said about her when we were younger.
" You're welcome! I am so happy I could help," I said.
" I have to go," said Lauren.
" O.K bye," I said.
" Wait, I love you," said Lauren. A tear dropped down from my eye. She had never in my entire life told me she loved me. I knew now we had a good relationship.
" Lauren, I love you too," I said.

Ch. 2

I walked up the steps of Matt and Lauren's new house. Their dog Ralph ran down the stairs and bolted into my arms.
" Hey Ralph. How are you my baby?" I asked. He barked and licked my face.
" Hey Bridget, glad you could come. James, and Winston are excited to see you. They've been talking about it all day," said Lauren.
Lauren and Matt now live in East Grand Rapids, just a couple blocks away from my house. Their house is a big, white, million-dollar house. It's not a house, it's a mansion! Our family grew up rich, and so did Matt's so that explains their two pools, hot tub, trampoline, home theatre, and inside playground. They have two adorable kids, Winston, and James. James is two and Winston is turning one in two weeks.

" Yeah, I've really missed them too," I said. All of the sudden I hear running footsteps and screaming.

" BRIDGET!" I can hear them yell. I see and James running and he crashed into my arms.

" Hey, bud. How are you?" I asked.

" Great, I've missed you so much," said James.
Matt came walking down the stairs with Winston in his arms.

" Hey Winston," I said. I ruffled his cute baby hair and took him in my arms.

" Are you swimming with us today?" asked James.

" I'd love to," I said.

" Good, we are going to have so much fun!" said James.

" Don't forget about sunscreen," I warned him.

" Why? Sunscreen is a gooey and gross," said James.

" Okay, but the sunscreen monster will come and eat you up if you don't put some sunscreen on. Then he will call the sun and have the sun be on the hottest it can get, and then you'll fry like bacon," I said.

" Really? Oh no! I don't want to be bacon," said James then he ran back into the house.

" Come on in," said Lauren. I looked around the house. Everything was completely different from the last time I came. The walls were painted white and everything was very clean.

" Do you like the new paint job? I thought white was very sophisticated. The colors of the house are now white, black, and purple," said Lauren.

" Love the new paint job, very cute," I said. All of the sudden James came running the stairs.

" Slow down, honey. We don't want you to fall," said Lauren. When James was half way down he slipped and fell down the rest of the stairs. I gasped. Lauren dashed to James side. He was bawling, tears rolled down his cheeks. Matt and Winston came running into the room.

" What happened?" asked Matt.

" James was running down the stairs and fell," I said.

" Oh, are you okay champ?" asked Matt. James just started crying some more.

Bridget go get a rag from the kitchen," said Lauren. I ran to the kitchen and
" We have to take him to the hospital. Something has to be wrong if you're crying this much," said Lauren.

" No! I don't want to go there! They have needles and stitches," cried James.

" Sorry, honey but we have to so you can get better," said Lauren. She wrapped James's leg up in the rag. Matt handed Winston to me and picked up James.

When we got to the hospital we ran inside.

" Can I help you?" asked the secretary.

" Uh, yeah. My nephew fell down the stairs at home and hasn't stopped crying since," I said.

" Let's see, I'll give the doctor a notification," said the secretary as she clicked her mouse and typed on the keyboard. After about 30 minutes a tall man in a white lab coat came walking into the waiting room.

" I can now see the boy with the bloody leg," said the doctor.

" Thank you so much," said Matt. We all dashed into the room and Matt set James on the table.

" Ow, that hurts," said James as the doctor examined his leg.

" I'm going to take a few X-Rays," said the doctor. He picked up James and carried him out of the room.

Five minutes later he came back without James.

" Where is my baby?" asked Lauren.

"Well, he is in another room. He broke his leg," said the doctor.
A couple hours past and we were all in the waiting room. I was playing with Winston with the toy cars and trucks. Lauren was sitting impatiently next to Matt strumming her fingers. Matt was watching the baseball game on the flat screen.

" Lauren and Matt Gold," said the nurse. Lauren's eyes widened with hope and she stood up and speed-walked to the door.

" Is James alright? Do you think he can survive? Where is Winston?" asked Lauren.

" Calm down Lauren. I'm carrying Winston and James will be fine," I said. Matt was just calmly walking right by her side holding her hand.

" Right in here," said the nurse. As we walked into the emergency room we saw James lying on a stretcher with a light blue cast.

" Mom," said James he slowly reached out towards her and Lauren rushed to his side. I set Winston on James' sick bed and Winston gave James a hug.

" I love you James," said Winston. Lauren and Matt gasped.

" Winston, you said your first words," said Lauren. She picked him up and a tear rolled down her cheek.

" So when do you think James can get out of the hospital?" asked Matt.

" Um, today," said the nurse.

" Yeah," said James.

" Do you think he should have a wheelchair or crutches?" asked the nurse.

" How about, both," said Lauren.
She picked up James and set him in a navy-blue wheelchair. I picked up Winston and Matt pushed James out of the room. When we got back to their house Matt carried James up to his room. James was sound asleep in Matt's arms. I carried up Winston too, I set him in his bed and tucked him in. When I got back down the stairs I grabbed by purse and keys and walked towards the door. As I reached for the doorknob I felt a soft, cool hand on my arm. I turned around and saw Lauren.

" Thanks for coming and helping with James and Winston," said Lauren.

" Oh, no problem. I had such a great time, I hope James will be okay," I said.

" Yeah, he's a tough boy," said Lauren.

" This has been such a dramatic day with James," I said.

" Yeah, again, thanks for everything. The wedding and helping out with the kids. It really helps Matt and I out, so much," said Lauren.

" I love coming, so there's no problem," I said.

" Bridget, you're such a good sister. I love you so much," said Lauren.

" Thanks, you're a wonderful sister too. I love you too," I said. I wiped a tear from my cheek and smiled. Lauren leaned in and gave me a hug. I'm so glad after the wedding our lives have become so much better. We've become so much closer and we see each other so much. I could never ask for a better sister in my life.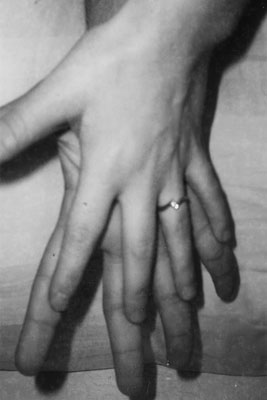 © Heather H., Phoenix, AZ