A Love Lost
April 17, 2009
I have begun to realize that the more you scrutinize yourself the harder you fall in love. Constantly obsessing over your hair, your make-up, whether you are too fat or too skinny, builds up a wall of insecurity just below your skin. And below the shell that shelters these feelings from the rest of the world, the way you see yourself from this point of view is so incredibly skewed that even you yourself do not realize it. It took me approximately four different "I love yous" and three years to come to this conclusion, but once I did it became inevitably clear.

I also concluded that the more you try to mold your appearance, thoughts, and self to fix all the imaginary problems you find, the more unhappy you become. These insecurities lead you to falling in love. Falling so hard and fast in a love that was never meant to be. It all makes perfect sense when you take a second to stop, catch your breath, and think about it. A pretty girl who comes from a good family falls for a boy with a big heart and even bigger dreams. The story almost sounds like a fairy tale, but like everything in life it most certainly did not come so easily.

My name is Brynn. I am heartbroken, I am wounded, and I am only just beginning. I am the insecure girl who has no reason to be. I am the girl who fell in love with someone she thought was her soul mate; someone who seemed like they would be perfect. We were best friends for almost a year before we admitted we loved each other on a more complicated level. And like my mom always told me, true love is built on friendship so naturally I thought he was the one. He made me laugh, made me smile, made my heart sing, and my stomach flutter. No one had ever given me half the feelings he did by just looking at me and I never wanted it to end.

But it did.
And it hurt.

To fully understand the story I title in my heart's library as The Tragedy of Dawson and Brynn, you must understand Dawson himself. He was a beautiful boy in my eyes and more perfect that I could ever have hoped to imagine. He had always aspired to be more than the little town we lived in gave him credit for. He wanted to be famous, like most everyone does at sometime in their life. But the difference with Dawson was he was actually going to do it. He was one of the most hopeful people I had ever met in my life. He was constantly talking about all the different plans he had made for himself. He was going to sing his way to the top.

Dawson worked almost every single day writing new songs and coming up with new ways to lyrically say I love you. His songs touched my heart more than anything ever had. I'll never forget the first time I read the lyrics of the song he wrote for me. It was the most magical combination of sincerity and reality. It told our entire story in a little of three minutes. It talked about the love he had for me, our first date, and how deeply he held me in his heart.




I was speechless. It was the most wonderful gift anyone had ever given to me even though I knew it was going to be given. I had asked him to write me the song but never expected him to actually follow through. I can quote one of the lines exactly; it is my favorite line of any song:

"So here's the song that I wrote for you, just like the night you asked me to."

I was never really sure why the line touched me so. It was not extraordinary. It had no secret meaning only he and I were aware of. It was nothing someone couldn't read and know exactly what it meant. I think, maybe, it was because it was so blunt. It was the most honest thing Dawson had ever said to me and I cherished it. It was simple and yet complete. I loved the song almost as much as I loved him.

The power he had for expressing himself through music was unbelievable. He was able to say everything I had ever felt when the most creative thing I could say was, "I love you."

Maybe that was where things went wrong…

It is actually surreal to think we spent off-and-on together; a year I never stopped loving him. But like all good things it had to come to an end. When you think about it, our relationship was really damned from the start.

They say opposites attract but in this case, our differences were what destroyed us. Dawson was a liar. He told me he loved me but he really only loved the attention I gave him. He loved any attention anyone gave him. Perhaps that is the reason we failed.

Dawson was also very selfish and in reality he only cared about himself. I was not. I am not saying I was a saint, I was just able to care for others in a way that Dawson was incapable of. He didn't know how to put other people's feelings and needs before his own.

He proved this to me after we had broken up. We were discussing why he chose another girl, Anna, over me. The way he explained it infuriated me. He told me that Anna was actually meant for one of his friends but that they instead started to like one another. I could always understand why Anna fell for Dawson but I could never really see how he fell for her. She didn't strike me as his type. But then again, the only type I thought was right for him was mine.

Anna turned out to be altogether crazy. She was obsessed with Dawson and drove him completely away. In a display of complete self-centeredness he said to me, "Well, at least I saved Hunter all that trouble. He didn't have to deal with her craziness."

Then he actually had the nerve to smile a me but his smile slowly faded when he registered the look on my face. If a mirror had been in front of me I'm sure I would have been as equally surprised. I don't think I have ever given someone such a look. It could not have conveyed anything but utter shock and disgust. I could not believe he was actually trying to justify his actions and practically screamed my reply at him, "So you saved Hunter a lot of trouble but what about me, Dawson? You absolutely shattered my heart. But I guess it was worth it as long as he didn't have to deal with all that, right?"

His eyes went soft. He had no reply. He knew what he had done was wrong.

I gave that boy everything my heart had and he became my everything but I'm not sure he actually ever cared about me. A month after he destroyed me, I told his friend I didn't think he cared about me. I honestly believed that if I had gotten in a car accident in those few weeks that he would not have cared. He would not have cried. From that thought branched another conclusion and from that conclusion I realized how incredibly selfish Dawson was. I went so far as to thinking that maybe he would cry only to gain the sympathy of the mutual friends we shared. Pity was something Dawson treasured and I despised.

That night as I was crying to one of my friends she said something that I have never been able to forget:

"The best is yet to come, Brynn, and he isn't worthy of seeing how much more wonderful you become. You put all you had into that boy and he was too dumb to see it and love you back. If he can't look at you right now and name at least two million amazing things about you then he doesn't deserve to be apart of your life. One of these days he is going to see what he is missing but it will be to late because you are going to find someone who sees what I see and is able to love you like you deserve to be loved."

At that point I let out a monstrous sob and struggled to find my voice. When the crying subsided a little and I was finally able to speak, I replied, "But Emily, I don't want anyone else. Ever. I don't care that he doesn't love me the way he should. I only want him. I don't know how to move on. I won't be able to. I…I just care too much."

"It'll be hard but I know you can do it. You are so strong Brynn. And I'll always be here for you, pretty."

That was the end of our conversation because I cried for the next three hours until I fell asleep.



Losing Dawson made me realize a lot about myself. In a way losing him made me stronger but it also made me feel weak and insecure. You spend your entire life building up walls only to have them torn down. The walls are meant to protect your heart form pain and hurt but every once and a while someone comes along and in a matter of seconds, the protection you built around yourself can be bulldozed over.

I'm not sure bulldozing would be the right analogy in this case because it isn't always so violent. Not everyone gets hurt. I feel like jumping would be a better way to explain what Dawson did to me. For fifteen years I wrapped myself in a blanket of safety to keep from getting hurt; I put that wall around myself. But Dawson was able to fling right over it and huddle himself deep within the safe-keepings of my heart. I soon began to feel like he was supposed to be there. I became accustomed to him. I relied on him. The things he said and did always seemed perfect even when they were cruel.

It wasn't until we were over and I had moved on that I realized how wrong he was for me. Instead of building up a new fortress of love and admiration for me to protect me, he destroyed me. He shattered my dreams, my hopes, and eventually my heart.

I feel like if Dawson would have given me and explanation for why he did all the things he did to me that I would have been able to deal more easily. But he didn't. He left me wondering and blaming myself. I fell into a seemingly-incurable depression. As cliché as it sounds, I couldn't eat, I couldn't sleep, I couldn't do anything but think of him. I only wanted to know why, and to this day, he has still not honored me with a reason.

I suppose I will never know why Dawson made the decisions he did. I'll never understand know how he could choose another girl over me, and I guess it doesn't really matter anymore because I have healed.

You get to a point where the pain starts to go numb and your chest just dully aches. Eventually this numbness becomes all you know…you get used to it. The hole Dawson left behind became like a friend to me. I treasured that hole where my heart was supposed to be because as long as it hurt, I knew it was real. I knew that someone had cared for me and even though everything he had told me was a lie, it still felt nice to have been loved. Even if it was just pretend.

Soon I started to forget the smiles he gave me, how his lips felt on mine, how his laugh sounded, even his voice. I forgot everything that was once important to me; what once made me happy. And once I forgot why he made me happy, he didn't have the power to hurt me. I forgot why I was even upset. I was able to breathe again. I was able to smile and laugh and live…happily. I realized I was going to be fine. I was actually optimistic about my future. I looked forward to the next boy I would meet. I couldn't wait to fall in love again and find someone who would actually treat me well. I realized Dawson really wasn't worth it. I realized that the words my family and friends had been saying to me were actually true.

It was his loss.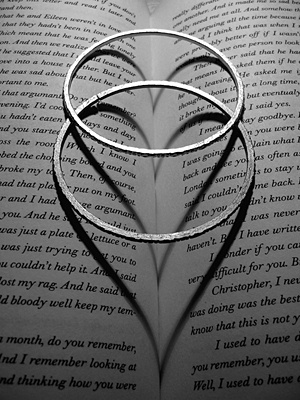 © Julia K., Old Tappan, NJ