Flagging Down BelleAnne
April 14, 2009
I couldn't just leave her there. She was standing in the rain, wearing nothing but her favorite pair of jeans, sneakers, and a black t-shirt. She'd told me to leave, but I just couldn't.

See, BelleAnne's parents just filed for a divorce, and on their way to the lawyer a semi-truck hit the side of their car, flipping it. She'd never been alone in her life. Now it seemed as if she was always alone.

"BelleAnne!" I called to her. She didn't even flinch. She just turned away from me and started walking. I chased after her and stopped in front of her. She didn't look me in the eye, so I knew she didn't want anyone to talk to her. I lifted my hand to her face and brushed the hair out of her face. She didn't cringe or move; She just stood there, motionless.

BelleAnne and I had been the best of friends since the 7th grade. I met her in my homeroom class. She was the only one wearing a completely crazy outfit, and I found her to be quite interesting. I walked up to her and introduced myself. "I'm Donna. Auna for short." She smiled at me and I knew right then and there we would be best friends for a long time. We grew up together and we were always together. Who knew that five years later, our senior year, we're still the best of friends. The only thing that has ever came between us was this, and it was tearing my heart out of my chest.

I let my hand fall when she looked into my eyes. They weren't filled with the same luster and thrill life gave her. They were almost black. Cold filled her eyes as if the ice on the ground had somehow attached itself to them. Her lips, now twisted into a terrible grimace, moved only to say one thing.

"Donna." She broke down into tears. I grabbed her, my own tears flowing freely down her long brown hair, already mangled from the rain. I held her for the longest time without saying a word. It was her, to my utter surprise that spoke first.

"Don't leave me." That's all she had to say. I hugged her for what seemed like forever, and said,"I won't, BelleAnne."

I took her to my car, and we got in, not speaking, but just being together. Best friends forever.

No matter what had happened, she understood that I'm still with her. I will always be her best friend. I wouldn't leave her. The bond of true friendship can't be broken by trials and tribulations. You have to stay true to everyone around you, including yourself. We both found that out on that rainy, hazy day.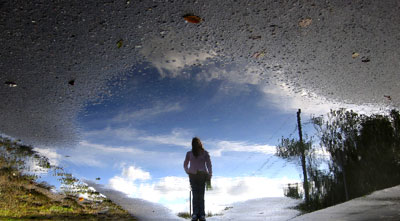 © Daniel H., Oak Bluffs, MA