Observations
MAG
April 27, 2018
When people don't realize you're paying attention, they act like they did before you met them. It's those quiet moments in classes and such that your friends morphe into who they are without your influence. Usually, they look like complete strangers.
There's this girl I love who's downright antsy. Her fingers hold a pen and she doodles with her face close to the paper as the teacher speaks. She seems to get lost, lost in whatever's on her page for however long until Ms. or Mr. says something that sounds important. Then her head snaps up. Her eyes will still be a split second behind, still free and full of that vicious focus. Her lips will be parted and after a beat she'll resurface and nod at the statement. Then she does it all over again.
Her hair will cover her face this time, if she hasn't already put it up. The concentration will roll back slowly at first and then all at once. Her dark eyebrows will knit together and her pinkish lips will be just a little bit pursed. She'll be hunched over her work, in her jean jacket, or sweatshirt, or whatever she's wearing that day. There'll be a glint of light off the tops of her cheeks (because she always puts Vaseline on her face) and her eyelashes will be like visors over her pupils. I would say her hands fly, but it's usually short and jerky strokes of the pen that are still confounding to me.
Then later we'll have an assignment that allows us to talk. She'll sigh and tilt her head back, then she'll look at me. Her long arms are at her side and she says nothing. I know the sigh is a conversational diving board so I ask her why she did it. Then, of course, it all takes off from there. Familiar joking, nonsensical quips, and the beautiful sight of her eyes creasing and her grin growing – and she's not a stranger anymore.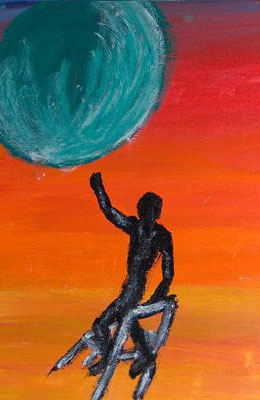 © Maegan F., Harrisburg, NC