Fan Fic
April 11, 2018

It's 6 am and my alarm just went off and I hit the snooze button, which gives me ten more minutes of rest. As I'm lying in my bed under my Motionless In White blanket, which came with matching pillow cases, sheets, curtains, and black beats. My room is painted a medium grey color. Almost every inch of my walls are filled with posters of my favorite bands like Black Veil Brides, Suicide Silence, Asking Alexandria, and my most favorite band, Motionless In White.

My alarm goes off again, it's 6:10 am. Sitting up in bed my feet are put on the black carpet, I sit there for a couple minutes checking my snapchats before I actually get up. I get up and look out my window. It's sunny, warm, it's going to be a perfect day for a concert!

I need to get ready. I need lots of time to perfect my makeup for the concert, get there early so I can get in the front row and get a good place for my camper since I will be there all weekend plus the whole next week.
I threw my phone down by my mirror on the floor, getting up walking over by my makeup area first taking my meds than getting all my makeup out. My jet black eye shadow, eye liner, mascaras', all three of them, eye brow pen, my almost white foundation, concealer and all of my black heart makeup brushes.

I sit down on the floor grabbing my phone to put on my morning playlist of songs to get me hyped. Base drops to the song Disengage by Suicide Silence. I start head banging as I grab my primer using my hands to rub it into my skin. Using the foundation brush making my skin lighter than my actual skin with foundation, concealer and white face powder. Before I do my eye makeup, which takes the longest, I spray my face with setting spray to keep the makeup from wearing off throughout the concert. I do my eye makeup. Black eye shadow base, black winged eye liner following underneath my eyes on the water line brushing black eye shadow underneath the water line to make sure my eyes are black enough. Finishing off with mascara, three different bottles with all different brushes to make my eye lashes look more full and longer than they are.

I take a break as Immaculate Misconception comes on. I stand up, head banging and lip syncing "WHAT THE F***K! SMASH YOUR FACE TO THE CURB…!" that song gets me hyped!

Grabbing my black ripped skinny jeans, Motionless In White shirt with a white crow on it and all three of my different sized studded belts. Looking at myself in the mirror, I can't think of what I'm missing though. Oh yeah. My black studded choker. I put it on, grab my brush, hair gel and hair spray to style my side swept bangs, which I've recently dyed black along with the rest of my hair.

It's almost 7:30am, I live close to where Warped Tour is performing, so I'm not worried about being late.
I look in the mirror one last time before I go.

I walk to my walk-in closet to put my shoes on. I walk out to the counter to grab my money and the keys to leave.

I drive a big black truck with awesome speakers. I plug my phone into the radio, playing my playlist of Motionless In White to get and keep me hyped.

I live about ten minutes from Warped Tour. It's almost 8am. It don't start until 9am, but I want a good view and to talk to the band about becoming a singer since I can play drums, guitar and sing.

I'm so excited to meet the members of Motionless In White, Chris, Ryan, Ricky, Ghost, and josh Balz.

Chris has long black hair, he's dressed in a black leather jacket with studs on the shoulders, black ripped skinny jeans, three black studded belts, black combat boots with spikes on the toes, his nails painted black, along with black lips. Chris is the lead singer.

Ryan, he is one of the guitarist of the band. He has short black hair, red eye shadow around his eyes, light black eye brows, three black lines of lipstick going down his lips, black paint all over his neck and chest. He wears a black leather jacket, black skinny jeans and black combat boots.

Ricky, another guitarist who wears a black leather jacket, black skinny jeans, and black combat boots. He also wears black eyeliner around his eyes, black eye shadow, and sometimes his neck painted black.

Ghost, is the third guitarist, he has medium length black hair, black eye shadow, all around his eyes, a black stripped dress shirt, black ripped skinny jeans, and black combat boots.

Josh Balz is the drummer. He has short brown hair, a black sideways thick "U" painted over his rights eye. He wears a black tank top, black skinny jeans, and black combat boots.

They are all very funny and nice guys. A lot of people think they are scary but really they are not.

I arrive at Warped Tour, so excited to see them. They are setting up the stage getting ready and practicing all their songs that they are performing today. As they are singing the chorus of Immaculate Misconception, I go stand in front of the stage asking if they need anything like water, a backup vocalist, or even a new manager. They stopped what they were doing and told me to come on stage so they can hear me better. So I did. As I was walking up to them, I introduced myself, "Hi, I'm Katie, I've been a huge fan of your music and style. I was wondering if I could help you guys out in anyway."

They said, "Hey it's nice to meet you Katie, we've seen your videos of you singing, playing guitar, and drums all over social media."

Chrisa says, "Yeah, I love you voice, you do good on the scream covers!"

Ricky and Ghost said I do good with the fingering of the fast guitar solos.

Balz told me I do very well on the drums for only six months of practicing.

Ryan mentioned that I look very pretty and talented for being eighteen.

I said "Thanks guys!" They said that they would love having me in their band, but first they want to see how much of their songs I knew and how well my voice blends with theirs.

They started playing Reincarnate. Chris handed me a mic, as he started screaming the lyrics as the bass drops. When the chorus comes, Ricky asks me if I was ready. I said "yes." I waited a few more seconds for the chorus and started singing. I got so into it while I was singing with Chris. Chris smiles and looks back at the rest of the band. They all stop. I asked, "What did you guys think?" Ricky said "Amazing!" Chris pauses a little, then says with a voice growing from depressed to excited "Katie… you're in the band!"

I smiled and said "thank you guys so much! This means a lot to me." People started showing up for the concert. Everyone is running and screaming to them freaking out.

Ryan leans over to me, "be ready for them to be screaming your name, wanting thousands of selfies with you and can't forget about asking you weird questions."

The sandy grounds quickly filled with people of ages fifteen through their thirties. All I hear is loud screaming, singing, and music. Chris grabs the mic, "hey welcome to Warped Tour 2018." He announced the album we are going to sing. Louder screaming is heard. He looked back asking all of us if we are ready. We all nodded.
The bass drops, guitars come in one at a time, Chris comes in "WAKE UP!" bass drops even louder as they get more into it. Sooner than I thought, my part was coming up. Chris looks at me, I smiled. We both start singing "crawling from hell, falling from grace..." The crowd starts screaming the lyrics with us as a mosh pit starts in the crowd.

The mosh pit is growing bigger as the concert goes on. At the end of the day, it's around 10pm, everyone starts heading back to their camp site for the night. The band starts putting away all their instruments telling me I did very good for that being my first time singing in front of a big crowd of strangers. I said "thanks." I told them I was going to start heading back to my camping grounds to shower and get some rest for tomorrow. They said "ok goodnight Katie. You did an amazing job today, I hope you sleep well!" I said "thanks, you guys too."
I walk over to my camper, getting my clothes, towels and music ready for my shower. I turn the music on while hanging up one towel and putting the other spread out on the floor. I turned the water on and check my snaps while I wait for the hot water. I step in the shower putting my phone on the shelf aside the shower. As the concert goes on, the days repeat the same routines. The last day came fast. It's the end of the concert we just finished pur last song, everyone is heading home. Chris told me to grab my stuff and that they will follow behind me to my house so I can grab my stuff and continue touring with them. That was my experience with my favorite band, Motionless In White.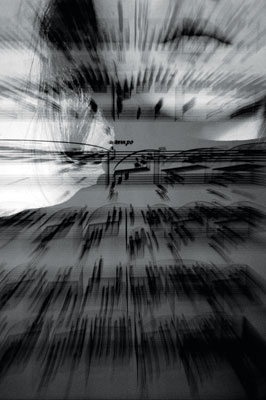 © Sarah M., Blairsville, PA