Jouska
March 29, 2018
Her eyes were deep, cobalt lakes; they were beautiful, but just beneath the surface was an ocean of pain.
Behind false laughter and plastered on smiles was a girl gasping for breath; she was clawing through an endless brook of tar.

Her friends were desperate to break down the wall she had put between herself and the world. Her parents did not understand what was happening to their little girl.

They sympathized with her, but she did not want their pity...she craved their empathy.

I can still picture it. A cluster of girls huddled around her locker, giggling, gossiping, chatting amongst themselves, contently.

She was quiet, timid, stunning...I cannot express how difficult it was to peel my gaze from her once she caught me staring with admiration. A feeble smile always spread across her lips when my brown eyes met her azure pair, and then the bell rang, spoiling the moment until the next day.

I knew her, yet, at the same time, it was like we were complete strangers.

Whenever I'd catch her in the halls, I'd attempt to start up a conversation.

I would scratch the back of my neck even though there was no itch. She would continuously look behind her like someone, or something, was going to come up and drag her to the pits of hell.

"Sorry...I have to get to class…" She would murmur as she tucked a tuft of her charcoal locks of hair behind her ear.

"Oh...okay...see you later?"

"Yeah."

I never got to see her later...and I never will.

Yesterday, there was an obituary posted on the school's website. Her obituary.

This is surreal.

It isn't real.

It can't be real...can it?

Late in the night, February 18th, 2018, sixteen year old Anneke (Anne) Amelia Hansen, sophomore student at Willow Heights High School, killed herself by hanging. Anneke was the only child of Everleigh Hansen, Blake Hansen, and Mateo Garcia (step-father). Not only was Anneke a tremendous student, but a beloved friend and daughter. Anneke will be dearly missed by those who were lucky enough to know such a remarkable young women.
Anneke's funeral will be held at Angelicus Community Church on February 21st at 10:30 am.

Bile rose up in my throat, and I made a run for the bathroom. A drum beat in my head, and my heart fell to my feet. How? Why?

My vision blurred, and my eyes burned. I buried my face in my hands and crumpled to the floor. I smashed my head into the wall over and over and over again. I threw my fist at the tiled ground, and my mom came bursting through the door. "Oh my gosh...what happened?" She slid down beside me, and held me close.

"She is gone!" I choked through gritted teeth.

My mom didn't ask any further questions; she just sat there soothing me. "I know, I know," she'd coo. She did not know, but I did not say that, because it wouldn't help, it wouldn't erase what has been done.

No matter how much I longed to hold Anneke Hansen in my arms, I never would.

No matter how much I longed to kiss her lips, I never would.

No matter how much I longed to know Anneke Hansen, I never would.

Anneke Hansen is gone...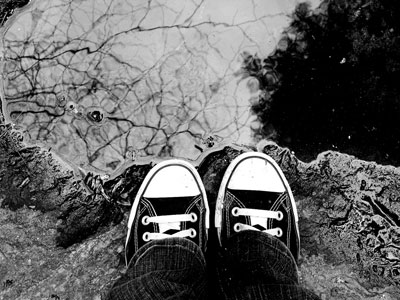 © Michelle B., Blairsville, GA