Picture Perfect
February 27, 2018
My breath was visible in the cold air. The cool wind sent shivers down my spine. I anxiously awaited his arrival. I hardly recognized him. His once brown hair had grayed—his once soft face was now scruffy and rough. It was hard to believe this was the man I had once married. He got off the train with one suitcase in his hand. He smiled and dropped his suitcase as I ran into his arms. That's the one thing that didn't change. How safe I felt in his strong arms. He held me as tears swelled up in my eyes. My gaze met his and I felt a way I haven't felt in a long time—complete. I told him all of my stories and we relapsed memories. I held his hard, callused hand. The flashbacks made me happy, but I couldn't help but wish he had spent those years with me. I know it wasn't his choice—the draft chose, not him.

   I had waited for him, our child was now 12 years of age and hasn't seen her father since she was barely two. He would soon see our child as a young lady. She closely resembled him—which made every day even harder without him. She frequently asked of him, and I could only respond with my own memory. My breaking point was when his voice began to fade. It was still there, but vague. Hearing it again was everything to me. When we arrived we were met by a grinning girl with sandy brown hair and big brown eyes. She wasted no time before she was completely in our arms. She continuously asked a million questions. She was fascinated by 'our story' like any young girl enchanted by the mention of love. This was it—my life could finally begin. It was like I paused time and now I could resume it. Penny was excitedly giving a tour of our humble home to the man she had imagined living there with. His eyes were red and puffy and he looked like he was about to cry. I took him aside and pleaded in a way by holding his hands. He looked at me and motioned to the inside of the house.

   "I should've prepared this for you, I should've built this for you," he choked on his words.

   "Don't talk like that, you know it wasn't your fault," I tried to reason with him. "I'm just glad your home, no matter what house you came home to."

I wiped a single tear from his eye and kissed his cheek.

   "Forget about that, that's the past. You're here now. Focus on the present—and your present is a young girl who just formally met her father for the first time."

   He regathered himself and lifted Penny in the air and swung her around. She pulled his hand and led him outside to show him the horses outside. I sat there, in this picture perfect scene watching them pet the horse out the window.
   Then the glass fogged and the picture faded. And there I sat in the rocking chair, expecting child, reading the first line of the letter.
   We regret to inform you of your husband's passing. Sergeant L. B. Droswell was a fine man and a fine soldier. We send our condolences and sincerest regards along with any of his former belongings.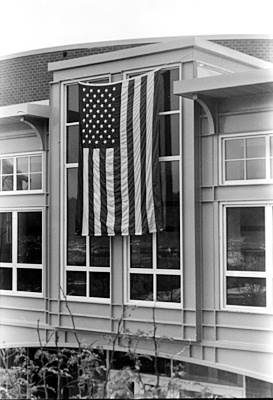 © Chuck K., Marblehead, MA