Sad Goodbyes
February 13, 2018
The day I was born was one of the most important days of my mother's life. I wasn't her first kid, and wasn't her last either. She was used to the pain and the energy it took to give birth, so when the day came for her to push me out, she was well prepared.
She knew the do's and dont's of pregnancy. No alcohol. No drugs. No excessive workouts. No heavy lifting. No food before birth.
My mom wasn't so good at that last one. She was literally in the parking lot of the hospital, eating a cheeseburger and a milkshake, while she was having contractions. That could have ended very badly. For her. I would have been fine, but she definitely would have been embarrassed for the rest if her life.
When I was born, it was twelve-forty-eight in the afternoon. But it wasn't the end of the pain my mom would go through that day.
In my family, all of the kids are born with something wrong with them. My sister was born with a crooked left leg, my older brother had really bad asthma, and my little brother was yellow and a couple of weeks early when he was born.
I was born purple, and with my umbilical cord wrapped around my neck. The doctor's said I had been moving a lot more than I should have. I must have really wanted to come out. Or maybe I just wanted a cheeseburger all for myself.
I don't really know what happened next, and neither do my parents. All they remember is feeling as though the dark clouds from outside had followed them into a room that should have only been full of love and light.
My parents don't like to admit it, but they were saying their goodbye's to me. They didn't look at the doctor. They didn't want to know the moment I was gone.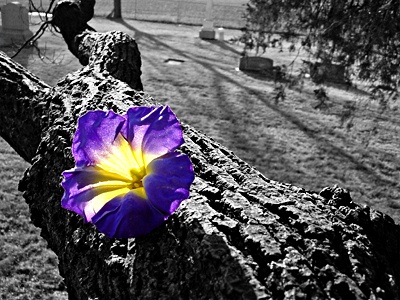 © Greg K., New Lenox, IL