Man Child
February 14, 2018
Living in poverty is a way that no person should live. The horrible feeling of not knowing if you're going to eat that night, or having to wear the same clothes to school everyday. Nathan is a 15 year old kid that goes to Little Rock HIgh School. He lives with his single mother Anne, and he is living a life that no person should live.

Nathan's father left here and his family when he was only 4 years old. Anne took the breakup horribly, and she ended up quitting her job as a nurse and started heavily drinking. They were kicked out of their apartment for not paying rent, so Nathan and his family had to move in with their grandma. While living with their grandma for six years,  they made some good and bad memories there. A good memory was that Nathan's mom Anne found a new man too take care of her and her family, but later on that year when Nathan was twelve Nathan's mother passed away. It was a snow day and the police said that she slid off the road and hit a tree and died instantly. They buried Anne at the Little Rock National Cemetery right next to her grandpa who died of cancer.

Joe Anne's boyfriend and soon to have been Anne's husband found a small trailer home for him Nathan and his little sister too live in. Nathan was fourteen when they moved out of their grandmas house. Nathan was starting his 8th grade year, and Joe convinced him to play football just to get his mind off all the stuff going on in his life. Joe was excited to see Nathan play as he was known for being a big kid his height was 6ft and he weight in at 200lb. The football coaches decided to start Nathan at linebacker since he was also pretty big for his size.

At Nathan's first game he had one sack one interception and five tackles he was the player of the game. Joe was so proud of seeing Nathan have fun in sports with all his friends, and also seeing Nathan's little sister Sara cheer him on on during the whole game. After a couple of more games joe knew that Nathan had a talent for football, so he decided to get and extra job at a grocery store to earn some extra money. He was going to use the extra money to get Nathan some personal lessons in football, Nathan was all in for it.

You could tell that the lessons were working on Nathan since his tackles tripled in six weeks.  Nathan and his team went undefeated their 8th grade year for the first time in their school history since 1999, and a lot of that was because of Nathan since he lead the league in tackles, interceptions, and sacks. As Nathan's 8th grade year ended,  the varsity head coach of Little Rock High School  wanted to have a meeting with him about playing varsity his freshman year. He told Nathan that he has to keep working hard if he wants to be able to compete at the varsity level. He also told Nathan of all the things all the coaches look for in a player, which are:  strength, speed, intelligence, hart, and leadership. Nathan took all the advice that the head varsity coach said to him about what it takes to play at the varsity level. He knew that if he made varsity as a freshman joe would be more than thrilled. So he started doing work on his own to make himself better like doing push-ups and sit-ups in his room on his own. Nathan knew he had everyone he knew on his side when football season started. Nathan kept working the whole rest of the summer to try to make the varsity football team. Soon the next year as a freshman Nathan came to be the only freshman of his class to be on varsity football. While Nathan was practicing he to injure his left leg and was out for the season. Since Nathan could not play football he rest of the year he just got out of athletics for the rest of the season, and stayed home while others kept practicing. Nathan soon Mayer a bad mistake of joining a gang which was won of the things his dad Joe was trying to keep him away from, but it is hard trying to do that while working two jobs to keep putting food on the table for his family. Nathan was found dead on the streets a couple of months later which two bullet shots on his chest. Nathan never got to play a down of high school football. The falling of Nathan Gronkowski… man child.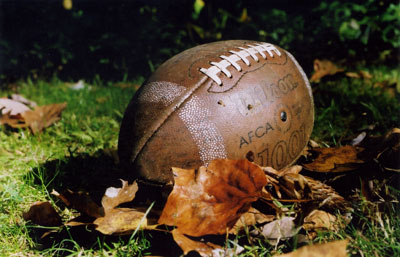 © Michael L., Bethesda, MD