The Love in Basketball
February 14, 2018

The Love in Basketball
***Kyle's POV***
"So, you like Andrea huh?" My close friend Gavin asked me.
"Yeah, she's actually kind of cute." I reply.
"Wow, Kyle, I guess you moving on from Gina." He said.
"Now you know good and well I never had or never will like her. She starts mess and she always lying about something . . . Plus she all over me." I said while Gavin is laughing.
"I know bruh, I was just playing with you." He teases.
"Whatever man . . . Aye, are you going to the girls' basketball game today?" I asked.
"Nah, I have to go to my little brother's football game, why you going?" he asked.
"Yeah, I'm going for two reasons. One, to see Andrea play and two, imma ask her on a date." I said while Gavin checked his phone because it buzzed.
"Oh ok, I see you Kyle. Over here trying to get you a girl. But, I'll see you later 'cause my mom is here to pick me up." He said.
"'Ight, see ya later man." I said dapping him up.
"Alright see you." He said walking away.
   
      I walked to the gym to go see the game. Once I got there, Andrea was already playing. I looked at the scoreboard to see it was 15-6. Well, looks like our team is winning so far. I went and sat at the bleachers and started watching the game.
*** 1 Hour Later***
     Yo, Andrea is a beast out there. She just shot ten half-court shots and she crossed up one of the players on the other team so bad that she had to sit out the whole quarter because she sprained her ankle. They just called a time out right now and Andrea is coaching her team. As I was watching her, she looks up in the bleachers and sees me. I wave at her and she smiles and waves back shyly and goes back to coaching her team.
*** Game is Over***
     Well we had a victory of 45-26. Once everybody started clearing out, I hurried out into the parking lot so I could meet Andrea up there. I went by my car and put my stuff in the backseat. When I was done with that, I looked up and I saw Andrea coming out of the gym.
"Yo, Andrea." I yelled and she turned her head swiftly towards me. I waved for her to come over here and she did.
"Hey Kyle." She said shyly.
"Hey, you played good today." I said.
"Thanks, I appreciate you coming to watch me." She said.
"Your welcome, I just came to see if your skills were better than mine, which they clearly aren't." I say with a chuckle.
"Oh, is that so?" She said.
"Yeah, I believe that I'm better than you at ball." I said.
"Ha! Okay, wanna bet?" She asked.
"Yeah, we can see who is the best on Saturday at the court in our neighborhood." I said.
"Okay, lets meet up at one in the afternoon. Hope you ready to lose buddy." She says as her car pulls up.
"Okay we will see about that." I say as Andrea walks off.
     I watched her as she got in her car and left. I left feeling like a champ and drove home. When I got home, I took a shower and ate dinner. Then, I went in my room and fell asleep.
***Andrea's POV***
Saturday, 12:50 p.m
"Yo Jaylen, do you know where my basketball is?" I asked my older brother as I was walking into his room.
"Uhh . . . No I don't, I never had your basketball." He said while playing his basketball game.
"Yes you did, because yesterday you went to go play with your friends and you took it." I explained.
". . . OH YEAH! I know where it is." He said pausing his game and goes into the garage.
     He grabbed the ball and gave it to me and I grabbed my water bottle, told my parents I was leaving to practice and left the house.
     It's now 1:02 and Kyle isn't here yet. So, I'm just practicing on dribbling and my jump shots until he gets here. After a few moments, I heard the gate open and I look and I see Kyle.
"You ready to lose?" He asked sitting his water bottle down.
"The real question is, are YOU ready to lose?" I asked checking him the ball.
"Hmph . . . we will see about that." He said doing a sly smirk.
*** 1hr Later***
"OUUUU, I WON SUCKA!" I yelled.
"Man, I let you win." Kyle said getting a drink from his water bottle.
"Nah, Nah, Nah, you mad 'cause you lost. You just gotta live with it buddy." I said dribbling the ball between my legs.
"Whatever man, but it was really fun though. You actually play really good." Kyle said.
"Thanks, you can play too." I said.
"Yeah thanks, plus you look kinda cute when you get competitive." He said which made me blush.
     Then there is this awkward silence between us.
"You hungry 'cause I was gonna go to that pizza place down the street." Kyle asked.
"Um sure why not." I said.
     We went to the pizza parlor and we ordered our pizza and ate it there. Once we finished eating, Kyle took me home and we said our goodbyes and left. I went to go take a shower and after the shower I slipped on some pajamas. Then, I decided to go play with my baby brother Lee.
"Hey Lee, how ya doin' buddy?" I asked him coming into his room.
"EEEEEEEE!" He squealed
"I take that as a good." I said
     I picked him up and started playing with him on his little play mat and once he started getting tired, I put him back in his crib and I went in my room. I got on my phone for a while. I texted a few friends.  I went to sleep with a grin on my face thinking about the magnificent day that I had.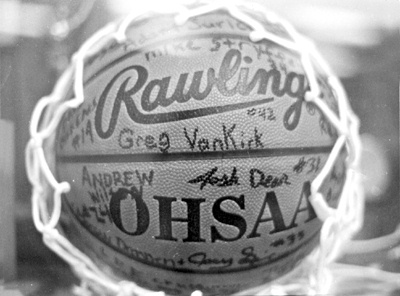 © Kaley D., Sebring, OH