Bloody Flowers
January 29, 2018
Screaming, I started to feel like I was going to faint. I could hear the cries coming from people I didn't know and did know. I latched onto my boyfriend's arm and intertwined his hand to mine, squeezing it until I could start to feel a little bit of my mind come back to me. I told myself: Breathe.

Breathe.

Breathe.

Waking up this morning I would have never pictured this happening so let's start there.

"Get up," my brother's voice rang in my ears, as I groggily started to wake up. My door flung open and my brother barged into my room, "It doesn't matter if it's the weekend you shouldn't sleep in this late." he said. I gave him the get-out-of-my-room-now look, but he didn't understand the message I was sending. I picked up my pillow from behind my head, and I threw it at him, but he lunged out of the way. I missed. "You're awful at throwing," my brother kept on continuing about how I'm awful at everything, but I had already started to zone out. My mind wandered off to what the rest of my day was going to be like. Today was my one year anniversary with my boyfriend, Noah, and I was freaking out. He told me that he wanted to plan out the whole night, so I was scared about what I was getting myself into.

The rest of my day was going pretty normal. Noah was supposed to pick me up at seven p.m and it was now five, so I had two hours to get ready. I hopped in the shower and did the rest of my normal routine. The shirt that I was wearing was a long sleeve maroon shirt from Pink, and my pants were jeans. I don't normally wear much makeup, but I ended up putting on some mascara and lipstick.

It was now seven, and I was all ready. Butterflies were swarming in my stomach like bees in a beehive. A car honked from outside, so I grabbed my purse and opened the door to see Noah standing there. He looked like he normally does but for some reason also a little fancier. "My lady," he said in a British accent, holding out his arm for me to hold on to. I grabbed his arm and laughed, as we headed to his car. This is going to be the best night of my life,I thought to myself.

"So where are we going?" I asked.

"Now that is a surprise, so I'm not going to tell you," Noah started to smile in a way that I loved.

After driving for 20 minutes we pulled into a gravel road, and I already knew where we were. As we got out of the car, kids walked past us. They were smiling, laughing, and having the best time of their lives. I could hear the roar of a rollercoaster and the screams that were coming from it. We were at the state fair. This is where we went on our first date exactly one year ago. "I love this place. Do you remember the first time we came here?" I asked Noah. He nodded his head, smiled, and grabbed a hold of my hand.

"Where would you like to go first," he said.

Replying I said, "How about the shopping area first."

"Of course," Noah grinned and kept walking.

There were tents full of bracelets and clothes. More than any person would ever need. I tempted myself to keep on walking and not to stop. We kept roaming around, looking at everything. Then I felt a hand covering my eyes as I was being spun around. A little bit of fear flickered up inside me until the hand uncovered my eyes revealing Noah holding my favorite flower. I looked around confused about where he got it. We were standing next to a table covered in a rainbow of flowers. They were beautiful. I looked up at Noah and kissed him on the cheek.

Thump! I pulled away from Noah, looking at the flower stand next to me. My eyes opened wide, and my heart started beating as fast as a cheetah. Next to me laid a dead woman draped over the flowers. Blood splattered. I screamed. What is happening right now? Everyone started screaming around me. I gave Noah the what-are-we-supposed-to-do look, and he shrugged his shoulders with a frightened look and wrapped his arms around me. My head was pounding, and everything started to turn black. I heard sirens from an ambulance, blaring. Everything stopped.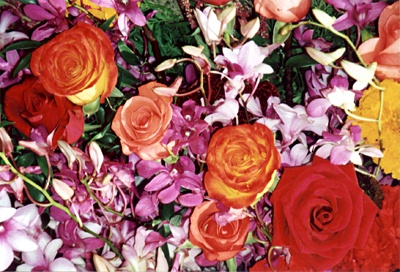 © Stacy L.,New City, NY