Lady on the Bus
January 28, 2018


It was a short walk from my school to the bus stop. The wait for the bus was long though. I was pressed shoulder to shoulder with waiting strangers as the sky turned an ash gray. It wasn't that late, only around 4:00 o'clock. But winter liked to play tricks with the sky. Bus after bus passed, each one going somewhere other than where I needed. By the time my bus arrived, most of the people had gone. They all wore unfamiliar faces, I still felt lonely when they were gone. It was sort of like them waiting for a bus alongside me gave off a sense of comradery. When my bus did arrive, I and few others boarded it. Seats were scarce, as usual. I didn't feel like walking towards the back of the bus so I sat next to someone up front. There was little space for me on the seat, I didn't mind much though. After waiting as long as I did, I was just happy to finally be sitting. I put in my headphones and allowed some calming music to accompany me on this ride. After a few stops I began to smell something, it was close and strong. The lady I was sitting next to was eating, what it was I don't know. It smelled like chicken, at least that was the first image conjured up by the smell. I didn't care enough to turn around and see just exactly what she was eating. Soon she began humming, I didn't recognize what it was that she was humming. It sounded pretty simple, I could only really hear Hm-Hm-Hmm, Hm-Hm-Hmm. Her voice was sort of comforting, it was soft and low but still sounded somewhat withered. As if time has tried its hardest to shrivel her voice but it wasn't ready to give in just yet. She continued to hum after a few more stops. It didn't bother me much either way, I still had a long way to go and a lot of music to listen to.

Some time had passed, she had never gotten up and I could still smell chicken. The bus was beginning to empty, the sky changed from a slightly scary gray to a near horrifying jet black. Each time I looked out the window I couldn't see anything but the unknown. It was sort of frightening, looking out there and not knowing what the darkness was holding. The lady was still humming her song, I'm fairly sure she had stopped eating though. It was strange, being able to hear her humming through my music. I didn't know what she was humming, I wasn't about to sit here and try to decipher it either. It was simple enough, I think. My stop was approaching so whatever she was humming didn't matter.

Here I was, around an hour after I sat next to the bus lady, leaving the bus and heading home. I took one last look at the lady through the window. She turned and looked at me, this was the first we had made eye contact. She smiled at me, probably humming the same song she had been for an hour. I smiled back and turned to start walking home. Once I was looking away from her, I completely forgot how she looked. All I could remember was her low and sort of soothing humming. The tune, whatever it was, seems to have lodged itself inside my memory while also staying as vague as possible. I quickly turned around to get a last look at the bus lady, it was too late, the bus was already on to its next stop.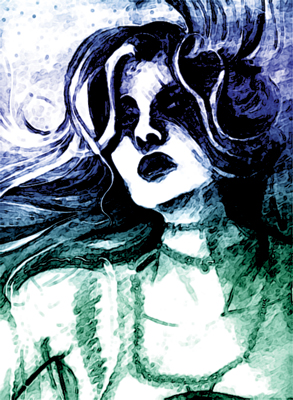 © Sindi J., Westminster, MD