Broken But Brave Family
January 24, 2018
Sarah opened the white wooden door, chipped with paint and walked into the dim apartment. The bottle on the counter caught her eye as she saw her mother on the couch. She sluggishly looked at up at Sarah. "I promise it was just one sip," her mother slurred.

Sarah nodded, knowing her hollow promises too well. Sarah took a deep breath. "Ten, nine, eight, seven," she counted down to prevent a fight "six," as her mother gave a perfunctory plead. "Five," Sarah forced her out of her head, "four," her mother got up from the couch and ran, "three, two...one." Sarah closed her eyes as the sound of vomiting filled the air. A minute later she opened them and turned towards the hall.

Her face felt on fire as she strongly slammed the door. She picked up the pillows from her bed aggressively and with blurred vision, she threw them against the wall. Like an animal, she threw one after another, until a pillow the size of a textbook made contact with a glass picture frame. Sarah froze as the realization overcame her. Slowly, she looked down at the picture frame and instantly felt calm. It was a photo of Sarah, her dad and mom and her little sister, Bailey. Sarah had her arms wrapped around her sister's shoulder, hugging her from behind like a mother bear, while her mom and dad stood shining like two stars in the sky. It was taken when they had a family trip and drove down to their house in Alabama for a weekend. The sun was out and the sweet scent of happiness floated. Sarah smiled as these memories distracted her from reality. These memories are also deadly to the touch, for that was the weekend when their lives became drastically different.

She removed the photo from the frame and, as if it was a precious porcelain doll, carefully put it inside her pocket. Lifting up her head, she opened the door and walked, meaning filling her every step. She saw her mother sitting on the couch drinking a glass of water, looking less like a slug.

"Hey baby I'm sorry, I…," her mother started, but Sarah interrupted her with a wave of a hand.

"Stop. Put your jacket and shoes on, we're going somewhere," Sarah told her.

Her mother's face turned from loose to stern in seconds. It took her mother five minutes until she loosened up again and got up to get her shoes. In a confused silence, Sarah grabbed the car keys and the tape as her mother followed her out the door.

It seemed like hours until Sarah pulled into the parking lot. Her mother looked up, her face wet and worn. Sarah got out of the car, still not talking to her mother. She started towards the general area with a purpose. Her mother, like a dog on a leash, was following. She stopped once she reached it, and rubbed the photo in her pocket between her fingers. She took the tape out, along with the photo and carefully decorated the gravestone with it. She put her hand on the cold stone as her tears watered the dirt below.

Standing up to look at her masterpiece, she reached for her mother's skeleton hand and said, "I love you Mom. I always will. It's been a rough year, but Bailey and Dad wouldn't want us spending today in despair."

Standing side by side, just like the two graves they were looking at, they stood motionless together. After fifteen minutes Sarah squeezed her mom's hand before letting go to walk back towards the car, her mother following behind five minutes later.

The drive back home was still silent, this time more of a comfort silence. Sarah and her mother walked up the stairs near their apartment door when Sarah heard her mother stop. She did the same and turned around to face her mother.

Her mother said, "Pancakes are the best way to start off the day. Your father used to say that every Sunday morning to me. Pancakes were his favorite."

Sarah remembered the forgotten smell of pancakes that used to fill their old house on Sundays.

Her mother continued, "Tomorrow's Sunday. I think I'll make some pancakes and throw out all the liquor. How does that sound, honey?"

Sarah took in her mouse-like mother. This time she knew this promise wasn't hollow but full of potential and change.

"I think I'd like that very much," she responded. Sarah opened the white wooden door, chipped with paint and walked into the dim apartment.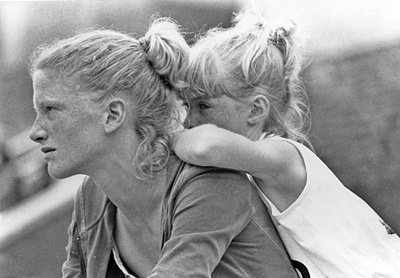 © Felicia F, Marlow, OK