Kaua'i
January 16, 2018
"Sweetie, I've missed you so, so much!" said my grandmother, "How long has it been? A year?" "Yeah Gram, last Christmas was the last time. I've missed you, too." I said back. I looked at her and discovered that something changed. "Gram, did you do something with your hair?" I decided to ask. "Yes, I got it highlighted," she said almost as a question, like she was unsure of what it was called. My Gram's hair had always been black, and it was just subtle, not too different, which I liked. "I'm gonna go unpack my stuff, I'll talk to you in a bit," and with that, I went up the stairs to the room I was staying in. I walked into the room and instantly felt a breeze on my skin. I looked around the room, it being decorated the same as the last visit. It was a light, creamy green, with pineapple accent pieces. The balcony was open, with white linen flowing through the wind, welcoming me to the beach. I was finally home. Kaua'i, Hawaii. I walked out onto the balcony and stood there, breathing in the air, all of the comforting smells and sounds enveloping me. The breeze brought a cool chill, with the scent of the salty ocean spray.

I walked down the steps to Gram's kitchen and saw her standing above the sink, cutting up papaya and pineapple to put on a tray. I grabbed a couple chunks of the juicy fruit and walked outside to explore while eating the sweet delicacies I could never get in Rhode Island, where I lived with my parents. I walked down onto the beach, feeling the warm grains of sand between my toes. I strolled closer to the shore and dipped my feet in the warm, blue water. I walked in knee-deep, and just stood there. I looked down into my reflection, my naturally tan Hawaiian skin blending nicely with the color of the sand and my bright blue eyes looking almost non-existent compared to the water. I looked past my reflection and saw little fish swimming hastily and starfish crawling in the sand. I looked up and saw the dolphins playing with each other, almost like a game of tag. I smiled contently, knowing that this is where I'm meant to be. I slowly walked out of the water and off of the beach and back up to the house. I walked in and went and got my swimsuit on. I walked downstairs, with just my bikini and jean shorts on, and Gram told me to come over and talk to her.

"Shauni, I have something to tell you", she said to me with a smirk on her face.

"Yes? Why are you smiling like that." I said kind of nervous with a little bit of excitement on my face.
"Remember Kai? That guy you used to be friends with when you were little? Well, he's coming over later with Shannon, my friend that happens to also be his grandma, and I told him you were in town so he is really excited and, he is kind of handsome these days." she said almost all in one breath. My heart dropped. He remembers me, I can't believe it! I used to crush so hard on him.

"Gram, we weren't that little. And I remember Shannon, it was just a few years ago. And I-Wait, he got even better looking?" I said in almost a scream. She started laughing really hard and I just stood up and started doing a little dance thing. I said that I couldn't wait and ran out. I went down to the beach. I ran down into the sand, it kicking up behind me. I wiggled out of my shorts and sprinted into the water. I ran until I was on the tips of my toes. I picked my feet up off of the sand and let myself float to the surface. I could've fallen asleep right there, the low tide pulling me into a deep sleep, but I didn't. I stared up at the sky, the blue infinity was barely starting to turn purple. I stayed like that for what seemed like eternity, but I got out of the water. I had to get ready for Kai to come over. And help Gram cook, of course. I walked slowly back to the house and went upstairs to take a shower. I got ready, putting on a breezy romper and very minimal makeup. I left my hair natural, too curly. I went downstairs and started cutting up vegetables for dinner. Gram was making shrimp tacos and rice. I was helping her set the table when I heard a knock on the door. I tensed up, and Gram noticed because she walked over to me and rubbed my back on her way to the door. I immediately heard a chorus of 'hello' and 'how are you'. They strolled over to the kitchen and Shannon immediately gave me a hug. I hugged her back, of course. She was like family to me and has done so much for Gram while I wasn't here. She grabbed my face and told me she missed me very much. She then walked off to go with Gram onto the porch where we were eating. I started to follow when she said "Shauni, Kai is outside bringing in some of my pineapples. Do you mind helping him?" "Sure, okay," I said, and looked at Gram, and she was smiling. I agreed because I'm sure there was a lot of the fruit because she has a pineapple farm. Is that what you call it? Maybe a pineapple orchard? I don't know, so I walked outside and over to her little Volkswagon bug. I saw a figure leaning into the trunk of the beat-up yellow car. He leaned up and I saw him for the first time in a couple of years. His hair was a little messy, he was wearing a plain white shirt with cargo shorts. His face was the same, but with sharper features. His eyes were still soft, though. He was also, like, 6'3". How could that be possible for a kid who just turned sixteen? I could also tell he worked out. I smiled at him.

"Hey Shauni."

"Hi Kai. Do you need any help?"

"Yeah, sure. Thanks."

I walked over to the car and grabbed about five pineapples. We went into the house and set the pineapples down on the countertop. We went outside and ate dinner. It was full of retold memories, laughter, and really good food. Kai and I were having many side conversations, and I feel like we've been getting closer already. After dinner, I offer to wash the dishes, but Shannon and Gram told us to go off and have fun, to explore. We did. We went down to the beach and sat on the sand. We talked for hours. About everything and nothing. I had a chance to really look at him. His hair was slightly highlighted by the sun. His face was tan, with his eyes naturally squinted. His eyes were a dark brown, but nothing was intimidating about them. He had a scar on his left eyebrow. He had a big smile, but when his face relaxed, he had big, pouty lips. I know that sounds kind of creepy, but I didn't mean it that way. I felt him staring at me a couple of times, too. The same way I was with him. I knew from that moment that I was going to get closer to Kai. It was now dark, so we decided to go back to the house. On the way, he grabbed my hand and intertwined his fingers with mine. I felt like I was flying from all of the butterflies in my stomach! Ah! I was for sure blushing. I looked over at him and he was blushing too, maybe harder than I was! We let go when we walked into the house. Shannon said that they had to go, so we said our goodbyes, I gave Shannon and Kai a hug and then they left. I told Gram that I was tired and that I would talk to her tomorrow, and said goodnight. I went upstairs and changed into my pajamas and laid down in bed while watching Netflix. I couldn't stop thinking of my day. I the felt my phone buzz, and saw that it was from an unknown number. I open the text and it said "i had fun tonight ;)". I texted back That I had fun, too, and all I knew from that moment on, that this was going to be one of the best chances I've ever been given, moving back to Kaua'i.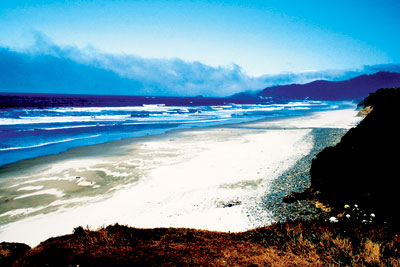 © Kristin R., Los Altos, CA