Abrumada
January 11, 2018
It was about 7:30 pm at night when Dolores Abrumado made a choice that would forever change her life. Dolores had straight, thin, light brown hair with dusty blue eyes and pale skin. She was a short woman with an athletic build and small feet. She was an overwhelmed woman. Overwhelmed by the absence of money. Overwhelmed by her mother's sickness. Overwhelmed by the world. Dolores Abrumado walked down the block from her house into a local cafe called The Good Place. It was her intention to make a purchase that night that would possibly save her mother's life. It was there, in the cafe, that she bought a small ticket that read, Power Bowl. The prize for this lottery winner was 5.7 million dollars. This was more money than Dolores could ever imagine attaining in her entire lifetime. She pictured herself walking into the hospital and making an appointment to have her mother's surgery performed. She looked down at the small, smooth slip of paper with smudged letters and decided not to get her hopes up. It would never happen to her of all people.
Dolores walked out of the small little cafe and up the sidewalk. She smelled the freshly fallen leaves of autumn, as they continued to fall down off of the trees and onto the ground around her. The sound of her hustling feet hitting against the sidewalk echoed through the nighttime as she made her way home. After about five minutes of walking down the, what seemed to be an unnecessarily extensive, road, she hurried up her driveway and up to her front door, which was closed tight. Dolores looked down into her fake leather purse and took out her dangly pair of house keys. She opened the grey door, which she had painted herself over the summer, and slowly made her way to her room. Dolores needed to get rest so that she could be on time for an early shift the next morning. She dropped her purse on the rough carpet of her room, and plopped down on her bed, exhausted. She put her head on her pillow and easily drifted away into a deep sleep.
Dolores got out of bed to see the world around her completely changed. She looked at her bedroom wall, which was no longer chipped. She walked down the hallway of her one bedroom apartment in South Hackensack to find the kitchen tiles repaired and no longer cracked. She opened her refrigerator. Instead of emptiness, she saw a full fridge full of food. A smile spread across her face as she reached for some some milk and cereal. Dolores ate breakfast, pulled on her new Converse sneakers, and walked down the block to her mother's house. Dolores loved to walk whenever she could. It was calming to her. The feeling of the fresh air against her warm skin was refreshing. It felt like a cool dip in the water at the beach after sitting in the smoldering hot sun for hours. After about three minutes of walking, she made it to her mother's house. Dolores walked up the newly laid stairs to the front door, which had previously been ancient cracked steps that were waiting to fall apart. As she rang the bell, her mother came to the door smiling widely. Instead of being in a wheelchair, she had fully functioning legs. Dolores Abrumado ran to her mother and hugged her as tightly as she could.
Suddenly, Dolores's vision started to go hazy and swirled into a gray spiral. She opened her eyes and found herself awakened in the bed of her room, still plagued with chipped walls. After processing that she had experienced a lucid dream, Dolores jolted up out of bed and walked down the hallway. The kitchen tiles were still cracked. She opened the fridge and saw half a loaf of bread and a gallon of water.
Damn it. It was a damn dream. It was only a dream. Dolores sunk to the floor, crying. After about one minute of sobbing, Dolores Abrumado picked herself up and went back to bed. The next morning, she woke up and walked to her TV. Her heart was pounding out of her chest. This was it. The moment that could change her life. She turned the TV on and flipped the channel so that she could listen to the lottery numbers.
Dolores's eyes eagerly followed the numbers as the host announced them in an excited Jimmy Fallon-like voice, "And the winning numbers for this Fall's Power Bowl are… 08 27 34 04 19 and 10."
Nope. None of the numbers on the screen matched those of the numbers on her Power Bowl ticket. Dolores was disappointed, yet indifferent. She no longer felt overwhelmed. She no longer felt pressure over her head. She no longer felt anything. She felt grey, the same shade as the front door of her house. It was this experience that helped Dolores to differentiate her great expectations with her inevitable reality. Not everything will go as planned. Some dreams can be crushed with one abrupt sentence. And that is life.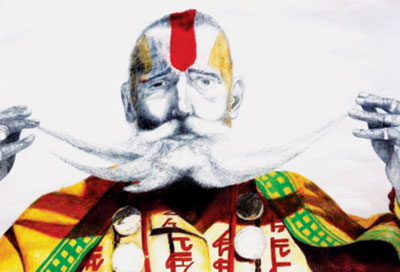 © Luke K., New Orleans, LA