Adalard For Brave
January 13, 2018
Adalard For Brave

Today, my name finally represents me.
There were three crowds. The Nazis' crowd, the Jews' crowd, and the Germans' crowd; my crowd. As always, the Nazis were hitting the Jews, even killing some. The Germans were watching in silence, And the Jews. Ah the Jews. They just accepted it and didn't do anything. It was chaos, yet it was completely silent. Everyone knew their role. 
A trembling voice was the only thing that broke the injustice and the hatred that was living in the air we breathed. It was sucking the air right out of our lungs. It was awfully agonizing; both, the air being sucked out of my lungs and watching everyone glare in silence while the Nazis oppress the Jews..
"St… Stop it!"
An innocent female's voice came out from the middle of the German citizens' crowd. It was fierce with a hint of fear. The first thought that popped in my head was God help her.  I don't blame her for defending the Jews, but what she did was foolish. No one was going to listen to her. No one was going to stop their hatred towards the Jews. No one cared. I don't know why she protected the enemy; however, the only thing that I did know for sure is that I never want to be that young lady.
All these thoughts were rushing through my head. I needed to see what was happening. I looked up to find eyes staring at me with sadness and pity. At first, I didn't understand why my German neighbors and my friends were looking at me. Then it hit me. I was that young lady.
…
Adalard. Brave. I've never really liked my name, it just doesn't represent my personality. I've always been a coward; I never stood up for myself or anything else.
The short nine years that I had lived in Germany before The Second World War were blurry. I came to this world in 1930 and became a part of a beautiful family. I was an only kid with two loving parents. My family was a middle class family. My father managed a department in a candy factory and my mother was a housewife. And I, I went to school and played with my friends just like any other kid.
There was nothing special about me. Average grades, average popularity, average family, average everything. I always thought very lowly of myself. I didn't have a talent like many others at my school, I wasn't intelligent or even close to smart.
A little before the war started, the Nazis, led by Hitler, became more known in Germany. It was becoming usual for the Germans to see them walking around with guns and executing anyone that protested against them. Everyone started to fear them and obey them.
At the beginning of the war in 1939, an incident made me determined to find out who I was. To find my identity. Anyhow, nothing could've prepared to what has happened. The Nazis killed the two people I cared the most about; my parents. While my family and I were exchanging our stamps for food, a Nazi came up to us and shot both my parents in their head with cold blood. They collapsed right away. If it were a movie, I would've been able to say goodbye to them, but it wasn't, and they died right away.
The Nazi told me "they were the sacrifice this country needed"
I could've sworn I've seen fire in his eyes when he said that.. Their blood splashed everywhere; my face, my clothes, some of the fruits and the vegetables. Some people weren't shocked about what had just happened, some even complained about the blood on their food.
I stood there in absolute stillness, I was trying to let the incident sink in. Suddenly, my cheeks started to burn; my tears were coming down in silence like hot needles. It hurt. Everything did. I didn't get to say goodbye to them. I collapsed on my knees next to their corpses. They are gone. They really are. I felt a terrible emptiness in me. After that, I remember blackness and pain.
As a result of my parents' death, I didn't see the point in living in a world of war. It just caused misery. However, I decided to take care of myself and try to escape the horrors of a war.
In 1945, six years after my parents' death and almost at the end of the war, I was living independently in the same house I grew up in. I found my passion for writing, I even created a small business for writing to get me an income.  I'd wake up, eat, read, and go out for walks. Sometimes, I'd write in my journal about my life and what made me who I am today. Then one day after breakfast, I went for a walk and saw three crowds. I joined the German citizens' crowd.
. . .
Now, I had to face the consequences of my actions. I had to face the inevitable; the Nazis were going to kill me. Suddenly, everyone was pushed to the side. Two Nazi soldiers appeared in front of me. They were talking to each other but I couldn't hear a thing. My ears were clogged for a minute or two. I was trying to swallow though my throat was dry.
"... hey you!" one of the soldiers said.
I finally got my hearing back; however, I wish I never did. The Nazis were yelling at me, asking me a million questions at a time.
"Who are you?!"
"How old are you?!"
"How dare you say that to us?!"
I couldn't answer anything. I was still in awe about what I had said earlier. I couldn't believe I, Adalard, had said those two words.  I didn't know I had it in me. A smirk was printed across my face. The two Nazi soldiers were enraged at this point. One of them grabbed my hair and pulled me to the middle of the three crowds. The other one pulled out his gun and pointed it at me. I have nothing lose. Finally my name truly represents me!  Another Nazi soldier came out from their crowd. This one looked different. He had a rifle instead of a gun. They all look down when he talks to them. He looked like their group's leader.
"Don't!" he commanded.
He approached me and kneeled down to talk to me.
"Go home and don't let us see you ever again" he threatened.
I stood up, fixed my clothes, looked at him with pity, and smiled. The two soldiers who grabbed my hair earlier, threw me a cold glance. There was no empathy in their eyes. I chose to neglect their sorrowful looks. I started walking home. I couldn't help but keep smiling the entire time I was walking. I am Adalard. I am brave, and that is who I am.
As soon as I got home, I took out my journal, my pencil, and started writing about today's incident. "Today, my name finally represents me. There were three crowds…".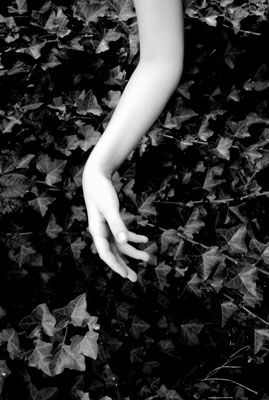 © Sarah M., Blairsville, PA