Dear God
January 14, 2018
November 20, 2015

Dear God,

Pastor John said it was okay to have questions. Well I have lots of questions, so here they are. Pastor John also said God never gives us more than we can handle. So my question for you is, how much do you think a 16 year-old can handle? Because in my experience you expect them to handle a lot. I also want to know why you made me this way. Why can't I be more social in school and still have good grades? Why can't I feel as comfortable around humans as I do animals? Why can't I act in the plays and be good at sports? Why can't I be like how Sara is! Or, I guess was. Why did you have to take her from us? She was a good person no she was a GREAT person, so why did she have to die? What's the meaning behind this? Why are you doing this to our family? You made momma cry and daddy drink. What was it for God? Was this supposed to make me stronger? Make me a better person? Because this isn't making me a better or stronger person it's just making me sad! Sara was always so adventurous even after it happened, even after she was diagnosed with leukemia. If anything being sick made her more adventurous. I remember one day, she was driving me to school; we shared the rusty old toyota from my dad, but because she was 3 minutes older she got to drive it more often. The car gave a CLUNK jolting us to a stop at the intersection to get on the beat up old main road. We sat at the intersection, the car slowly turned left.

"What are you doing?" I asked her with a confused look on my face, "That's not the way to school."
"I know that silly!" she exclaimed smiling.

"Okay. If you know that then what are you doing?" I asked her getting annoyed.

"I'm taking us on an adventure." she said nonchalantly, like we didn't have anything else to do or anywhere else to be. I was annoyed but I didn't say anything. If I had said something God, would she still be here?
Sara pulled up in front of this heavily wooded area and in the 16 years, I've lived in Woodbridge, Georgia, I've never been here. Sara opened her car door, and I slowly opened mine to follow. I followed Sara into the wooded area. We were pushing past thick tree branches and unrully vines. The forest looked as though it hadn't been tamed in years. We came upon a big brown log that had been split open, it was charred and I believe it was hit by lightning. The kind of lightning thats red and purple and will take even the strongest of beasts down. It was times like this I was glad for my long legs. Sara and I had legs that looked as though they went on for miles, especially during summer. Sara slowed her pace and then stopped all together. I came up beside her and looked around me. The steady incline of the hill had us both panting like dogs. It was at that time that I realised I'm kind of out of shape.

"Isn't it beautiful?" Sara asked me.

"Yes," I said astonished, "but why did you bring me here?"

"Because I wanted to relax and have fun with my favorite sister for a day." She said as she turned and looked at me.

"Okay." I said as I looked at her. In that moment, I knew something was going on, but I didn't know what. By the look on Sara's face I knew that she knew that I knew something was wrong. But neither of us said anything.

We sat there for awhile until Sara got up and cheerfully said, "Let's get some ice cream!" I reached for her hand and she pulled me up onto my feet. In my head, I thought I should be the one pulling her up. The chemo made Sara very weak but she never showed it, at least not to me. We got in the car and drove to get ice cream from Dairy Queen. I got a mint oreo blizzard with chocolate ice cream and Sara got a oreo blizzard with snickers and chocolate ice cream. I got the same order every time we went to Dairy Queen but Sara got something different every time. Sara loved Dairy Queen because she could always have a different order. I liked Dairy Queen because I knew it was good and I knew what I liked. Sara would always get crazy combinations and even if she didn't like them she would eat them. Our dad would always say that even in the most subtle ways Sara and I where so different. After ice cream we went home. We walked through the door and our mom asked, "Did you guys skip school today?"

"Yeah." Sara responded. Sara kept walking upstairs so I did to. I went to lay on the soft silk sheets and put my head down on my lilac pillow cases, they where soft and always brought me comfort.

Sara died that night and now here I am sitting in the parking lot of a Dairy Queen crying and writing a letter to God. Did you know she wrote me letter God? On some level I think she knew it was her time. I don't need to open her letter to know what it says. I know that she wanted to give me that letter in the woods the other day, but she couldn't. She was so sick and she was hurting so much it was time for her to let go. I think this is the end of my letter God, but after I finish this I'm going to go through that drive thru and order something I've never ordered before because it's time for me to start living life adventurously.
Clara Thompson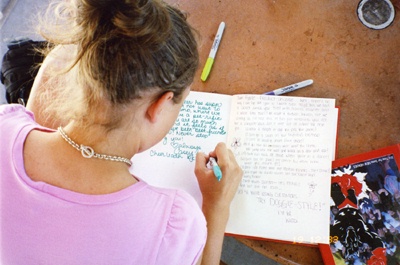 © Jessica S. Pheonix, A