Here I Go Again...Through The Bumpy Road to Love
December 17, 2017
Love letter from:
Callington Road Hospital
psychiatric hospital
Bristol, England
Referred to: Unknown
Patient Profile
Name: Eleonor Kelly Anne
Last name: Dru-Khar
Date of Birth: November 1, 1989
Nationality: Kent county, England
Blood type: A+
Date of admission: November 4, 2017
Type of illness: Schizophrenia, Obsessive compulsive disorder, and Anxiety disorder
Level of medication: Severe
Read more...
*Disclaimer: The following papers may contain sensitive content, once you open the seal, the "love letter" is yours to keep.*
Stage 1: Hatred Feelings (you are a mug)
And I, I was madly in love with him. Bloody hell I was nuts for him. And he, he was an ingrate with no feelings. He had my heart right there in his hand and just squished it real hard. Then broke it into teeny-tiny pieces. That man is rubbish.
Him=YOU
Her=ME
You=YOU
I=ME
*[...]*=IMPORTANT FACTS
I, I was a beguiling young girl, astonishingly pretty. I was polite, kind, clever, had a cheerful character, passionate yet courageous, sometimes even witty. Most importantly capable of true love.
Yet here I am, writing this story, which still to this day hurts, hurts like a motherf***er.

I have learned through time that beauty is temporary and fleeting. Yet at the same time that a beautiful young woman is the embodiment of perfection, and is humanity's greatest potential. And the way my eyes sprinkled and my eyelashes flattered when I looked at him, the way my mouth slowly moved as I told you how much I loved him, the way my cheeks wrinkled as I smiled every time I saw you. But man how can such perfection be reality? And that girl (me) is or was in love with you, dunno. A beautiful woman (me 10 years ago) is life itself, the physical embodiment of life, the most utterly pure and concrete form of the abstract notion of what it means to be alive. And you killed that, was it because you were scared of that much beauty? Did you feel like you were being intoxicated by her? Or were you simply so stupid to not react to her offering you her soul, her smile, her vision, her heart...HER LIFE. And after that she decayed, she slowly became depressed and simply...decayed. THAT IS ALL ON YOU.

Her personality matched her appearance (didn't you realize that?). She was of strong character, such that people respected her to the point of fear (but you didn't). She was "the unreachable", "the impossible", "the platonic". Yet she fell for you (you didn't value that). And oh you snog, she was carefree in a way that was impossible for a man to understand, yet she explained it to you (why the hell didn't you appreciate that, or did you just ignore it?). And she looked and looked at you, and knew as clearly as she knows she is to die, that she loved you more than anything she had ever seen or imagined on earth, or hoped for anywhere else. She felt as if her beauty would never fade, yet she felt heartbroken when you treated her like a piece of sh*t. You told her that she was a combination of flawless beauty and youthful insouciance, with that she gave you a taste of immortality...why? But hell no, you didn't mean what you said, so you did not deserve anything at all. Not the love that that exceptional woman gave you. Not the admiration that she had for you. Not how she took care of you. Not how she defended you. Not the open doors to her heart, true self nor home. You did not deserve any of that. You are a snog, I have no idea what that means but it does not sound nice, so you are a snog. A complete snog.
[Stage 2: Flashbacks]
Stage 3: Zero Percent Thinking (thinking would make me hate you)

Here I go again…
Us, we shared the same taste for music. I taught him to love Andrea Bocelli, and he taught me to love Louis Armstrong and Edith Piaf.

I arrived at Sevilla, Spain after a 10 hour flight and by then I already missed him so much. We were exactly 8625 kilometres apart. And I felt it, I actually did. I could feel the bond that tied our heart and soul together, stretching and stretching all across Venezuela, Nicaragua, Honduras, The Atlantic Ocean, Morocco and Lisbon all the way through beautiful and enchanting Seville, Spain. That afternoon I simply wanted some fresh air, oh wait it was not an afternoon, it was almost 10 at night...sorry something I am not used to. Recapping, I wanted fresh air and ton just get some time for myself away from everything, (since I actually was away from everything). I called the elevator, pressed the lobby button and passed through the censored doors, did not tell anyone I was leaving, and just left. I wrote down the address of the hotel and started walking down the sidewalk, (because I could see the sunset and wanted to admire it from closer). So I walked and walked, could feel the breeze calming the tremendous heat (about 40 degrees celsius) and watched it play with my hair.

I strolled peacefully down Seville's streets, and the best part was the unknown, (because this place was totally new to me). I did not know anyone or anything and that made me feel FREE. For an instant I totally forgot who I was. I forgot about all my preoccupations, about the people that tormented my world, about the world's war, about poverty, about the scars and wounds that lived in heart and soul...simply felt free. I just can't explain that feeling.
*At some point I wished that we would get to love each other so sincerely and deeply and soooo much, that we could feel that by being together. Guess we did not have the chance.*
After walking for fifteen minutes, I got to a bridge, a large, ancient and handsome concrete bridge. Puente de Triana or Puente de Isabel II, however you want to call it. There was a river passing underneath it, a large river. Apparently it is a historic iron arch bridge completed in 1852, connecting the Triana neighborhood to Seville's center. I just stood there, leaned my elbows on the handles, put my face into the palms of my hands, and contemplated the view, the colors, the sounds, the smells. For me that is the beauty of life, being able to appreciate even if it is just for a split second, our existence. I was able to see the Torre de Oro, and all those antique buildings from El Barrio de Triana from there. Just when I thought that that instant could not be more perfect and worth living for, a melody started sounding which woke a sense of bliss, exuberance and delightfulness in my mind, heart, soul, bones and muscles.
*La Vie en Rose, Louis Armstrong originally from french artist Edith Piaf.*
Love brushed through my skin and streamed along my veins, the kind of love that one has for its own life. And for once I felt entirely happy to be alive. Now, I ask myself: what is the best thing that has ever happened to me? Oh dear Lord, making that decision of going out for a walk at Seville, Spain 10 pm. La Vie en Rose, our favourite song. Actually, my favourite song, and after that it became his too. The sound of that trumpet, the man's voice slowly turning into The great Louis Armstrong as I dreamt it. That is when I felt most alive. As if everything was "rose", as if life itself was "rose". INEXPLICABLE!!!
Louis Armstrong...
Hold me close and hold me fast
The magic spell you cast
This is La Vie En Rose
When you kiss me heaven sighs
And though I close my eyes
I see La Vie En Rose
When you press me to your heart
I'm in a world apart
A world where roses bloom
And when you speak...angels sing from above
Everyday words seem...to turn into love songs
Give your heart and soul to me
And life will always be
La Vie En Rose
In that moment I thought of HIM, I thought of the way he smiled and lit up my world, the way his hair perfectly fell in shape, the way he talked and whispered, the way he winked at me, the way his lips brushed mine, the way he sipped his wine, the way his heart raced against mine, the way he sang off key, the way his cheeks wrinkled when he saw me, the way he haunted my dreams, the way he changed my life, and they way he loved me. And these are just a few of the crazy things that kept me loving him, even until now I could say so, that I do, I still do love him.
*Now, you can imagine the love I felt for him by the fact that in that exact moment of bliss and pure happiness I THOUGHT OF HIM!!!*
Music, a way in which love manifests, a form of madness for the other soul. I have always said that if a series of songs or a certain type of music makes you think about a specific person (in a good way, of course), then that is love. And that young man I am talking about, he made me think of music, of all types music. How can a love be so much more than love, how can it be so deep, so unconventional?
*Google says: Love is a variety of different emotional and mental states, typically strongly and positively experienced, that ranges from deepest interpersonal affection to simple pleasure...RUBBISH!!!*
*The man who is beyond google and simply cannot be compared is Edgar Allan Poe. Exceptional. Just by reading him I get goosebumps, and for sure many people can relate.*
This is L-O-V-E:
It was many and many a year ago,
In a kingdom by the sea,
That a maiden there lived whom you may know
By the name of Annabel Lee;
And this maiden she lived with no other thought
Than to love and be loved by me.
I was a child and she was a child,
In this kingdom by the sea,
But we loved with a love that was more than love—
I and my Annabel Lee—
With a love that the wingèd seraphs of Heaven
Coveted her and me.
And this was the reason that, long ago,
In this kingdom by the sea,
A wind blew out of a cloud, chilling
My beautiful Annabel Lee;
So that her highborn kinsmen came
And bore her away from me,
To shut her up in a sepulchre
In this kingdom by the sea.
The angels, not half so happy in Heaven,
Went envying her and me—
Yes!—that was the reason (as all men know,
In this kingdom by the sea)
That the wind came out of the cloud by night,
Chilling and killing my Annabel Lee.
But our love it was stronger by far than the love
Of those who were older than we—
Of many far wiser than we—
And neither the angels in Heaven above
Nor the demons down under the sea
Can ever dissever my soul from the soul
Of the beautiful Annabel Lee;
For the moon never beams, without bringing me dreams
Of the beautiful Annabel Lee;
And the stars never rise, but I feel the bright eyes
Of the beautiful Annabel Lee;
And so, all the night-tide, I lie down by the side
Of my darling—my darling—my life and my bride,
In her sepulchre there by the sea—
In her tomb by the sounding sea.
L-O-V-E was that, what him and I had. L-O-V-E was sharing the beautiful moments that life gave us.
L-O-V-E was seizing the moment. L-O-V-E was making each other better. L-O-V-E was perfect at my
sight. And sadly, we were left with the desire of being the best and most beautiful love
story.

*Please feel free to feel identified with whom I refer to by: HIM, HE and US.*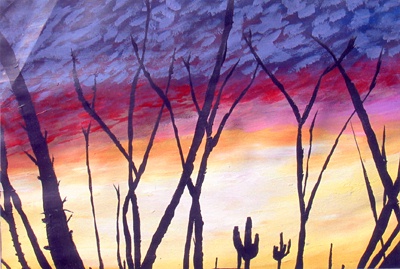 © Kassia C., Phoenix, AZ