The Unlimited Europian Trip
December 15, 2017
I was staring out of the window of the school bus. I had just finished reading a travel book about things to do in Norway. School has finally ended. Hi, I'm Madeline and I am 13 and going into 8th grade. I always wanted to go to Europe, but my parents have always said, "No!" I hope a miracle happens this summer! When I got home, my parents were in the living room waiting for me to get home. I thought it was because something bad happened (they are never waiting for me in the living room like that) like I must redo 7th grade, or I failed my art exam (I didn't have an art exam).

"I have great news!" Said my mom.

"We won the lottery!" shouted my dad.

"Can we go to Europe this year?!" I asked. Don't blame me, I think this is the lucky year.

"Yes!" Said my mom.

My mom made me write my countries I wanted to go to on a slip of paper, fold it up and put it in a bowl. The countries I choose are France, Norway, Spain, Denmark, Holland, Italy, Belgium, England, and I put Paris because I want to go to Paris so bad. When I drew a name, I got Spain. Then, I put the slips into a bag.
"Not a bad way to start, Madeline." Said dad.

I used two full sized suitcases for my clothes. One suitcase is for cold weather clothing and one is for warm weather clothing. I used a medium sized suitcase for my makeup, hair accessories, and my cameras. I brought a carryon purse for the plane ride which has my phone, two books, my charger, bag of countries, and some plane snacks (which include candy, and chips).

We spent some time in the New York airport lounge. We took Virgin Atlantic to Barcelona, Spain in business class. To avoid very bad thunder storms, the plane went to London, England. I pulled it the bag of names of countries and take out England. I grabbed a pen crossed off England and put Spain on the paper slip. I put it in the bag and put the bag in my carryon.

My family stayed in a suit on the 7th floor in the West Minster Park Plaza Hotel. I spotted the London Eye from the balcony. We walked to Victoria Castle. I took pictures in front of Big Ben (a cloak tower). The next day explored London. We went to the West Minster Abby Memorial, the London Eye, and the King's Cross station. We went back to the hotel by taxi. I pulled out the container of names of countries, closed my eyes, and grabbed a name. I chose Norway.

"What name did you choose?" said my mom.

"Norway!" I said.

My parents booked a flight to Olden, Norway. The next day we headed to the airport the head to Norway. The plane was small since the flight was short. I saw mountains with goats on them. When we got off the plane, went through passport check, got our luggage, and got to the hotel, I could book a troll car tour for the next day and I got tickets for a flight to Paris for the day after that. On the plane ride I pulled out Italy but there was supposed to bad weather which included very high temperatures and thunder storms for the week, so I pulled out France. I crossed out France, and put Italy.

My family went to town for the rest of the day. I got a few travel books because when we were booking stuff for London at the last minute and there was not much tours. I got tickets for Disneyland Paris for the next full day that I am in Paris.

Then past few weeks flew by very fast. The troll car tour was awesome, and I loved the Eiffel Tower.
Disneyland Paris was a lot of fun. The sights in Norway and France were priceless. We are now in Rome and I am in the hotel booking a flight to Spain. A few nights ago, our plane got into Rome at 5pm. I spent all day souvenir shopping.

Today our plane got into Spain and love it here in Barcelona. There is not much here so we are going to Denmark tomorrow. All day I souvenir shopped and booked a castle tour for Denmark. I remembered Tivoli Gardens, from one of my travel books, and I could find time on the agenda to go there.

The following day my parents and I went to Denmark. We took a tour of a castle and could see the changing of the guard. The next day my family went to Tivoli Gardens and spent all day there. It was awesome, and the rides were a lot of fun (you might be thinking that Tivoli Gardens is an actual garden, but it is a theme park). I booked a flight to Belgium for the next week.

I love Belgium chocolate! I am officially in Bruges. There is not much here so the day after tomorrow I'm going the Holland (Netherlands). There are lots of pretty sights. Today I went of a chocolate-eating tour. I am on the plane to Holland. I am not sure of what there is to do in Holland. I was looking at the Amsterdam section of the book. I went souvenir shopping that day. I booked a flight back home. That concludes the unlimited European trip. That night when I got home I went to bed. Who was shaking me? I opened my eyes. My sister was shaking me.

"What is going on?" I asked.

"You fell asleep while listening to my book report. So, did you like it?" asked my sister

"Yeah, sure. I was good." I said. I looked out the window, wondering, was it all a dream? Did I go to all those places?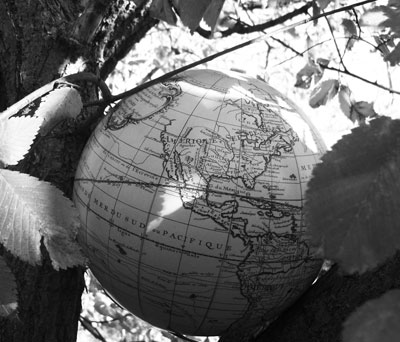 © Ella H., La Vista, NE