Breathless Eclipse
December 14, 2017
"The only thing to fear is fear itself," unless you're trapped in the darkness, suffering. Just waiting for all the depression and anxiety can be hard enough without your father ever being home, always out late 'working'. But it's even worse when he busts through the door at three a.m., waking your mother, drunk.

Insomnia drives most people insane, but I'm already past that point. It keeps me calm, knowing that I'll already be awake if he arrives. Most alcoholics don't know what they're doing when they're under the influence, but I know he does. I can see it in his eyes. The way he looks at me with pure hatred. I do it to protect my mother, I do everything for her. I will take the beatings and cursing and yelling as long as she's safe.

If he beat her, she'd surely die from her central motor neuron disease, primary lateral sclerosis. She wouldn't even be able to get away with her fragile legs. It affects people around her age, in their late 40s, but it seems to be spreading faster. First it affected her legs, and now it's affecting her hands, too. She's had some trouble swallowing, so she might also be forming dysphagia.

I hear sobbing coming from my mother's room. With a small push against the wood, the door slowly creaks open and I can feel the warm air. My mother turns away from the window and gestures towards the sky.
"It's beautiful, Janet," she coughs through her tears. "Could you help me to the roof?" I hesitate to hold her wrinkled fingers in my own. As we slowly move towards the stairway, I can't help but question her.

I feel small up here, lost, even though I'm still in the same neighborhood. It's the same as it always has been, but now it's silent. Even the chirping of the birds has stopped. It seems everyone is admiring the darkness.
"It's an eclipse." My mother whispers softly, " I always heard my parents talk of it, but I've never seen one...until now." She limps away from me, near the edge of the rooftop. "Janet?" I look her way and her face terrifies me. Her expression is blank and her eyes appear to be staring at something beyond the eclipse. "This is how I want my life to end."

I feel a twinge of pain in my heart. I've done all this for her just so she could die?

"I'm old and weak. I never got to control how my life went, so I want to be the one to end it. I'm sorry, I don't want to leave you."

"You don't have to. I'll go with you."

We hold hands and I hold my breath as we walk off the edge of the house.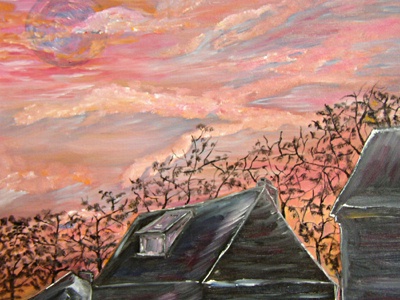 © Lauren M., Scotch Plains, NJ