Love May Pressure You To Death
December 14, 2017
You ever wonder if people will do the same things for you that you do for them? Well, Arianna had a thought like that but in the end, it's not what she had in mind at all.

Arianna was a 17 year old girl from Atlanta, Georgia that was a junior at Washington High School and she was a football and basketball cheerleader. Arianna was a distinguished honors student that had a bright future full of success after you she decided after her senior year that she will enroll into Yale University to get her doctorate degree in Law. Arianna always believed in what was right so she wanted to leave behind a legacy of paving a way for the right things in life through law to help justify innocent people that have been wrongfully convicted.

Even though Arianna sounds like the American Dream type of teenage girl, that wasn't what it actually appeared to be in reality. Arianna is from one of the most ruthless project neighborhoods in the ATL. At only 6 years old Arianna's father life was cut short once he was gun downed and murdered in a local barbershop in her neighborhood. Arianna is the oldest of five out of her two younger brother and two youngers sisters. Her mother works two jobs to makes ends meet every other month with the family living paycheck to paycheck just to live a stable life. Arianna's grandmother lives with her and her family, Arianna looks toward her grandmother as her hero since she was always Arianna's caregiver at home when Arianna's mother would be working two jobs everyday.

Football season just ended while basketball season was just starting to begin. Arianna dated a boy named Deondre Williams who was a top 100 basketball for high schoolers around the United States. Deondre and Arianna have been dating since their freshman year when the first met one another during winter sports tryouts. Deondre who plays shooting guard believed if Arianna was always rooting for him while on the court as a cheerleader, that he would always perform his best performance every game night which would add on to his pile of college recruiting offers.

First game of the season was tonight after school and it was against their team rival, Lincoln High. This game has been anticipated since the schools last met in the championship game last season but Washington High loss to a late game winning 3-pointer by Lincoln five star small forward James DuBois. James also like Deondre, James was ranked top 100 basketball players in high school of America as well. So their battles were always something to watch. Their games often sell out from the Atlanta natives and tip-off was a half hour underway. Arianna and her cheer team were ready and Deondre and his ballers were even more ready for the spalding shootout that was bound to occur.

Deondre and James duled the whole 32 minutes of playing time with a competitive armageddon kind of feel but this time Washington beat Lincoln with Deondre's game winning buzzer beater layup with only 2 seconds left on the clock. The crowd was so ecstatic with joy that they rushed onto the court holding Deondre in the air. Arianna was the most important fan of all as she cried tears of joy for her boyfriends accomplishment tonight. Arianna went with Deondre after the game to celebrate at one of the other basketball players house with a party for the team win tonight. Arianna was optimistic of wanting to go to the party because she felt as if the party would be filled alcohol and drugs which she never pertained in and she didn't want Deondre to be around any of those kinds of substances, but Deondre insisted that after the win they had to attend. Arianna was happy for him tonight so she gave in and went with him to celebrate.

Once at the party Arianna and Deondre greeted their friends and sat around the game table. One of the basketball players call Deondre into another room with next door then Deondre returned back to bring Arianna in the same room 10 minutes later. Arianna felt as if Deondre didn't appear to be himself as if he was previously 10 minutes ago. Deondre showed Arianna a small yellow pill and told her to swallow it. Arianna resisted until Deondre continued to beg her and she finally gave in but 10 minutes after Arianna swallowed the pill, her body went into a different state as she started to have a seizure then 5 minutes later she in the back of a ambulance being rushed to a hospital.

Arianna's mother and Grandmother rushed to the hospital and when they got there they seen a weeping Deondre in the waiting room with a face full of tears. Arianna's mother cried to Deondre requesting what happened to Arianna and when he began to build the courage to explain what just happened to his girlfriend, the doctor walked into the waiting room silencing the room with only his presence. Arianna's mother and grandmother along with Deondre stared and waited for the doctor to reveal Arianna's condition. The doctor revealed to them that Arianna died in surgery in result in suffering a overdose on 800 mg of ecstasy. Deondre began to outburst in forgiveness and tears of Arianna soul and her family due to him pressuring her into take it. Arianna's mother and grandmother couldn't accept her death due to all the energy of life she was filled with. It just didn't seem real.

Life for Arianna seemed set until that tragic night occured in the celebration of the team win. It goes to show that people give very little thought of your well being and what may affect you but they'll realize how much your value is worth to them once your no longer to ablebe in their life. Sad to say that those same people might be the same ones you loved when you were here.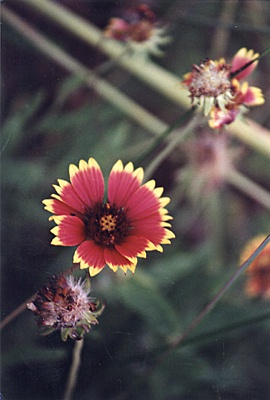 © Brian G., Phoenix, AZ