First Smoke, Last Drink
December 14, 2017

I didn't mean to kill her. Was the last thing I could say in court. As I see her parents I couldn't hold in the tears. I knew if I said I'm sorry, the parents wouldn't even look at me. The jury hasn't decided if I should go to jail or not so they let me go for the night so the jury can come up with a verdict. I hope and pray that they find me not guilty.

As I leave the courtroom all I can picture in my head is the breaking of the windshield. As I slam on the breaks I look around and see the red ball the girl was going after. I didn't see her coming. In that moment I realized that having a better reaction time would've been better and I would've been able to stop or maneuver out of the way. Let alone that it was dark and there wasn't any street lights. No one will understand the feelings that I have. I feel like I shouldn't even be alive even more. I am not that kind of person to hurt a fly. I never wanted this to happen I feel so terrible.

As I get home I grab the whisky, the strong stuff, not that lame watery cheap whisky and the chocolate covered strawberry flavored cigar that my dad gave me in college that I tried to refuse. I light the cigar and take in the nice chocolate and strawberry flavor, when I exhale I don't even cough likes I've been smoking for awhile. I hold it as though I am cool and have done this before. I take a swig of the nice hard whisky and swallow it as I can taste the nice corn and rye and spices in it.

As I tilt the bottle down I look out of the huge glass window. I look over the roof tops and see the the sunset behind the houses. All I can think of to say outloud is "Hopefully for me it will all be over soon."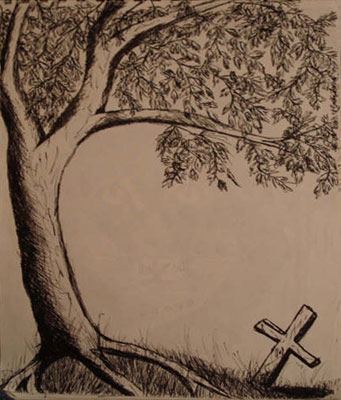 © Courtney K., Bethel Park, PA