Reflection
December 17, 2017
I look in the mirror and a girl stares back at me. Hazel eyes. Full lips. Normal. But as I look closer, I begin to notice the shadows beneath my eyes, dark like the night sky that I spend so long staring into, wondering if this was enough. If my life, right now, was enough. My hair hung in limp, dull strands, framing my thin, thin face.
    Outside, I hear the cars honk and the whispers of a million people. I wonder what it would be like to live a normal life, without a dark shadow hanging over me incessantly. It screams my name and sometimes I don't listen, but sometimes I do.
It's gotten worse over the past few months. I remember the doctor telling my parents years ago. I still hear him saying the words. Terminal illness. Limited time. Finite. Finite. A word I always knew applied to life. But so soon! I had been fourteen then, too young to fully understand but old enough to know. Old enough to understand a glimpse of what the doctor had said, to understand what the tears running down my mother's face had meant.
    Now, two years later, the word finite meant nothing to me. I already knew I was dying. Dying. Another word. Another word hanging in the shadows above me. The first time I had thought about it, really thought about it, I had cried into my pillow for hours. I couldn't be dying, not so soon. I should have decades laid out before me. But I had none. The doctor had told my parents two years past that I would have three years left to live. And the past two had come and gone, leaving behind barely an imprint in my mind. I was too young.
    I used to think of what could had been. What my life would've looked like had I lived a normal life. What college would I have gone to? What path would I have taken? But the strands of my life were unraveling, unwinding, and soon enough, it would end.
    I accepted it now, my fate. Everyone had one, mine was just more somber than most. More abrupt. My life had been cut short right when it had really just begun. I had been so angry, so angry at the world and at myself. But what could I have done? What could anybody have done?
    Nothing, really.
    Carefully, I swept concealer under my eyes, hiding the shadows under them and the shadows of cancer within me. No child should have to die before their parents, my mother had cried, but there were always exceptions. I was an exception.
    Standing up slowly, I looked out the window. It was all grays and whites outside; the forecast had predicted snow. The sky was a flat gray, calm and unburdened by the woes of the world. Where would I be in a year? What would death be to me? Everyone's death was different. I had spent so long thinking about it as these past few years passed me by. Death. The world would soon forget me and the barely there imprint I had left on this Earth. Too young to fully understand but old enough.
    Bagatelle. Could a life be bagatelle? I wasn't sure. But I knew the world and the people moved on, no matter who died or what happened. Even the raw edge of pain and grief my parents would feel would fade - perhaps not completely, but it would. No one would remember me forever. Not even my reflection in the mirror.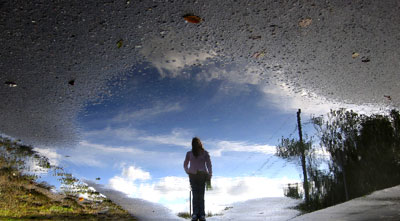 © Daniel H., Oak Bluffs, MA