Out of the Darkness
April 4, 2009
The television flickered in the darkness of the room. My mom was staring blankly at the screen, wetness from her eyes glistened in the faint light. I stood there watching her from the doorway, trying to understand why she would want to sit alone in a dark room. I know that we had a loss but that was six months ago. We need to move on, and because mom can't get out of her rut, I feel like I'm stuck too.

I look at the clock over the fireplace; it's ten. Ten used to be my curfew, but I'm not sure if I even have a curfew anymore. I wasn't sure if I had mom anymore. All she did was lie in the living room and watched re-runs of "I Love Lucy". I was tired of it. Tired of being her parent, her maid, her slave. I know I shouldn't feel this why, but I just do.

I took one last look at Lucille Ball's black and white face then walked out into the night. The air was cold on my face, but I didn't care. I just wanted to be free from my mother's lengthy grieving process. I walked and walked until I could feel my feet writhing with pain. I took refuge in a dark alley. The lump in my pocket was growing cold. Just right. I pulled it out and examined the bottle. I had no idea what it was, but I thought it had to be good because it was in my mom's cabinet. She'd never know that I took it. The bottle was old and worn looking; you couldn't really read the label. The cork was hard to get off, but eventually it just popped right out.

I lifted the bottle to my mouth, but before I took a sip, I thought I heard something. A voice. I raised the bottle to my lips again. "Don't." I almost dropped my bottle That voice was very familiar. I hadn't heard it in a while, so it sounded strange. I lifted the bottle to my mouth and took a sip despite the voice. The brown liquid burned my throat, but tasted so good. I lifted it once more to receive a second drink. "Son." The voice had spoken again. This time I knew whose voice it was, an in my shock, I dropped the bottle.

"Dad." I said out loud, tears brimming my eyes. I hadn't heard my father's voice for six-months. It was the only voice I was wanting to hear.

I waited for my dad's voice to come back, but it didn't. So I let the tears run since they were burning my eyes. No matter how many times I wiped the wetness from my face, it always returned. Why didn't dad answer me? It made me angry, which just made the tears flow even more. I saw the broken bottle at my feet; its sweet aroma caressed my nostrils. I wanted that drink right then and there. I wanted the pain to go away. I'd much rather have physical pain than the pain of a broken heart.

I took another glance at the broken glass. I wondered what it was like to penetrate your skin and let the pain flow from you in the form of blood. I wondered if you could feel the pain flow freely onto your skin. How the burden slowly lifts from your heart. How great it feels when your world is put back together, even if there are some pieces missing. I picked up the biggest, sharpest, most jagged piece of glass. I looked over the miraculous, most beautiful savior I had ever seen. This was my ticket to freedom, to happiness, to my world being upright. I put the cold glass to my skin. "Stop." and I did. My dad's voice was back. "Why?" I questioned the darkness. I didn't receive a reply quickly enough, so I put the cold glass back where it belonged. "Because I love you."

Those four words pulled at my heart. I hadn't heard them in the longest time. I did long to hear them though. Everyday that I was with my mom after my dad died, but it never came. I never thought that the next "I love you" would be coming from my dad.

"I love you too," and with that I dropped the piece of glass to the ground, "Why dad? Why did it have to be you?"

"God called me. It was my turn."

"So he called a semi to plow into your car?"

"Yes. He wanted me, so he took me."

"Doesn't God care about me? About mom?" I wiped the tears from my eyes, which started to blur my vision because I was crying so much. "If he did, he would have never taken you away from us."

"He cares. He doesn't give us anything that we can't handle. I know everything seems pretty screwed up now, but believe me they'll get a whole lot better."

"What does that mean?" Dad made no sense most times.

"You get to come to heaven. The best place, in my opinion."

"Why don't you just let me escape from my misery? I want to be with you."
"Suicide is not the way to go. I want you to walk the golden streets of heaven, not burn in the flames of Hell." I was quiet. I didn't think I could answer that. "Plus, we both know that your mother would fall apart without her boy."

"She's falling apart without you, Dad."

"You just need to kick her butt off the couch and throw her in the shower. Be sure to put the water on freezing."

I laughed at this joke; mom hated extremely cold water.

That was the last time I heard my dad's voice. He never entered my brain again. So I went home and did exactly as he said, much to mom's dissatisfaction.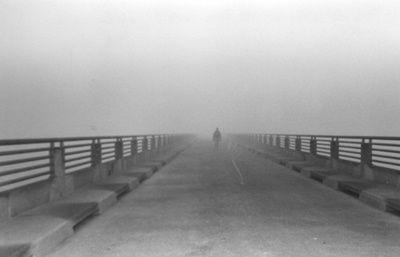 © Becky G.,Westerville, OH