Coming of Age
November 11, 2017
Lucy stuck the last candle into the cake and stepped back with a sigh. She looked at the kitchen, completely decked out for her dad's surprise 60th birthday party. Shiny party hats were neatly stacked on the table, and there were so many colorful streamers that it was difficult to see the ceiling. A huge banner hung from the wall reading Happy 60th, Dad! and the house was filled with the sweet aroma of chocolate cake just out of the oven. Everything looked perfect. So why didn't Lucy feel satisfied, or even remotely happy?

Since the age of six, Lucy had begun to realize that her parents were much older than most of her friends' parents. When classmates heard the ages of her mom and dad, they gave her looks of confusion. And when she learned the ages of her peer's parents, a lump grew in her throat. Now, she was 14, her dad 60. When she was 34, he'd be 80. When she was 54, he'd be 100. Sometimes she wondered, would her parents be alive to meet her future husband? Would they get to know her children? I don't want dad to turn 60, she thought. For Lucy, 60 was the age a person became old, growing closer to death. So the beginning of the end of her father's life didn't seem like something to celebrate; rather it was something she wanted to ignore.

What she couldn't ignore, though, were memories of her with her father. Looking around the kitchen, she remembered his warm hands enveloping her little chubby toddler hands as they mixed pancake batter together. She thought of him sitting with her at the kitchen table explaining a math problem. And she couldn't count the number of times they'd stood by the sink after dinner, her dad washing the dishes, she drying, both of them laughing at some silly joke. Why can't I celebrate dad on his birthday, when I love him so much? Lucy thought.

"Wow! It looks amazing, Luce." Her mom walked into the room with an armful of gifts. "He's going to love it!"
Lucy plastered on a smile and mumbled, "Thanks, mom."

"Everything okay, honey?" Her mother walked over, giving her shoulder a squeeze.

"Yeah, I'm just tired," replied Lucy, forcing some enthusiasm into her voice.

"I'll leave you to it, sweetie! Thanks again for doing such a beautiful job," her mother said, leaving the room. "Remember, he'll be home in ten minutes!"

Once she was gone, Lucy looked over the kitchen one last time before flicking off the lights and walking into the living room. She collapsed onto the couch, sinking into its soft cushions, and turned on the television. Flipping through the channels, she finally settled on the local news. An anchorwoman was talking.

"Tomorrow, there will be highs in the upper 60's, with lows in the lower 40's, and a 20 percent chance of rain." The woman looked down at her paper and exhaled, a sad look crossing her face. "And now, a tragic story. A young couple died today in a car accident. Chelsey and Brian Stratford, ages 35 and 36, the parents of three children, were driving on I-95 when someone texting and driving drove into their car at full speed." A picture of a beautiful family at the beach appeared on the screen.

Gasping, Lucy sat up straight. Those people were familiar. With a jolt, she realized one of the girls in the picture was in her grade. Lucy turned off the television, feeling the prickle of goosebumps raise on her skin.
Taking in a deep breath, she closed her eyes, and an image of her own family appeared behind her eyelids. It could be anyone at anytime, no matter how old or young they may, she realized.

"Lucy! He's here!" Her mother's loud whisper startled Lucy out of her trance. She jumped to her feet, dashing to the kitchen, a smile on her face. Crouching behind the island in the darkened room, Lucy heard her dad's key turning and the front door opening.

As Lucy peeked around the corner, her body tensed, ready to move. Her dad's footsteps grew closer, until he finally appeared in the doorway to the kitchen. A look of confusion passed over his bright blue eyes, the exact same shade as his daughter's. Seeing him standing there, a sudden burst of love for her father overwhelmed Lucy, spreading from her heart to the rest of her body.

"Hello? Anyone home?" He slowly entered the kitchen, and reached for the light switch.

"SURPRISE!" Lucy and her mom jumped out of their hiding places. Her father's face was as bright as a child's on Christmas morning. As for Lucy, she hurled herself at her father, jumped into his arms and wrapped him in a fierce bear hug.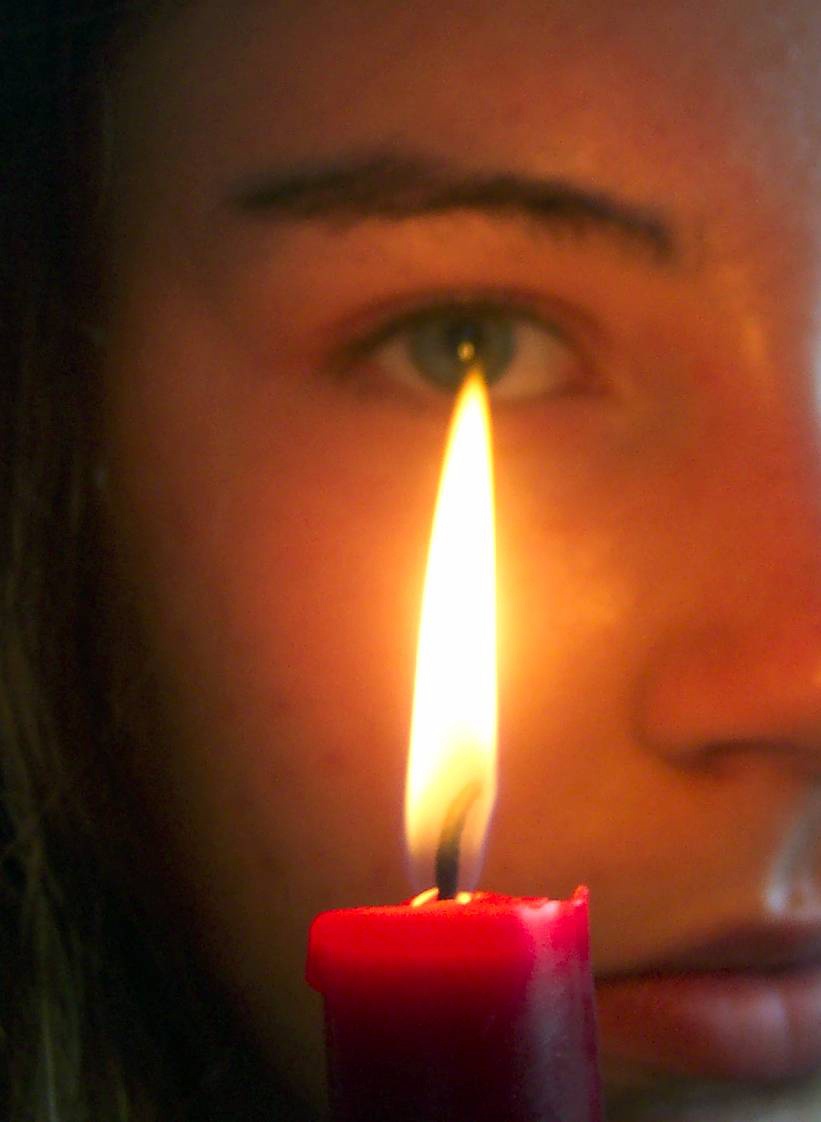 © Elise S., Clarksville, MD